Cast: Vivek Oberai, Diya Mirza
Director: E Niwas
Producer: Cineyug


Review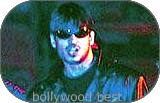 A mad chase, inside a labyrinth of lanes and by-lanes, on the railway track- between tow trains, in a bazaar, causing a severe skid of a motorcycle rider, fall of vegetables and crumbling of papad. One has finally nabbed the other, in 45 seconds flat. A pistol is aimed at him. "Okay, okay, you have won." They are two friends Vivek Oberoi and Sushant Singh - the breathtaking chase is a rehearsal for passing a physical test - to become police officers, honest ones.
A Cineyug production, Dum is directed by Hyderabad-based E. Nivas to whose credit go films like School and Love Ke Liye Kuch Bhi Karega with Ramgopal Varma. Dum is his first directorial venture outside Varma's banner.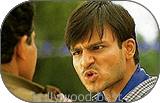 Lots of digital effects, a romantic number, a raunchy one, hummable ones though, Dum has all that nexus between police and politics, greedy government officials and the common man, law plus love. Atul Kulakarni, a psychotic cop infamous as 'encounter Shankar' for he kills all who oppose him, staging 'encounters' is also hand-in-glove with leaders in power, for his definition of police is: P for power, O for order, L for law, I for income, C for commission and E for encounter. He has a tough time against his boss Mukesh Rishi, and officer who pays the price of being an honest policeman yet is unmoved and is a constant help, guide and motivation for the young blood represented by Vivek (Uday) and Sushant (Mohan). His philosophy is "Aabhari bahut bhari shabd hai" Diya Mirza, though she exudes no romantic aura, arouses it in Vivek, and comes as a breather and a filler too. A romantic angle to an otherwise action-packed flick is a must. She is a television host for a cooking programme whose brother marries Vivek's sister.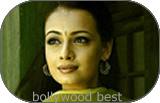 Compact plot, tight script that revolves around one family, two cops and a few politicians, the director takes care that the film does not fall by the wayside. Yet he has made a great mistake. The reason for which Shankar stages 'an encounter' with the hero is too weak- his ladylove who invites trouble on herself by commenting on the cop's bad manners instead of avoiding the sight! Her muscleman is here to save her, lending the cop enough reason, plus a scar on his cheek to chase him to death. A game of loss and gain and the cop's attempts to foil all Vivek's efforts to become an honest police officer. Vivek is successful in becoming one but the cop whose motto is "mujhe kisi ke aage jhukna pasand nahin" does not let him rule over him. He is ordered to prepare his character certificate; he burns the certificate, hits his father, kills his childhood friend and even takes his ladylove away.
"Take recourse to the law to do away with him," Mukesh Rishi guides our hero, something that he himself followed; yet never succeeded in! Hence, our hero is intelligent enough. He takes all help from him but finally kills his enemy openly. "Agar ek aisa Shankar marega tabhi hazaron Uday paida honge". The punch line is loud and clear if the law fails, use dum!
Those who have 'dum' to watch three hours of this action-packed, violent flick where romance hardly counts, with an absolutely unnecessary vulgar item number thrown in, are welcome.
The comic relief is well placed amid shots of tension. It is a seesaw between the acting skills of Vivek and Atul. The latter's face though looks all the same whether he laughs, cries or kills, hence, Vivek is a step ahead. The rest do not deserve a mention. Overall, the film can be watched by those who go in for a rain of bullets and brawls. And do not necessarily think that beauties have a place in life.