Cast: Amitab Bachchan, Aishwarya Rai, Ajay Devagan, Sanjay Dutt
Director: David Dhawan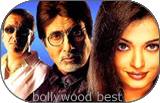 Take leave of reason, send your finer sensibilities on a summer vacation and enjoy Hum Kisise Kum Nahin, a David Dhawan film in his own inimitable style, though a trifle tardy at times. You won't mind this one because probably for the first time the hitherto mean and menacing bhai has fallen in love; swapped gun for girl, bullets for beauty - a beauty called Aiswarya Rai, an aerobics instructor here, light on feet, light around the head too; just right for a film that is largely a top-empty entertainer, handled with some care.
What's more, he does not only fall in love, he also faces competition! Like a cardboard strong Devadas. He sulks, he moans, he yells, he yearns. He sings, he dances. And even reforms!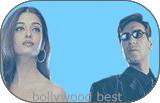 This film should come in useful for all the lead players. To begin with, Amitabh Bachchan who seems to be spending more time in the twilight of his career than many others have had in their career.His performance here as the hassled medico-brother of the girl the don is desperately in love with carries the stamp of precision.His timing in the innumerable comic sequences is immaculate and a couple of shades better than what he dished out the last time he worked with Dhawan in Bade Miyan Chhote Miyan.
Then there is Ajay Devagan who seems to be having a windfall this summer. Just after Company and just before The Legand of Bhagat Singh, not to forget Chori Chori, it should help him in overcoming the often-unfair tag of being a wooden performer.
He holds his own in front of the Big B and loses not an inch to Sanjay Dutt, who, too, gets to play a director-based comic role after a while.
And then there is Aishwarya Rai. Like Devgan, she seems to be on an overdrive at the box office these days. Last week she made a fleeting appearance in Hum Tumhare Hain Sanam, next week she will do similar in Shaheed and a couple of weeks later, later she will probably star in the most important film of her career Devadas.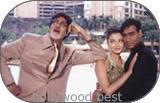 She meets with some success here in overcoming her image of a dazzling damsel, too polished and good-looking to be convincing in a street-entertainer. She may never make a convincing chawl resident but is quite ok here dabbling in Dhawan brand of humour. The film operates in a social and moral vacuum. With its wafer-thick plot, it challenges logic, rides roughshod over everything normal but still manages to sail through, hindered once in a while but still reaching its destination.
Courtesy: The Hindu