Cast: Abhishek Bachchan, Akshay Kumar, karishma Kapoor
Director: Dharmesh Darshan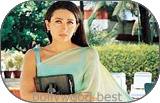 Love triangles are the staple theme of Bollywood. There are innumerable films on this subject reflecting a dearth of ideas, which results in rechurning the same old stuff in a different way. Haan… maine bhi pyaar kiya is nothing but this. It's the good old story of boy meets girl only to fall in love and get married. Misunderstandings crop up between the two and a third person enters their lives.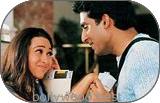 Shiv Kapoor (Abhishek Bachchan), an ambitious but cool and happy-go-lucky guy encounters a bright and beautiful Pooja (Karishma Kapoor) at an interview. But the smart Pooja hoodwinks Shiv and grabs the job. Eventually Shiv manages to get a higher position in the same company and comes to know of Pooja's misdeed. Instead of taking her to task he ends up marrying her. Pooja, as the true wife, gives up her career for true love. Some small misunderstandings crop on account of Pooja's rather possessive and doubting nature but it is all sorted out.
After marriage they go to Switzerland (described as every Indian's dream destination) for a conference-cum-delayed honeymoon. Romancing in the Alps (directors should give audiences a break), thankfully with warm woollies, they are the perfect couple till an incident occurs. An act of infidelity on Shiv's part enrages Pooja to the extent that she goes in for a divorce.
Back on her own in Mumbai, Pooja takes the help of a friend Navneet Nishan who gets her a job as a secretary to a top film star Raj Malhotra (Akshay Kumar). Through her efficiency Pooja manages to get accolades for her work from Raj, who incidentally starts loving her without knowing her past.
Then the emotional tangle begins. Pooja is torn between Raj and Shiv (whom she meets later at Naini Hills where Raj is shooting). Whom will Pooja settle for?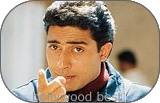 The theme as you can see is nothing new. What one sees is a rehash - a reinforcement of traditional stereotypes. Why is a woman made to look so vulnerable? Has she to be a pativrata all the time forgetting and forgiving the man's faults? Well, it seems to be so and all the events take up little more than three hours of your precious time. By the end of it one is bored stiff and weary. Can't the storyline and etching of characters be on more progressive lines? Right from the first scene (Shiv Kapoor riding a bike singing away) the movie has a strong sense of déjà vu.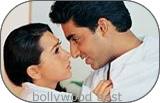 Usually the USP of Dharamesh Darshan's films are the songs considering his previous record (Raja Hindustani, Dhadkan). But the so-called magic duo Nadeem Sharvan are unable to sustain this. The music has a heavy hangover from Dhadkan. Performances are nothing to rave about. Only time will tell whether the movie will salvage Abhishek Bachchan's reputation at all given the role he plays. On the whole, one can sit through if you do not mind the tedium in terms of length and storyline but otherwise one can happily miss it.
Courtesy: The Hindu