Producer: Venus.
Directors: Abbas-Mustan.
Music: Himesh Reshammiya.
Cast: Bobby Deol, Akshaye Khanna, Amisha Patel.
Review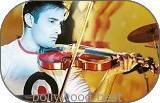 The late princess of Wales, Diana, had once said in BBC interview that three in a marriage can be too crowded. So is the case in this latest film by the director duo of Abbas Mustan, who have shown a ravishing looking Amisha Patel (Priya) caught in situation not entirely of her making where she has two men in her life. Who will succeed finally in claiming her hand is not the million-dollar question but who comes out with flying colours - to win her aggrieved heart, which has been traumatized by a homeless childhood, rented ramshackled apartment, is the moot point. Her livelihood as a ballerina in a dance troupe cannot help her come out of this existence. So she chooses a different route. The film's USP is its pulsating songs.
A bespectacled Bobby Deol plays Raj Singhania, a shipping tycoon, who is more of a romantic than an entrepreneur. So instead of boardroom meetings, he is busy running with his female employee on the dusty. Labyrinthine stress of Malaysia or giving a diamond ring to his sweetheart on a cruise liner.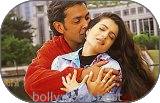 Amisha, instead of striking a chord with the masses by delivering her fluent heart-to-heart dialogues, is shown dancing to her heart's content. She plays a girl hypnotized by her beau so much so that she doesn't even bat an eyelid when he tells her to marry a rich bachelor. Only later is the true picture revealed - that she hasn't been swept off her feet by the richie rich guy, but only by his hefty bank balance (coming to a staggering Rs. 50,000 crores). Akshaye Khanna (Karan) excels in a villainous role. He has to an extent lived up to his Dil Chahta Hai image by dancing like a through professional on the dance floor as he is shown leading a dance troupe. He is an archetypal middle class guy, who wants to become prosperous not necessarily by hard work.
Entrapment, blackmail and diabolical planning are his trump cards to climb up the ladder. Behind the effervescent, bubblegum chewing dancer lies the brain of a scheming man who is completely obsessed with his girlfriend. On the whole the film, with stunning action scenes, can be dubbed as an entertainer that moves at a slow pace.