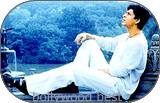 Jeevi Rating: 3.25/5
Cast: Shah Rukh Khan, Preity Zinta, Saif Ali Khan, Jaya Bachchan, Sulbha Arya, Sushma Seth, Reema Lagoo, Lilette Dubey, Delnaz Paul, Satish Shah, Ketaki Dave, Shoma Anand, Dara Singh, Kajol (spl app), Sonali Bendre (spl app), Rani Mukharjee (spl app) and Sanjay Kapoor (spl app).
Dialogues: Niranjan Iyengar
Music: Shankar, Ehsaan and Loy
Audio Graphy: Anuj Mathur
Lyrics: Javed Akhtar
Choreography: Farah Khan
Costumes: Manish Malhotra
Cinematographer: Anil Mehta
Editor: Sanjay Sankla
Make-up: Mickey Contractor
Art: Sharmishtha Roy
Story - screenplay: Karan Johar
Director: Nikhil Advani
Producer: Yash Johar
Theatrical release date: 27th November 2003
Story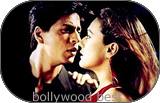 Naina Catherine Kapur (Preity Zinta) is a NY-based working woman who's life is full of struggles and agonies to such an extent that she has forgotten how to smile for years. She is away from parties. She takes every responsibility of her family on her shoulders and slogs for it. Rohit Patel (Saif Ali Khan) is a close buddy of Naina for years. He is a kind of guy who try to patao every girl he sets his eye on. Aman Madhur (Shahrukh Khan) comes into the life of Naina as a neighbor. He gets very friendly with all the family members of Naina. He nags Naina first.. Then he teaches her to smile and relax from the mundane pressures. Before she realize it, she falls in love with Aman. And Rohit falls in love with Naina.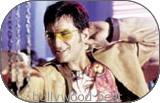 When Naina proposes Aman, he says that he is already married to Priya (Sonali Bendre). And then he encourages Rohit to propose to Naina. The real reason is that Aman is suffering with a severe heart ailment and his days are counted. Hence he lie to Naina that his wife is Priya (Actually Priya is his doctor). The rest of the story is a love triangle where every person loves the other two!
Artists performances:
Shahrukh Khan: Shahrukh Khan's entry scene in the film gets life to it. His characterization is similar to that of his character in DDLJ. As the climax approaches his character takes the shades of 'Devdas'. He is at his best by exhibiting the entire gamut of emotions throughout the film. He is the main asset to the film.
Preity Zinta: She is a perfect fit for the role of Naina, who is lost in the wilderness of artificial world. Her role has the scope of acting from a serious career woman to a bumpy teenager. She performed the role of a 22 years old girl who is going on 50. She did a pretty balanced performance.
Saif Ali Khan: He carried off his 'Dil Chahta Hain' role into this film. He is very cute. His expressions when Preity tells him that she loves Sharukh are excellent. His histrionics towards the end makes you sympathize for him.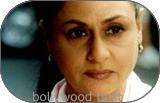 Others: The best aspect of this movie is the perfect casting. Jaya Bachchan is impeccable as mother of Preity. Reema Lagoo is apt for the role of a compassionate mother of Shahrukh. Lilette Dubey is hot as the siren who always fail to get appreciation that she is a hot babe. Sonali Bendre, Kajol, Rani Mukharjee and Sanjay Kapoor did special appearances and they add to the glamour of the film. Sushma Seth is good as nagging mother-in-law of Jaya Bachchan. Sulbha Arya creates some laughter as the maid who suspects a gay relationship between Saif Ali Khan and Sharukh Khan.
Technicians performances: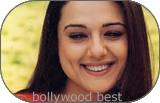 Story: Story of the film has got a deep pathos angle attached to it. If dealt well, this angle of death gives lots of weightage to success of the film. However, the confused state of Preity Zinta towards her priorities and preferences among Shahrukh and Saif makes you feel confused.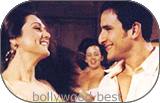 Screenplay - Direction: Screenplay of the film is good. But narration of the film is terribly slow. The director used split screen technique to narrate the scenes that are happening in multiple time simultaneously (like the one used in Hollywood films like The Hulk and Phone Booth). Direction of the film is good. But the director has taken more than enough time to establish characters. There is a touch of Karan Johar in the execution of the film (especially the scenes where the glycerin is much used).
Music: Music by Shankar, Ehsaan and Loy is entertaining. The adaptation of 'Pretty Woman' by fusing it with bhangra is good. Title track is repeated played as background music. Mahi Ve is a class act. All the songs are well executed on the screen except for the disco song.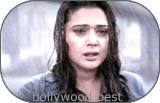 Sound: One negative point of the film is the spot dubbing (online dubbing) adapted by the filmmakers. The clarity and audibility of the dialogues is less. Since the audibility is less, the background music dominated dialogues for lots of vital scenes. One has to understand that Indian cinema is very much dependent on dialogues. The dependency goes to such an extent that if the dialogues were aired on radio people would easily understand and imagine the corresponding visuals. The maker would have chosen the traditional procedure for dubbing.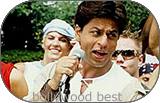 Other departments: Dialogues by Niranjan Iyengar are good. There are good Samaritan dialogues that are trademark of Karan Johar that oozes positive thinking. Anil Mehta's cinematography is first rate. The entire film is taken in NY area. Costumes by Manish Malhotra are trendy. Choreography by Farah Khan is contemporary. The film is made in a rich scale by Yash Johar.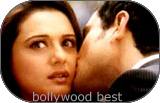 Analysis: The positive factors of the film are Shahrukh Khan, Priety Zinta, Saif Ali Khan, direction and rich production values. This film is a well made one except for two things. First one is the terribly slow narration. Second one is excessive use of glycerin at every possible scene for all the artists. The technical problem about this film is the low audibility of dialogues. This is film is bound to have terrific euphoria around it for the first two weeks. However, it may not perform well in the long run. You are bound to like this film if you prefer films with HEAVY emotions.