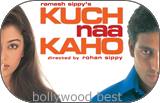 Jeevi Rating: 3/5
Cast: Aishwarya Rai, Abhishek Bachchan, Arbaaz Khan (SA), Master Parth Dave, Satish Shah, Suhasini Muley, Jaspal Bhatti, Hemani Shivpuri, Tanaaz Currim, Meghana Malik, Razak Khan, Gautami Gadgil, Divya Palat, Ramona Sunawala
Banner: RS Entertainments
Director of Photography: V Manikandhan
Music Composer: Shankar - Ehsaan - Loy (songs), Adesh Srivastava, Uday mazumdar (background score)
Lyrics: Javed Akhtar
Story: Rohena Gera
Dialogues: Naushil Mehta & Nidhi Tull
Art: Sharmista Roy
Editor: Rajeev Gupta
Action: Bhiku Verma
Choreography: Saroj Khan, Vaibhavi Merchant & Bosco Caesar
Screenplay: Neeraj Vora
Director: Rohan Sippy
Producer: Ramesh Sippy
Theatrical release date: 5th September 2003



Story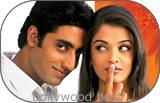 Raj (Abhishek Bachchan) - a NRI from New York - visits India to attend a cousin's wedding. He has a caring uncle Rakesh (Satish Shah) in India who constantly bugs Raj to find a girl and tie the knot. Raj meets Namrata (Aishwarya Rai), an interior designer in Rakesh's company. Rakesh seeks the help of Namrata to assist Raj meeting the probable brides. In the process Raj falls in love with Namrata. When he is about to express his feelings to her, he comes to know that Namrata is a single mother to a 7-year old son Aadi (Master Parth Dev). Incidentally, he gets pally with Aadi. Namrata says no when she comes to know that Raj loves her.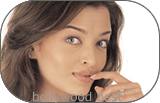 Later on Raj impresses Namrata and wins her love. When she is accepted by the Raj's family as the bahu, her husband Sanjeev (Arbaaz Khan) returns after a hiatus of 7 years. Whom would Namrata chose to live her rest of the life with. Husband or lover? This forms the climax of the film.
Artists performances: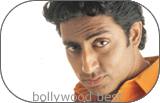 Abhishek Bachchan portrayed the role of Raj (also one wonders why Hindi film directors prefer naming NRI-based heroes as Raj in their films) effortlessly. However, he looks differently in a few episodes since the film was in the making for quite some time. The choreographer customized the dances to the body language of Abhishek (who looks very similar to that of Big B) in the first few songs of the film. Aishwarya Rai steals the show by displaying a gamut of emotions who is stuck in the web of innocent love of a kid, too-good-to believe lover and a returned husband. She appeared different during climax of the film because of the black rings that formed around her eyes. It was a natural performance for Satish Shah, who performed the role of hero's uncle. Suhasini Muley impresses as the mother of hero. Jaspal Bhatti creates laughter as Sardarji with his trademark antics. Master Parth Dave is superb as Aadi. He is absolutely believable as the kid who misses his father's love.
Technical performances:
Story: The basic storyline of the film by Rohena Gera has got all the emotional ingredients. It has got pretty good child sentiment, all positive characters and great scope for keeping commercial ingredients. The following threads stitched the most of the scenes in this film.
1. Importance of family: Raj gets close to Namrata not just because he fell in love with her but also because he shares a special bond with kid. He likes to be the father of that kid as much as he wants to the husband of Namrata. Because of the same 'family sentiment', Sanjeev leaves his wife Namrata and kid with Raj and walks away by saying that 'I cheated my family once. I don't want my family to get cheated again. Take care of my family' in the climax.

2. Coins: Raj observes people throwing coins in lake of Ganesh Temple once. And he ridicules it. Later on, the same man throws coins into lake along with Namrata and then again with Sanjeev.

3. Meeting of accidents: Raj meets Namrata at the airport without knowing that she is also going to India for the same engagement. Raj meets the kid Aadi without knowing that he is the son of Namrata. Raj also meets Sanjeev without knowing that he is that husband of Namrata.
However the following are the weaklings of the film:
1. The flashback of Sanjeev: He leaves his pregnant wife for a lady in search of wealth. He gets cheated by that lady after 4 years. He worked honestly for the next 3 years to make himself rich so that he could come back to his wife and make his family have financial security. If he had so much love for his wife, why did not he make any attempt to know the whereabouts and well being of his wife and the kid. He does not even know what the name of the kid is and what his wife is up to.

2. Confusion in Sanjeev's characterization: Sometimes he is shown as a good man and some times with gray shades.

3. Namrata, who loves Raj from inside, still sticks to her husband Sanjeev who returned after seven years looks irrational. That too in the situation where she has the option of obtaining a divorce.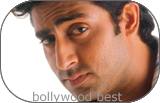 Direction - Screenplay: The director Rohan Sippy has got a stylish taking, which is evident at the beginning of the film where he shows the title cards in a very creative style. He has a good grip on getting out tender emotions. He has got a great comedy timing as well. But what dampened the spirits of the film is Neeraj Vora's screenplay(especially in the first half an hour and last half an hour). The narration of the film is pretty slow. The story does not move till 2 songs are over. The graph of the film took a nose dive the moment Sanjeev character entered. The way Sanjeev and Namrata behave from that point sounds rather confusing as it lacked clarity and conviction. The paper fight episode is conceived well.
Other departments: Music by Shankar - Ehsaan - Loy is melodious, soft and soothing. The lyrics by Javed Akhtar are pretty good. The experimentation by replacing hindi words with alphabets in ABBG song is very creative. The title track is also good. Dialogues are apt. V Manikandan's cinematography is visually rich.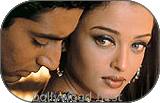 Analysis: When a film is coming from the stable of Ramesh Sippy - the producer of biggest hit of Hindi cinema 'Sholey' - the expectations are pretty high. That too when this film happens to be the directorial debut of Rohan Sippy - the son of Ramesh Sippy. Naturally the movie lovers expect Rohan Sippy to succeed like few kins Aditya Chopra, Suraj Baratyaja, Karan Johar, Faran Akhtar. With 'Kuch Naa Kaho', Rohan Sippy could not provide a wholesome entertainer. But he has shown enough sparks to become a very good successful director. You may watch this film at your leisure. But don't complain to me if you get bored in first 20 minutes and annoyed in the last 20 minutes.