Cast: Aftab, Amisha Patel
Director: K Murli Mohan Rao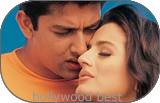 Here comes an ode to the beauty of woman. A woman - actually not much more than a girl - called Amisha Patel in a film called Kya Yehi Pyaar Hai. Ever since she made her debut opposite Hrithik Roshan, Amisha has been forcing the critics to sit up and take notice. By no means a great actress, she brings to her work a simmering sensuality hard to miss even foe those who do not quite keep temptation as an abiding companion.
There is an endearing innocence about her. In addition, her voice seems to be perfected to being out the pathos of the hapless and she evokes the most gallant of masculine emotions. Here she takes on her main rival, Kareena Kapoor, in her own domain. The competitive streak comes to the fore - what Kareena can do, I can do better. Hence Amisha makes up with abandon here.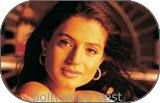 Now caressing her plum cheeks against the surging tide of sea, now resting her long, autumn brown locks on her almond-hued back, now shaking a leg on the dance floor, she seems to enjoy it all. And manages to communicate the same feeling to the viewer. However, love's labour is lost in this sea of mediocrity churned out by K. Murli Mohan Rao who had, in the past, given us some appetizing fare like Prem Quaidi and Anari.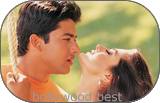 The way he goes about this tale of endless love makes even the most beautiful of human emotions unreal. And worse, unappetizing. This film attempts to make a virtue out of ordinariness. Often pedestrian, it is only occasionally pleasant. And that is only when Amisha sashays in to light up the screen. Kya Yehi Pyaar Hai is the kind of film you and I would have seen, heard or read about countless times. Quite similar to Mujhe Kucch Kehna Hai - which happened to be Kareena Kapoor's first hit - this is the tale of a boy who loves a girl who does not quite reciprocate.
He finds in her the joy of life, nay, life itself. She finds him as interesting as a paper strewn across her while crossing the road. He waits for her at the bus stop while she looks out of the window. He chases her to the college and she buries her head into the computer. Finally, he asks. She refuses.
And then follow a few sermons on there being more to life than just love. A career or a gold medal, for instance. A fine premise for a film, one would say.
Only thing is the director is not able to develop the relationship beyond the rigid stereotypes any novice can churn out. So, from the girl's refusal, it deteriorates to her abusive father's refusal for the match.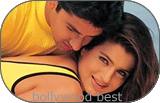 Along the way, there are kicks and punches thrown in for good measure - not to forget countless songs tailored to capitalize on the leading lady's obvious assets. Predictably, one such blow melts the stubborn girl's stone heart. Now, haven't we seen that many times over? Sorry to say, but Murli Mohan Rao manages to make even love a less than loveable emotion. The die-hards may just watch it for Amisha who is simply difficult to forget in a film many would lie to forget in a tearing hurry.
Courtesy: The Hindu