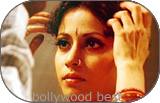 Jeevi Rating: 3/5
Cast: Anthra Mali, Rajpal Yadav, Raman Trikha, Govind Namdeo, Sudhir Pandey, Reeta Badhuri, Benjamin Gilani & Vandana Sajnani
Banner: Entertainment One & Varma Corporation
Music Composer: Amar Mohili
Producer: Ram Gopal Varma
Written and directed by: Chandan Arora
Theatrical release date: 10th October 2003



Story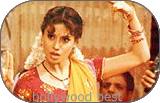 Chutki (Anthra Mali) is the most popular girl in Gujrola village. She is referred as Madhuri Dixit by the entire village for her dances. That makes her aspire to become an actress. Hence, she wants to go to Mumbai and enter the glamour world as heroine But she has no idea on how to go about it. On the top of it, her parents want to marry her off. But she has only one hope. She has a loyal childhood friend and will-do-anything-for-you kind of buddy Raja (Rajpal Yadav). Raja gives her a proposal. If they get married to each other, then he would take her to Mumbai under the guise of doing some business and make her an actress. She accepts and they get married.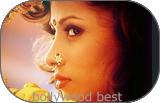 Raju convinces his father about moving to Mumbai for better prospects in life. The couple move to Mumbai with a handful of money. There they encounter the gloomy side of Bollywood. Chutki gets an offer to do as a junior artist for a dance sequence. But she sets her eye high on the throne of Madhuri Dixit. The rest of the movie is all about how Chutki realizes her dream of becoming a star.
Artists performances: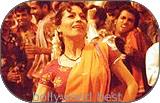 Anthra Mali: Anthra Mali seems to have embodied the spirit and rhythm of Madhuri Dixit in her body language. She played the role of an innocent girl who has a single mission in life, which is to become an actress. Though, she is innocent, she also possesses lots of selfishness in her character. However, the director molded this role such a way that her innocence overshadows the selfishness in her character. Anthra Mali is lovable and simply brilliant.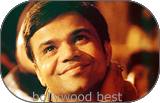 Rajpal Yadav: Rajpal Yadav gave a fine performance of an unconditional lover of Anthra Mali. We hardly find such a pure-hearted guys in today's world, where he leaves everything in his life to promote and encourage his selfish ladylove who does not even wear Mangalsutr after the marriage. The characterization of the hero is so lovely that in the beginning of the film, we would be wondering how come a cutie pie like Anthra Mali is paired up with such an average looking Rajpal Yadav. But by the end of the film, we actually end up wishing them to get united.
Technicians performances:
Story: Story of the film is simple and linear. It does take the path of realistic approach. However the climax of the film is altered in a way to please the crowds.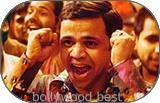 Screenplay - direction: Film editor turned director Chandan Arora makes a good impression. He chooses an artistic approach of telling the story with an under current subtle humor and pricking reality. The narration of the film is quite slow. The director seems to have lost his grip as the film entered the second half. However, he brought back the attention of viewers on the screen as the film approached climax.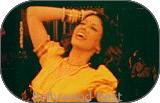 Other departments: Music by Amar Mohili is good. The remix of 'mar dala' song is excellent. Leslie Lewis should get credit for his work as well. The camerawork is brilliant. Lighting scheme used for this film is uniform and realistic. Dialogues are good with subtle humor and undercurrent emotions.
This film has a few brilliant scenes:
1. The scene where Anthra Mali takes over the floor of cinema hall and dances to the tune of 'Maar Dala' from Devdas film.
2. the scene where Rajpal Yadav impresses his father with his uninterrupted speech on the prospects of starting a business in Mumbai.
3. The interval block where Rajpal Yadav gets an offer to act in movies when he goes with Anthra to get her a heroine role.
4. The scene where he leaves his offer aside and argues for heroine role for his love.
5. The theater scene in climax where its playing empty hall.
6. Anthra Mali wearing Mangalsutr towards the climax of the film after realizing how much Raja is helping her without expecting any favor in return.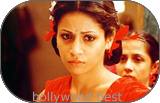 Analysis: Fist half of the film is entertaining. Second half is little boring. This flick is strictly for those people who can appreciate a well made film, even if it lacks commercial elements. It's a realistic film made for metro crowds and multiplex theaters. The lovers of popular cinema may keep away from watching this flick.