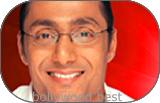 Jeevi Rating: 1.5/5
Cast: Rahul Bose, Perizaad Zorabian, Vijay Raaz, Saurabh Shukla, Asrani, Kaabir, Amar Talwar, Sunila Karambelkar, Sanjay Gandhi, Nosherwan Jahangir, Bakul Thakkar, Prithvi Zutshi, Shehzad Khan, Pinky Chinoy, Poornima Joshi, Sahil Malik & Anusha Dhandekar
Banner: Pritish Nandy Communications
Director of Photography: Sanjay Nair
Music Composer: Anand Raaj Anand & Farhad Wadia
Editor: Mohammad Rafique
Choreography: Remo
Producer: Rangita Pritish Nandy
Written and directed by: Late Anant Balani
Theatrical release date: 26th September 2003



Story

Debashis Chatterjee aka Debu (Rahul Bose) is a 32-year old bespectacled introvert guy working in an ad agency. He is timid and has unlimited obsession towards sex and objects of sex. But the bottom line is that 'he is still a virgin at the age of 32'.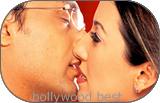 One day, he comes across a pamphlet that describes about omni powerful baba - 'Baba Hindustani' (Vijay Raaz) who is staying in hotel Piccadilly. Debu visits that hotel and he accidentally bumps in to Nitin Kapoor (Saurab Shukla) a pot-bellied small time film producer. They gel well. Later on Debu meets saffron clad Baba Hindustani who presents him with a bottle of green pills, which are supposed to give force to Debu.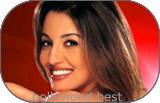 7 days pass and nothing happens. Mean time Nitin Kapoor's latest film 'Sholay mein deewar' gets stuck with financiers and they demand that few steamy scenes should be inserted in the film to get the business done. When Debu returns back to Baba Hindustani about futile results, he sends Debu to a prostitute's house and there he is get caught by cop (Prithvi Zutshi) , who happens to be a forthright Bengali guy. Nitin Kapoor bails Debu out. When Debu visits Baba again, he asks him to get naked (except for shorts) and ask him to do exercises.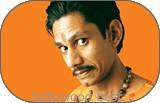 Later on when Debu watches Sholay mein deewar film, he realizes that all the exercise shots taken clandestinely on Debu without his knowledge were super imposed on a girl and they made a soft porn steamy scene out of it. Debu loses his job, his landlord throws him out of the PG accommodation. But, Debu is the nation's most wanted sex star. Then he meets a journalist called Sonia Varma (Perizaad Zorabian) who wants to interview him. He gets arrested by police for starring in steamy scenes. Sonia bails him out and takes him to her house.
The rest of the story is all about the love angle between Debu and Sonia and how Debu loses his virginity!
Artists performances:
Rahul Bose: Rahul Bose is a perfect fit for Debu character. Its nice to see him in wide variety roles ranging from 'English, August' to 'Mumbai Matinee' now.. Wearing spectacles and occasional stuttering helped him appear like an introvert and thus it made audience believe that he is a virgin.
Perizaad Zorabian: Looks like Perizaad is being considered for the roles of heroine where she is a single and independent girl with no relatives. She did similar kinds of roles in Bollywood Calling and Joggers Park. She is verve in this film. However, lack of depth in her characterization makes Perizaad wasted in this film.
Vijay Raaz: Its one more entertaining role for Vijay Raaz after his marriage contractor role in 'Monsoon Wedding'. He evoked humor with his funny gestures as Baba Hindustani.
Saurabh Shukla: He played the role of good at heart and good for nothing film producer, who could not succeed in spite of celebrating 25 years of existence in film industry as producer. You can see lot of frustration in his character.
Others: Kabeer is apt for the role of hero's buddy. I fail to understand why Anusha Dhandekar is shown as a temptress in the publicity of the film, since all she has done in this film is to dance for an item song. Veteran Asrani played the role of sophisticated sidekick of Baba Hindustani. Sunila Kalambelkar is hot as the leg crossing/uncrossing secretary who wears mini skirts (preferably red) all the time.
Technicians performances:
Story: The basic storyline of the film is interesting. The story which was of slapstick nature in the first half takes a U turn in the second and then it tends to become philosophical and realistic.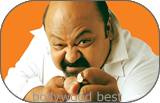 Screenplay - direction: Screenplay of the film is bad and direction is OK. With an interesting story plot, the director tried to be different with a slapstick narration. But he could not create situations where humor comes out naturally. Director seems to have got confused about how to end the film.
Other departments: Music is OK. Songs are mediocre. Dialogues have 95% English in them. Editing is not crisp. Camera work is realistic. This film is made on a low budget.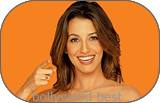 Analysis: The film starts off on an interesting note, but the spirits of the film took a nose dive once heroine character enters. And keeping a sincere love story after hero going through all the slapstick difficulties did not click with the audiences. Climax of the film is a let down. This film offers nothing except for occasional comedy. Sex comedy is not a taboo for the multiplexes in India. But sex comedy would not work if there are no emotions in it. You can comfortably wait till DVD is released!