Cast: Uday Chopra, Sanjana, Shamitaa Shetty
Director: Sanjay Gadhvi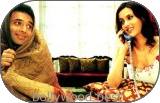 Another offering from the Yash Chopra stable. So, what do you expect? Switzerland. Women in white. An elaborate wedding pandal. Good-looking people. Nice music. And all that goes into making a love triangle. Everything is here too. But body does not a soul make. It is the other way round. So it is with Sanjay Gadhvi's film. Here too boy love a girl, she loves him too, and they are set to get married when another man enters the fray. Shades of Dilwale Dulhaniya Le Jayenge here but it is not a patch on the original. As for the cast, well, debutante Sanjana looks fresh. Acts like one too. Uday Chopra, in his second major assignment, establishes beyond an iota of doubt that at the end of his innings, his aspiration level is likely to outmatch his accomplishment. And there is Shamitaa Shetty too, again in her second film after Mohabbatein. In a sizzling item number here, she proves that there is greater magnetism to the seasoned voice of Asha Bhonsle than Ms Shetty's face and figure combined.
Courtesy: The Hindu