Cast: Hrithik Roshan, Esha Dol, Saif Ali Khan
Director: Ashok Sablok
Music: Rajesh Roshan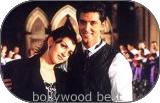 This one is about those innocent dreams when quite young. Those afternoons of longing, those evenings of love and a lot more. Those moments when a shy smile unwittingly played on youthful lips, when arms crossed in public you walked down looking nowhere. When your imagination was your ally and you gave it a free hand.
Ah! She would be running under tall trees with her dupatta falling from her shoulder, her anklets and bangles chiming in rhythm! Ah! Her luminous eyes, her lustrous hair! Love and the joy of the unseen! They often go hand in hand in whimsical youth, unfettered by reason, unburdened by past.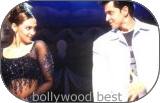 Debutant director Arjun Sablok's Na Tum Jaano Na Hum is about that first crush, that first time when passion comes calling, when one and only one matters. And in Esha Deol he has a girl who is not quite a woman yet. Hence, more at ease about doing things that defy reason, follow the rhyme only of the heart. And Hrithik Roshan who can make implausible appears not just possible but also likely. With some able help from Saif Ali Khan, now beginning to carve out a career as the proverbial scene-stealer.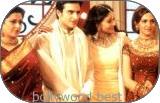 We have seen it in the past. And knowing Bollywood directors we shall surely see it again. But this one is different. And holds more substance than this clichéd expression can convey. Here the boy loves the girl. The girl loves the boy. But they never meet. Not for them the first quarrel followed by the first kiss. They merely get introduced through FM Radio - yes, a first of sorts in Bollywood and get on to exchanging epistles through a post box number.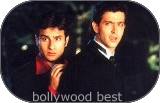 So, here you see, they don't need to meet. And even cannot meet. Post box is, after all, a fig leaf of privacy. All is well until there appears; you guessed it, another suitor for the girl. Parents arrange it all, you know. And the little girl, who has not said goodbye to stuffed toys, merry-go-round and slides, gathers to put her foot down and say no. All this is of little avail as our love-birds live cheek-by-jowl, share pleasant and unpleasant moments translate it into songs in sylvan environs and a skirmish later - even exchange mails, yet do not know that the person who makes their heart tug along, is actually just a heartbeat away.
Watch this one for a fair time-pass on a long, enervating summer afternoon. You won't mind this flick base in the real life love story of Arjun's parents. After all, it comes packaged with some fine music, innovative camerawork and competent performances.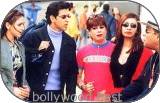 Esha Deol, who made a forgettable debut in Koi Mere Dil Se Poochhe earlier this year, is a vast improvement. She is more aware of the camera angles, hence looks better in close-ups. She may not be in contention for the Best Actress Award shortly but won't lose out much in comparison to the average pot-boiler heroine. As for Saif, well, he is playing it safe, re-enacting his Casanova bit of Dil Chahta Hai. But he carries off the act fairly well. As does Hrithik. His long lost looks, his tongue-tied act will send many a heart aflutter though in comic sequences he is second best to Saif.
It is not the film one would recommend to those who want emotion as the edifice of a love triangle. It is strictly designer romance with glycerine emotion expressed in black costumes against the backdrop of either bright walls or still silhouettes. Yet just sandpaper away the gleam and glamour and you still have a fair film on your hands.
Courtesy: The Hindu