Cast: Waheeda Rehman, Anil Kapoor, Fardeen Khan, Abhishek Bachchan, Urmila Matondkar, Mahima Chowdhary
Director: Anupam Kher
Music: Anu Malik
Review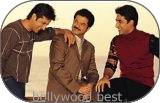 OM JAI Jagadish is a prayer for togetherness. Like a prayer it is beautiful, soothing, even rewarding in parts for those who are prepared to patiently persevere, ignore the moments it appears more like a family ritual of union, disunion and the inevitable reunion. Nothing wrong with it. After all, one is supposed to seek with patience. For all the collective prayers of the viewers that go up, some blessings do come down.
Even if they do not come down raining they do quench the thirst for decent, passable cinema, which may not be a visual poetry from the first frame a la Devdas but holds enough appeal to keep you occupied.
In some ways, Anupam Kher's directorial debut takes us back to school, to all the small things we learnt in the moral science classroom and forgot when the art of life unravelled a few complex contours.
The film talks of the strength of unity, the fate of those who stand divided and those who seek to divide to rule. We have had countless films which have been nothing but a song for family.
No, not just Hum Aapke Hain Kaun! and Hum Saath Saath Hain but even films like Pyar Ka Mandir, Ghar Ghar Ki Kahani and the rest.
Then there have been countless films on fraternal affection and friction. Deewaar is probably the best face of that genre. Now here comes a film, which blends family unity with a tale of brothers in arms.
In some ways it is the age-old tale of Ramayana without a scheming maternal figure. In some ways it is an ode to the age-old concept of "the family which eats together stays together". But all this comes in a modern, cosmopolitan package that widens the appeal of the film.
Yet, Kher's film is different within the commercial format. For once, the characters are not all black or white. They are numerous shades of grey as the three brothers - Anil Kapoor as Om, Fardeen Khan as Jai and Abhishek Bachchan as Jagadish - drift apart, not because one of them has less love for mother dear - Waheeda Rehman in a purposeful comeback - but because they view things differently. Love for each other and the family runs in their genes. Only thing is they express it differently. And occasionally put the self before the social before quickly coming back to sing family paeans. Ditto for the two daughters-in-law of the family - Mahima Chowdhary and Urmila Matondkar. Hence, we have Jai who would not mind selling the family home or going to the U.S. to earn megabucks for repaying the loan his brother took; something Om cannot even dream of. He is the prim and proper one who believes that family values and valuables are forever. Then we have Jagadish who does not make much of his career until he decides to marry his fate to computers, leave the family home to find his anchor. Just like the women.
While the elder daughter-in-law is tied to family tradition, the younger one yearns for her own space but is prepared to go a few yards to see if she can vibe with them all.
As this tale unfolds, you realise that here is a film, which has its own appeal despite the clichéd subject.
Though it could have done with much better editing, better dialogues and music too, it is still memorable for three portrayals it puts together. We have Waheeda Rehman telling us that old is, well, always gold.
We have Fardeen putting up his hand for a long innings in Bollywood with a polished performance in a difficult role of a young man devoted to family, rooted to ambition and sandwiched between a wife who does not care for tradition and others who do not value freedom of mind.
Then there is Abhishek in what is easily his best performance so far. As the brat of the pack, he is a scene-stealer and manages to just about pass in emotional sequences.
Om Jai Jagadish may not send you running to your family temple for a quick prayer for togetherness but it still manages to tug at your heartstrings.
It is nice cinema without being anything near great.