Cast: Nana Patekar, Karisma kapoor, sanjay Kapoor
Director: Krishna Vamsi
Review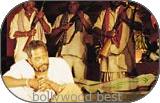 SOME OF the most memorable moments of life are also the most fleeting. Strangely, some of the moments seem to gain in delight in retrospect. Krishna Vamsi's Shakti starts off on a similar note, giving us all some hope that here will be a film where the heroine will not be a mere appendage, that she will not be the central character of the film without actually being a passive witness to the goings on.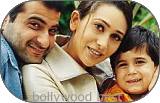 Well, the hopes are largely belied. So much so, that if Karishma were to look back at films like Fiza and Zubeidaa, she would feel she had a better deal there than this one touted to be the most challenging role of her career. Well, the challenge is for the audiences to come to realize whether they are actually watching a film cleared by the Central Board of Film Certification or just a street-side nautanki, replete with corny humour. You would not want your child to watch it. You can do without watching it. The bestiality of this film hits you in your face. If it is art, then it is not just ugly but probably repulsive too.
This is tale of an American-born mother seeking to protect her child at any cost from a vengeful grandfather back home in some village in India is gory, loud, abrasive.
It comes with lots of vituperatives, plenty of vitriol. Often reduced to a seesaw battle between an uncouth, uneducated father - Nana Patekar in an absolutely stunning performance-and his son -sanjay Kapoor in the customary wooden performance - this film only occasionally gets gripping. The grip loosens soon too.
Unfortunately, the ribaldry and innuendos are clicking with audiences.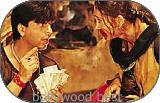 Truly, if it is sad to see a good film failing, it is worse to see a bad film clicking besides a passable Karishma, the film has the a beautiful Aishwarya Rai in a special appearance for a raunchy number which is on its way up on the countdown shows. However, try hard as she might, Rai does not have the raw, untamed sexuality to fit the part. She is clearly ill at ease with the hip-wiggling, pelvic gyrations she is called upon to do. Wonder, why she did it all? Was it to please bony Kapoor for whom she has done Hamaara Dil Aapke paas Hai? Clearly, the heart has prevailed upon the head here.