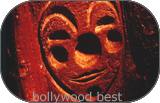 Jeevi Rating: 3/5
Banner: Cine Vistaas
Cast: Tanisha, Dino Morea, Suvarna Jha, Gaurav Kapoor, Karan Nath, Kaushal Punjabi and Teena Chowdhary
Music Composer: Anu Malik
Cinematography: Hiroo Keswani
Lyrics: Praveen Bharadwaj, Rahat Ondoori, Yogesh & Dev Kohli
Story-screenplay-dialogues: Arshad Sayed
Director: Pavan S Kaul
Producers: Prem Krishan, Sunil Mehta
Theatrical release date: 24th October 2003
Story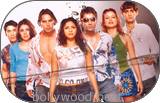 In a grotesque incident, a college student Malini and her lover were gruesomely murdered by a masked mysterious killer. Malini has a beautiful sister called Mahek (Tanisha). Mahek starts getting scary phone calls from an anonymous caller who claims to be the murderer of her sister. She has a college buddy circle that consists of Rocky (Doni Morea), Gehna (Suvarna Jha), Rajat (Gaurav Kapoor), Nikhil (Kushal Punjab), Suraj (Karan Nath) and Riya (Teena Chowdhary).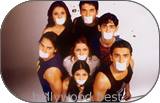 The mysterious killer tries to murder Mahek, but the circumstances favor Mahek. To cheer up Mahek and make her feel freshness, her buddies plan a perfect holiday trip to Thailand. And when these 7 friends went for a ideal holiday at a deserted island in Thailand, one person a times goes missing (or murdered). This leads to a speculation that one among these 7 buddies could be the psychotic killer. The wrangler tightens around the neck of Mahek as each one of the buddies of her are eliminated systematically. Who is this killer and why is he hell bent of killing Mahek and her family. To chase the mystery, you must watch this film on a big screen!!
Artists performances: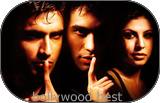 Tanisha is the sister of Bollywood actress Kajol. She resembles Kajol in looks as well. Even her diction is similar to that of Kajol. She did OK as the main heroine in 'Sssshhh'. However, she does not have the capability of lifting the film on her shoulders with performance. Dino Morea did a commendable performance as an obsessed lover with a streak of psychotic thrills running in him. He is a real debonair in looks. Suvarna Jha is good as the buddy of heroine. MTV anchor Gaurav Kapoor performed well as an ambiguous person who raises suspicion in minds of viewers. Karan Nath is a perfect fit for his role. Kaushal Punjabi and Teena Chowdhary are fair.
Technicians performances: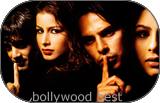 Story - Screenplay - direction: Story of the film is good enough to run the chill down the spines of the audiences. This kind of suspense and horror thriller need to be supported with taut screenplay for maximum entertainment and shock value. The director almost succeeded in scaring the viewers a regular intervals. However, he should have avoided the routine fight in climax of the film. The director also used the popular technique of narrating a horror flick where the needle of suspicion is pointed at each and every character at different points of time.
Music: Music by Anu Malik is OK. Songs in this kind of thrillers come as abrupt break to the narration. Background music and rerecording is impressive. Whenever there is lull in the background score, one could easily predict that something scary is going to happen on the screen.
Other departments: Cinematography by Hiroo Keswani is good. Dialogues are apt with occasional humor pepped in to it. Choreography in the bhangra item song is good.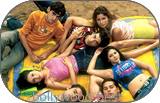 Analysis: This is a good film for the lovers of horror flicks, if you ignore few logics. However, the Post-climax fight looks extended. 'Sssshhh' offers very good scary scenes and also has good amount of shock value. You may watch this flick. It would have been a better fare if the songs and dragged climax were cut down to make it a 2 hour film.
Sssshh links:
Tanisha interview
Dino Morea Interview
Photo Gallery.