Hyderabad
August 26 , 2008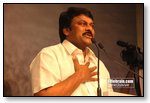 7:23 pm
Parting slogan
Mana Rajyam Surajyam. Swarajyam. Prajala Rajyam. Praja Rajyam!! Jai Hind!!!!
7:20 pm
All are soldiers in our party including me
All are soldiers in the war against social problems. There are no leaders in our party. All are soldiers including us. We don't have selfishness and we don't have fear. Hence we will win. Let us work hard to build a beautiful future. We want change. We will eliminate the poverty and bring smile among all the people of AP. Bravery and honesty are our weapons. Do not bother about people who sling mud on us. Let them discourage us. The more they discourage, the great our determination we will be.
People penned my role
Lot of writers penned many roles for me in the past for films. This new role is written by you people. And this role is going to be the one which I will live my lifetime. My life is dedicated to you people. Thank you very much. Jai Hind.
7:15 pm
The party anthem being played
After explaining about the party flag, Chiranjeevi played the anthem of Praja Rajyam party. It is accompanied by the cool visuals that support the agenda of Chiranjeevi and the concept of various ingredients embedded in the party flag.
7:10 pm
Flag is inspired by nature
Sun rise is our symbol. There are 24 rays to the sun in the flag which denotes that we spread the energy and light of sun throughout 24 hours. Red color of sun is symbol of change. White background is the mixture of vibgyor which represents people from all castes. The green streak indicates farmers. The yellow line around sun represents the smile that we will bring on the faces of every citizen. Red, White and Green represent Hindu, Christian and Muslims. Hence we are equally good for all the religions.
7 pm
The symbol is Sun
Just now the flag of Chiranjeevi Party is hoisted. The symbol is sun colored in red. The background color of flag is white. There is a streak of green symbolizing the farmers. The image of flag is something like this. There are some rays of sun in this flag. .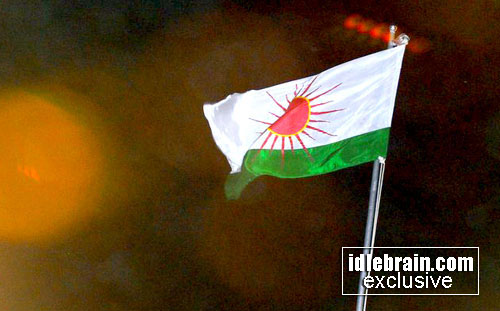 .
6:57 pm
I am for the sentiment of Telangana
Telanga has lot of cultural and historical heritage. It has natural resources and a great history. People have opinion that injustice is done to Telangana. That is because of the biased nature of the earlier governments. Telangana has 'athma gourava samasya'. I will respect the sentiment. If we have to separate Andhra from Telangana, I am willing to cooperate.
6:55 pm
Justice to economically backward class
All the castes have people who are economically backward. There is no caste to the poor. We will recognize such people as EBC (economically backward class) and my party will support them.
6:50 pm
I am against Government selling lands
Selling lands like doing injustice to our future generations. I am completely against. Government is misusing farmer lands by grabbing from them and giving it to SEZ. I am against giving farming land to SEZ. But I am not against globalization. I want industries to come to AP. But I will give them only those lands that are not used for farming.
6:47 pm
Naxalism is a social problem
Naxalism is erupted from poor. Poor is the deep cause of youth becoming naxals. I am not looking at naxalism as a law and order issue. I look at it as social problem. I would scientifically look at the problem and debate it with intellectuals and come up with a solution.
6:45 pm
Discourage selling of alcohol
Alcohol destroys several homes in AP. The government is giving them money with schemes and taking money from them by selling liquor at the same time. We will make strong commitment towards discouraging selling of liquor.
6:40 pm
Organized corruption should go
People generally take bribes to do things that are illegal and illegitimate. But here in India, most of the officers take bribes to do their duty. I want to cleanse corruption from the top level starting from political system. Hunger, necessity and greediness are three things that drive corruption. One can cure people who are corrupt because of hunger and necessity. But we should eliminate people who do corruption because of greediness.
6:35 pm
There are people who cant get Rs.2 kg rice and who can's afford Rs. 25 per kg
There are people who are above the social condition of availing 2/- per kg rice and who also can't afford 25/- for a kg of rice. There are many labors and lower middle class people who are in this segment. I would bring justice to them.
6:30 pm
Farmers get top priority
Chiranjeevi spelt out Sri Sri's poem "Kammali kolimi, Kummari chakram.." first and explained it. The farmer bachelors are not getting married because of their profession. Farmers will get the top priority.
Education is second priority
Only wealthy people are getting in to good educational institutes. Education has become business, but not the service. The economically backward people do not have money for the higher education.
Health is third priority
Poor pregnant women are giving birth to baby in the verandah of Gandhi hospital because hospital did not have bed. It is such a pathetic situation in general hospitals. Most of the people can't office corporate hospital. The hospitals are in bad shape in villages.
6:20 pm
Party name is Praja Rajyam
People belonging to various sections of society jointly announced the name of the part in the presence of Chiranjeevi. And the party name is "Praja Rajyam". Tagline of the party is "Preme Lakshyam – Seve Margam"
We have great resources in India
I am impressed by the development and infrastructure in west countries.But we have tremendous natural and human resources. We work hard in India. But we d not have enough guidance and implementing capabilities at the organizational level. I am confident that people Andhra will help me to get me the opportunity to guide and implement the human and natural resources of us in a better way.
6:10 pm
Social justice is the party motto
The motto of our party is to have social justice. Some part of society is getting ample opportunity. Most part of the society is getting very little opportunity. My party motto is to balance the social imbalance.
6:07 pm
I represented lower strata of society
I acted as Dalit youth in my debut film Pranam Khareedu. I acted as cobbler in award winning Swayam Krushi. I did the role of Dalit IAS officer in Kondaveeti Donga. I represented Dalits in Rudraveena. I always associated with lower strata of the society because of the struggles I had gone through.
6:05 pm
I had single meal a day in beginning days of career
In my beginning days of my career I used to have single meal every day as I could not afford food for twice everyday. I need 300 rupees per month as expenses during my stay at Chennai. But I asked my parents to send only 150 rupees. I used to have meals only once and used to have water and tea during the remaining part of the day.
6:00 pm
I wore knickers in intermediate
I studied my intermediate in Sharma college of Ongole. As we could not afford pants, I had to wear knickers even in my intermediate. I had to cooperate with parents and wear knickers though I was embarrassed.
5:55 pm
I remember struggling days as kid
I was the elder son in a family of lower middle class family. I used remember the days when I had to get the groceries home by walk as we did not have enough money to travel in a rickshaw. There were times when we did not have money and we used to pool the change so that we could live for the next two days using that change.
5:30 pm
Chiranjeevi arrives at the venue
Chiranjeevi makes sudden appearance at 5:30 pm sharp. Clad in a white full-hands shirt and black pants, he looked very fresh sans any tension. . Waving his hands to the crowds, Chiru gestured them with emotion gripping him. He is taking over the mike now. His first dialogues was "Ee tirumala tirupati venkateswarudi padala chenta koluvai vunna ee asesha jana prabhanjananni choostunte naa janma dhanyam ayindi anipistundi".
5:25 pm
Old woman injured in stampede
An old woman got injured in the stampede that took place at Avilala. Her condition is said to be serious. The organisers sought the police to take over the public blocks and control the crowds.
5:20 pm
One injured jumping barricades
One person got injured and broke his leg while jumping over the barricades. The volunteers took position and removed him to the near by medical camp.
5:15 pm
Clouds playing truant over Tirupati
With hardly half an hour left for the real countdown to begin, clouds are playing truant over the sprawling venue at Tirupati. Though scorching heat prevailed till 3.00 PM, slowly the weather began to change, with gathering clouds and at the same time dissipating now and then allowing the Sun to shine again. The same weather continues till this time ( 5.00 PM) with 31 degrees Celsius.
5:05 pm
Streets are empty all over AP
The streets all over AP are virtually empty as all the people of Andhra are glued to their TV sets to see the live program of Chiranjeevi's debut political public meet now. All the TV channels are providing the live of this meet. Most of the employee had gone to their houses by evening to catch the program live.
5:00 pm
Stage named as 'Praja Ankita Vedika'
The stage on which Chiranjeevi is going to announce party name and agenda is titled as 'Praja Ankita Vedika'. Chiranjeevi has chosen this venue to make his life dedicated to the public of Andhra Pradesh. He has bid adieu to films and entering the public life with a huge public gathering over 10 lac of people in Tirupati.
4:55 pm
Travails of physically handicapped
Volunteers and police are making joint efforts to make the physically handicapped persons reach their specified blocks in front of the dais. With traffic jam hitting various centers in the pilgrim town, those intending to reach the venue have started coming by walk. However, some of the physically handicapped are seen wading the long distance with much difficulty.
4:50 pm
25 lacs water packets
The organizers of Chiranjeevi sabha arranged 25 lacs of water packets to be given free of cost to the fans and lovers of Chiranjeevi who came to the venue in the scorching heat of Tirupati. 8 ambulances have been arranged. A few medical camps are being set up to treat the people if anybody gets injured.
4:40 pm
Girl injured, given first aid
A young girl of 14 years was injured when a sharp object hit her in the head, resulting in the bleeding injury. However, the women surrounding her immediately took her to a corner and rendered first aid, sprinkling water on her face and putting bandage with saree cloth.
4:40 pm
Fans frenzy at Mega family members
Chiru family members have arrived at the venue and are put up at a specially arranged enclave. They will be reaching their specified barricades at the frontal area when Chiranjeevi will arrive (at 5.00 Pm). Knowing that Ramcharan Tej arrived at the venue, the crowds from behind started pushing forward resulting in stampede. There are heated arguments between the fans and organisers
4:35 pm
Chiranjeevi starts to Avilala Sabha
Chiranjeevi has started now from the guest house of TSR in Tirumala. He would be coming to the venue now. There is an option of alighting a helicopter if the route of his gets jammed in the process. At the venue, there are two routes chalked out for him to go to stage.
4:25 pm
Unruly scenes at Avilala
Unruly scenes prevailed at the public meeting venue with tussle between organisers and the crowds. The crowds threw whatever object they found in their vicinity - chairs and broken pieces of wood (used for barricading) at the volunteers, who in turn started beating the crowds with lathis. The police are finding it tough to control the surging crowds. The police authorities have dispatched additional forces from Madanapalli and Chittoor to control the crowds by the time Chiru would arrive at the venue.
4:15 pm
Slight injuries in stampede
Some persons got injured in the slight stampede at Chiru's public meeting venue in Tirupati. The volunteers immediately spotted the injured and shifted them to the nearby medical camp for first aid.
4:00 pm
Countdown started with Vandemataram
The much-awaited cultural programs commenced at 4.00 PM with a group of males clad in white dresses displaying tricolors dancing to the song - Vandemataram (from Shankara Dada Zindabad), the girls wearing traditional pattu sarees (orange) started moving amidst them. The crowds started cheered at the performers.
4:00 pm
Nagur Babu & Pragati anchors the event
Popular singer Nagur Babu who rendered his powerful voice to many songs of Chiranjeevi. He started anchoring the program in an entertaining style by appealing to the fans of Chiranjeevi. The cultural programs will start now. Popular TV news reader (MAA TV) Pragati is the female anchor for these cultural programs.
Mano, Pragati as crowd controllers
With hardly an hour left for the mega show to commence, playback singer turned music director Mano (Nagur Babu) has taken the mike, urging the crowds to cooperate. He said that Chiranjeevi is exclusively coming for them. "You should maintain calm and cooperate with us. You all should bless him." Anchor and news reader Pragati too arrived on the dais, urging the crowds to be silent and not to cross the barricades. Nagababu in turn made repeated and fervent appeals to the crowds not to stand on the barricades or cross them. With his cinematic and much-familiar voice, Mano kept the crowds engaged.
3:55 pm
Mild lathi-charge at Avilala
The police resorted to mild lathi charge when the surging crowds started coming to the front of the dais, crossing the barricades. However, the situation was immediately controlled on the arrival of special forces. In view of this, extra forces are kept at the frontal positions of the stage.
Bharavi met lonly Chiru
After dharshan of Lord Venkateswara at Tirumala, megastar Chiranjeevi chose to spend time alone for some time at his reserved chamber. At around noon, film writer Bharavi met Chiranjeevi and spent a few minutes. Bharavi is said to have assured Chiranjeevi of success and asked Chiru to invoke his ishta daivam before commencing his speech.
3:45 pm
Chiru to visit Tirumala after public meet
Chiranjeevi will go to Tirumala and seek the blessings of Lord Venkateswara immediately after the completion of his public meet today evening. He visited the temples in Tirupati today morning after he reached Tirupati by a helicopter of Deccan Aviation. He was accompanied by his wife Surekha and son Ram Charan Teja.
3:40 pm
Naga Dosham on Chiru: Panthulu
Vizag-based Maha Kameswari Peetham head Yuddanapudi Ayyanna Panthulu advised megastar turned politician Chiranjeevi to immedaitely get relieved from "Sarpa Dosham". Talking to reporters in Vizag, the local pontiff said that while readying the massive area running into more than 100 acres for Chiru's public meeting, hundreds of snakes were killed. "This dosham will surely affect Chiranjeevi adversely," he maintained.
"By killing snakes, one is prone to curse from Goddess Nagini. Before being affected by Kalasarpam (Snake God representing time factor), Chiranjeevi should take steps. It is a sin to kill hundreds of snakes there. Adi Devudu is the first among the nagas. Killing a snake is equivalent to killing Adi Deva," Panthulu maintained. To get relieved from this dosham, "Chiranjeevi should construct a temple for Goddess Manasa and consecrate the idol of Nagaraja at the venue itself (Avilala Cheruvu)," he added.
3:30 pm
Guntur hawa for Chiru meet
There is unprecedented gathering of people from Guntur district for the Mega show in Tirupati today. Those who are anticipating the party tickets resorted to a huge exercise to collect the masses. Two trains exclusively came from Guntur, besides 200 buses and 400 other vehicles. Interestingly, each of the compartments of the two trains were named after the titles of Chiranjeevi films.
3:25 pm
Chiranjeevi to announce party name at 5:45 pm
Chiranjeevi will start speech at 5:30. Then he will announce the party name at 5:45 pm. Then he will speak abut the agenda of the party for 30 minutes by giving powerpoint presentation on the huge LCD screen.
3:15 pm
Chiranjeevi to unveil flag at 6:20 pm
Chiranjeevi will unveil the flag of his party at 6:20 pm on the giant LCD screen. Chiranjeevi is expected to speak for the next half an hour. Chiranjeevi will also use the same LCD screen to give a power point presentation about agenda of the party.
2:50 pm
Don't cross barricades: Tirupati ASP
About 3000 police personnel are deployed to man the security arrangements at the venue. In addition to this, special forces are kept reserved to meet any untoward turn of events. The additional superintendent of police sought the public "not to cross their specified barricades during the meeting." For every five minutes, the announcement is being continuously repeated, warning the people of stampede.
2:25 pm
Chiru address at 5.00 PM
Chiranjeevi will be coming to the venue and straight board on to the dais at 5.00 P.M. After making half an hour speech, he will be launching his political party at 5.30. The organisers are particular about completing the public meeting sharp by 7.00 or even before that, preliminary reports said.
2:10 pm
Film personalities at Tirupati
Film personalities Srikanth, Raja Ravindra, VV Vinayak, Dr. KL Narayana and Edidha Sriram are currently in Tirupati to take part in the megastar's public meeting. The police said that in all 23 persons would be allowed to come on to the dias. Who are they is not yet known. Chiru is said to be making his speech, mostly from the notes already taken.
1:50 pm
Chiru about migrations into party
Referring to the migrations into his political party, Chiru said: "After this public meeting, there is going to be an exodus into our party. I consider all the political leaders who are going to join us as very important to my mission for people. I am ready to wage my war against corruption with old weapons (migrating people). I don't think they are rusty weapons. I consider them still sharp. I will consider such sharp weapons (leaders),"
1:45 pm
Wait, listen about corruption: Chiru
"I will talk about corruption before the lakhs and lakhs of people. You have to wait for sometime to hear from me directly," Chiranjeevi told the media. "As I get ready to address my maiden public meeting, I feel elated. A special feeling grips me. It is not pressure, but a great opportunity before me. It is a deep emotion. I am not feeling sad for leaving the film industry, but I am happy that a more precious mission is before me for the people. People at present are not happy in the state. I can clearly see that. I feel their strong inside urge for happiness. My political party is the result of their deep felt feelings. I am answerable to their feelings," he said.
Chiru further said: "I don't think I am doing politics even now also. I feel this as a big opportunity to render effective social service. This political party is just a platform, it is like an adharam. Even during 2004 elections, my name cropped up among the public, who desired me to come into politics. Like that, thrice I felt the call. Now, I thought I could delay, but respond to the public at this right time. A feeling as to what should I give to people, and how I have to fulfill their dreams for betterment was continuously felt in my mind," he maintained.
"Andhra Pradesh people will definitely and unanimously give power to those towards whom they would tilt. I don't think there will a hung. Nobody needs to live in poverty. All should live in peace and happiness. The day will come when our Andhra Pradesh will turn into Santhoshandra Pradesh, Chiru Navvula Andhra Pradesh and Subhiksha Andhra Pradesh," Chiru said.
Rajni doing, why can't me: Chiru
Actor turned politician Chiranjeevi said that he still holds the stamina as an actor for the next five years, but he decided to come into politics for doing effective social service. "When my friend superstar Rajnikanth is still able to retain his stamina and doing films, why can't I? But, something more awaits me. People are calling me to be in their service."
1:40 pm
MAA TV live feeds to news channels
MAA TV Has set up a 10 camera on-lining editing unit at the venue. The videos captured through these 10 cameras will be sequenced and a live feed will be generated with in minutes. This feed will be given to all the OBV (Outside Broadcast Vans) of various news channels like TV9, TV5, NTV and other national news channels. Hence you will be getting the same feed simultaneously in all channels.
TV9 uses 7 cameras
TV9 has sent a special team of 20 technicians from Hyderabad to cover the live event of Chiranjeevi's political meet. They are using 7 cameras and 3 OBVs in Tirupati to get the live updates about the happening of Tirupati sabha.
1:30 pm
Chiranjeevi in TSR guest house
Chiranjeevi is currently accommodated at TSR guest house, near the political meeting venue, Tirupati. Precautions are taken to see that the traffic en route is not blocked when the megastar would reach the stage at Avilala Cheruvu. He will be here till the evening and come out of the guest house around 3:30 pm to attend the public meeting where he will be addressing more than 10 lac people.
Tagore screening on LCD
The organizers erected a huge LCD screen at the stage. They are currently screening Chiranjeevi's social-message blockbuster Tagore, to keep the crowd in good humor. The same screen will play a show reel of Chiranjeevi's life story before the start of the public meeting at 4 pm.
1 pm
Megastar predicts clean sweep
Megastar Chiranjeevi today said that his political ideals have come closer to the aspirations of the people. "This prompted me to launch our political party." The actor turned political leader spoke to a section of the media, after worshipping at the temple of Lord Venkateswara. He predicted that the migrations into his party would increase by leaps and bounds. He further predicted that he didn't see any hung like situation, but a clean sweep by his party, reports said.
Tirupati venue: After NTR, its Chiru
Nearly 25 years after NT Rama Rao made his maiden political speech in Tirupati, after launching his Telugu Desam Party, now its the turn of Megastar Chiranjeevi to launch his party at this pilgrim town. It is widely believed that Chiranjeevi will take up whirlwind tour of the state mandal by mandal and district by district, starting from September second week. Even during the peak of political atmosphere in the state, TDP supremo Chandrababu Naidu too resorted to Tirupati as the political platform. When Nandamuri Harikrishna launched his Anna TDP, he too started his political venture from Alipiri, foothills of Tirumala.
Political tension gripped state
A hectic political tension gripped the political parties in the state. With three to four hours left for the megastar's public meeting to commence, senior political leaders and analysts are thoroughly watching the developments. Today, Chiru will announce the name of his political party, flag and agenda. Some of the most important aspects in public demand are: Telangana issue, backward classes welfare and farmers problems.
12:30 pm
Mega show between 4-7 PM
Allu Arvind told the media that everything would be ready for the mega show by 4.00 PM. "Anyways, the public meeting will be finished by 7.00 PM," he said. Cultural programs are expected to commence from 2.30 P.M. Allu Arvind urged the fans to be careful while coming to the venue. As precautionary measure, ambulance services are kept ready at the venue and at some arterial junctions in the pilgrim town. Already a medical camp was put up last evening at the venue. 25 lakh water sachets are kept ready for the crowds.
12 noon
Already 2.5 lakh people arrived
An estimated 2.5 lakh people have already arrived at the venue of megastar's public meeting by 11.00 am at Avilala Cheruvu, Tirupati. Most of them are from Godavari districts, Krishna and Guntur. Those who are reaching the venue have to stop their vehicles one and half km away from away and walk the distance. Allu Arvind arrived at the spot at around 11.15 a.m. and supervised the arrangements. Despite scorching heat at the pilgrim town, the crowds have taken time standing at blocks. Preliminary reports say the public meeting would start only after 4.30 P.M. By the peak of evening, the crowds are expected cross 15 lakh mark.
11 am
Chiru worships at Tirumala temple
Megastar Chiranjeevi worshipped at the famous temple of Lord Venkateswara, Tirumala. After arriving at Renigunta airport, this morning, Chiru and his family left for Tirumala. TTD new chairman Adikesavulu Naidu and Executive Officer Ramanachari formally welcomed Chiru and his entourage. Chiru is going to perform special pujas at the temple of Lord Japali Anjaneyaswami, 5 km from Tirumala towards Papanasanam. After this, he is to reach downhill Tirupati for the public meeting in the evening.
Heavy traffic jams in Chittoor dist
Traffic came to a grinding halt at various arterial junctions on the Tirupati-Bangalore highway via Chittoor, in view of heavy surge of Chiranjeevi fans to attend the actor's debut political meeting at Tirupati this evening. On the busy Naidupet-Srikahalasti road, traffic is being held up to a distance of 5 to six kilometers with hundreds of vehicles heading towards Tirupati from the direction as far as Vijayawada and beyond..
10 am
Factory workers seek Chiru intervention
About 250 workers belonging to a granite factory owned by co-brother (viyyankudu) of megastar Chiranjeevi – Sivaprasad and his son Viswaprasad (Sushmita's hubby) - today resorted to dharna in front of the District Collectorate, Chittoor. They are protesting against the closure of the factory, though it is not in losses. The workers demanded that Chiranjeevi should intervene and take steps for the resumption of the factory. The agitators said that they would resort to dharna before Chiru's party office in Hyderabad, if the actor-politician fails to fulfill their demand. The factory is at Nagari (Andhra-TN border) in Chittoor district.
Chiru and family arrived in Tirupati
Megastar Chiranjeevi accompanied by his family members arrived at Tirupati this morning. He is expected to reach Tirumala for dharshan of Lord Venkateswara before alighting the hills for addressing his debut public meeting in the evening, tentatively set between 4.00 PM and 7.P.M. The bomb squads specially deployed for the purpose have thoroughly scanned the entire area of more than 100 acres. Anand Sai, art director, has erected the special dais for the public meet.
8.26 am
Megastar to arrive in Tirupati
Megastar Chiranjeevi today morning left for Tirupati by flight from Hyderabad. He is accompanied by his wife Surekha, son Ramcharan Tej, Allu Arjun and others. Some of the film personalities also traveled with him. Chiranjeevi would be going to Tirumala after finishing his debut public meeting this evening. Heavy congregation of fans and party activist are waiting for the arrival of Chiranjeevi and troupe at Renigunta airport.
Mega fans dies of heart attack
Mega fan Trinath Babu from Bhimavaram (WG dist) died of heart attack while traveling to Tirupati by train. This happened on the intervening night of Monday.
Chiranjeevi Party articles:
Chiranjeevi Tirupati banners
Chiranjeevi T Party to telugu film industry
Bhumas joins Chiranjeevi Party
Sankharavam music launch
Pawan Kalyan meets NRI Chiru fans
Fans at Chiranjeevi party officiers
Chiranjeevi announces his party
Media chat with Chiranjeevi
Chiranjeevi hoists the flag
Chiranjeevi Party office launch