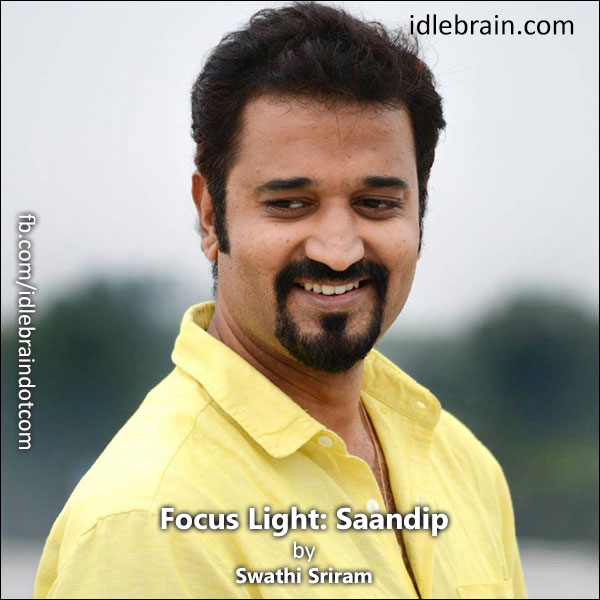 09 July 2015
Hyderabad
Focus Light is the platform to intorduce and showcase the young talent that is unseen and unheard of in Tollywood. These tinsel stars are shining in the dark. Our effort is to put light on these young talents and bring them into the galaxy of sparkles.
A multi talented persona of Tollywood, Saandip, is the perfect Telugu household name that Tollywood can ask for. A singer, Actor, Dancer, Painter, dubbing artist… Saandip has all the feathers that a celebrity cap needs. Idlebrain throws the Focu Light on Saandip Bakchu for this week.
My childhood
I was born in Vijayawada. My father worked in Indian Railways because of which he was placed in Sholapur, Wardha, Mumbai and other places. I remember my childhood in Bhopal where I studied in Kendriya Vidyalaya. My elder brother used to inspire me in singing hindi songs, and thus I became a fan of Kishore Kumar . I started listening and practicing Rafi and Manna Dey songs too. I consider the trio as my gurus. I was and I am still a big fan of SPB. I used to get his audiocassettes from Vijayawada whenever I visited the city during summer vacation and practice them ardently during my stay in Bhopal.
College star
I must say, I was very good at singing, dancing and painting. As time progressed, I grew closer to Singing. But dancing helped me in my acting career. We moved to Hyderabad in 1991. Hyderabad opened up more avenues to explore my talents. I studied in KV Golconda and KV Uppal. After 12th I secured a good rank in KCET and thus joined in Bangalore Institute of Technology and pursued BTech in Telecommunication Engineering. My first day of college was quite interesting. After I entered a class while it was on, I sat in the back of the room. The lecturer suddenly asked if we were getting bored and when we said yes, he announced that it's time for some entertainment. He then asked if there's any talent in the class, I raised my hand and grabbed the opportunity and sang o cheliya na priya sakhiya from Premikudu movie. I became quite popular instantly and made some friends. When I enquired about the class for the next day, I was told, that I was in entirely a different branch. It was quite funny though but I totally enjoyed the attention by all means. I was ragged in a smooth way where the seniors made me sing in the end of the night. I was a local star and a celebrity among the students. My college days were unforgettable. My KV experience and college experiences enhanced my personality. We had a band and I was the lead singer for the Indian music. My entry in female voice with the alap of " N a cheli rojave" song generated a craze during the event . I also used to mimic all singers, which was quite a hit among the crowd. Indeed, I was very popular among the students and the faculty.
My career in singing
My singing career in fact started seriously when I joined Shobha Raju's classes on my father's guidance and suggestion . I n spite of being hectic from shuttling between school, my home and the classes which were quite far , I was very passionate about learning music and used to work very hard to assimilate the teachings. In 1995, I won gold medal in all india Annamacharya singing competitions. I used to participate in various competitions and won many.
I participated in padutha teeyaga when I was in my 3rd year of BTech in 1999. I was one among the finalist of the same, and got good visibility through the e show.
I was also the 1st male south Indian to have participated in Hindi Zee-Saregamapa on National TV. It was a rich and unique experience. I won 7 levels and got a chance to perform in front of big wigs of Bollywood music industry. The most unforgettable moment was, when I sang Annamayya keertana Brahmamokate in Sare Ga ma Pa and got great appreciation from the people who didn ' t even understand Telugu. I was also the 1st guy from south to have participate d in Indian Idol -1 where I made it to top 30.
SPB made me sing 17 songs in his show "Yendaro mahanubhavulu", a year after Padutha teeyaga, which was a memorable experience for me. I used to perform regularly for Swara Madhuri group by G Anand. During that time, I received a call from RP Patnaik to sing for a movie. I was thrilled and recorded 2 songs for the movie Chitram . They are Kukka kavali and Ekantha vela along with Bhargavi Pillai. But due to a technical glitch to audio file, I was called again to re-record Ekantha vela. And I couldn't make it to the re-recording beacuase of my college exams In Bangalore, and the song was finally recorded by other singers.
Cross roads
I was selected in campus placement for a MNC, where they wanted me to be on bond for 2 years in USA. The thought of being away from music industry for 2 years made me contemplate and I had a long discussion with my father. Then I decided not to go ahead with it and came to Hyderabad to pursue career in Music.
My father gave me 6 months of time to try my luck in music industry. I struggled for 6 months and didn't get considerable opportunities apart from 2 movies, Ramma Chilakamma and Family Circus which I sang for RP again. Then on my father's suggestion I joined an MNC, and then, Nuvvu Nenu happened . The song Nagundelo neevundipova was a big hit in youth, and then I sang for almost all music directors after that.

As an actor
Hemanth Apte saw me performing in a TV show and offered me the lead role for the movie "Premayanamaha". I met him, heard the story, took about a month's time and finally decided to take it up after judging all the pros and cons. I got trained for a month in acting and dancing and then went for the shoot. Initially, it was little difficult to comprehend camera angles, catching light, being in frame. But by the second schedule of the movie I was comfortable and understood various intricacies.
Though the movie didn't do well commercially, my work was appreciated for as a debutant, and I had some improvement points too to work upon. "Inkosaari" happened in 2009. After that I acted in Oridevudoyi as Rama and also did a metro Hyderabadi Hindi comedy thriller called "Kaise maare is zombie ko" which was released in multiplexes and was an entertaining movie.
My role in Tiger :
I worked with Chota K naidu for an ad film (Durga ghee) along with Priyamani. He asked me to do a key role in Tiger. And informed that they thought of Manoj Bajpai for that role, but as it didn't work out, I popped up in to his mind. Surprisingly my name in movie is also Manoj. He narrated me the whole story and elaborated the strength and importance of the role in the movie. As the role demanded a little matured looking persona, they worked on my look and asked me to keep mustache and spectacles. I did my job and had no expectations towards any name or fame. But after the movie is released, I started getting many calls and messages about how much people liked it and got connected to the humanitarian aspect, I really felt Happy for the appreciation I received.

I am often asked by people why I didn't do many movies. It's because I never hustled and just took up offers that came my way. Had I made portfolios, hired managers, approached directors, I would have done more movies. Of course I don't regret either, as I believe in destiny. But recently when I got a wonderful response for my role in the movie Tiger, in which I played a Key role as a good hearted Samaritan, my well-wishers suggested me to take up acting seriously. And I am working on it now.

I am also asked by People why I am not singing as many songs as before. For which the answer is, whatever I sang, it was just what came through my way without an ounce of trial from my end. But off late, I realised that, people give you work ; only if you are visible to them very often and are building up a relation to showcase your real talent. It sounds justifying too, considering the huge inflow of singer. I must admit that I lacked the PR acumen. But ; better late than never. I am game for it now, and taking it forward with the right spirit. I have started enjoying meeting people now than before. And I have sung some really good songs for 3 upcoming movies.
I have also given voiceovers (dubbing) for the lead actors in 9 Movies like Nandanavanam 120 km, Amruthavarsham, Arundhati, Manasu palike mouna ragam, Gaganam, Love in London etc . This aspect is something which is again a totally creative genre dealing with the histrionics of your voice. I enjoy doing it too.

Singing got me into acting . Though both are widely apart, yet they are interlinked. Singing is my passion. Acting is something which happened as a Wonderful surprise but off late unfolded itself beautifully.

Family
My father B Swaminath is retired from Indian Railways and my mother Janakinath, is a housewife. I have an elder brother , he is married and blessed with 2 kids. He works in Chennai . My parents live in Hyderabad with me. My wife, Padmaja, works in an MNC. We have a daughter, Sai Sahasra, who is three and half years old. And she thinks whatever song comes in TV is sung by me
By
Swathi Sriram
Other articles in 'Focus Light:
• Snigdha
• Anil - Bhanu
• Vijaya Bhaskar
• Vinay Varma
• Dr. Josyabhatla Sarma
• Sasikiran Narayana