Allu Arjun's blockbuster Bunny completed 100 days in 35 centers. The 100 days function of Allu Arjun's 3rd consecutive blockbuster Bunny was celebrated in an electrifying atmosphere in Shilpakala Vedika in the night of 22nd July. Chiranjeevi, Dasari, D Rama Naidu, K Raghavendra Rao, Sarath Kumar, VV Vinayak, Allu Arvind, Devi Sri Prasad, Ahuti Prasad, Sudha, Rajendra Kumar, Raghubabu, Venu Madhav, Gowtam Raju and Allu Arjun attended this function.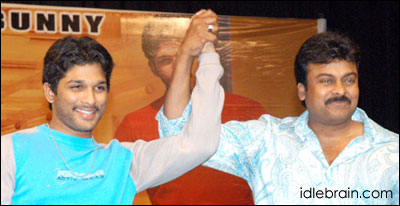 Chiranjeevi is the reason behind Allu Arjun's success - Allu Arvind
Allu Aravind said, "Allu Ramalingaiah attended the 100 days functions of Allu Arjun's Gangotri and Arya. He expired later. I feel the soul of Allu Rama Lingaiah being here. Chiranjeevi is the inspiration for Allu Arjun to enter the film industry. Chiranjeevi personally takes care of Allu Arjun. It is Chiranjeevi who decides on which films Allu Arjun should act in. I would also like to thank the producers and directors of Allu Arjun's films for giving him success."
Chiranjeevi occupies 1 - 10 slots - Dasari
Dasari said, "I attended all Chiranjeevi's 100 days celebration functions except for Indra. I was me who gave a statement that Chiranjeevi occupies 1 - 10 positions in Telugu film industry. None of the people who used Chiranjeevi said the same thing about Chiranjeevi to public. Allu Ramalingaiah always wanted his heirs to become heroes. He got his wish fulfilled with Chiranjeevi - Allu's son in law. Pawan Kalyan followed the suit. And now we have Allu Arjun. I have seen Bunny film today morning and I feel that its an excellent film. The credit should go to the director VV Vinayak. He took the old story and directed with freshness. The concept of Polavaram is an important political issue. VV Vinayak is one director who cares for producers in stead of exploiting them. Allu Arjun's performance is great. He is talented as well as hardworking. After doing a film like Bunny, it is very difficult to get new subjects for Allu Arjun. We also should be proud of our local talent Devi Sri Prasad."
Chiranjeevi is there for me - Sarath Kumar
Tamil popular hero Sarath said, "Chiranjeevi is a mega star not only in AP, but also in Tamilnadu. Chiranjeevi Andarivadu. I did small roles in Chiranjeevi films like Gang Leader and Stuvartpuram Police Station. During that time he predicted that I would become a popular hero. I was in lots of debts in Chennai few years back. Then people asked me how I was going to repay the money. I told them that Chiranjeevi is with me. I came to Chiranjeevi and asked him to do a film for me. He gave me call sheets. Fortunately, I got some money using which I repaid my debt. I am willing do even small roles in Chiranjeevi films. Director VV Vinayak is a talented technician"
I will do a film with Chiranjeevi - D Rama Naidu
D Rama Naidu said, "Allu Ramalingaiah is a close family friend of us. He acted in almost all films produced by me. He used to take only 50% of the remuneration from me. When somebody asked him he said that if we give that money to anybody we are not even sure of interest amount, but with D Rama Naidu we are safe. I am going to make a film with Chiranjeevi very soon."
Director VV Vinayak said that Allu Arvind is the caption of Bunny ship. It was Allu Arvind who set up the entire project. Chiranjeevi, Dasari, D Rama Naidu & K Raghavendra Rao had come to the muhurat of this film. Now I am happy to seem them for 100 day function.
Hero Allu Arjun said that Chiranjeevi is the inspiration for him. He thanked everybody for making Bunny a success.
Success should not go into Bunny's head - Chiranjeevi
Chiranjeevi who gave the concluding speech said, "Most of the people care for the relatives or friends. But only few people care for poor men and labor. Dasari is one among them. He always cared for labor. He solved issues and granted many favors for labor in mines. People say that I am in top position. But it is fans who kept me on top. Their encouragement inspires me to work harder and achieve more. Once Rajnikant told me that fans know about us better than any of the big directors. we should be giving chance of direction to our fans. I agreed with Rajnikant. VV Vinayak is a fan of me and I gave the project of Tagore to him. And the result was amazing. Sarath Kumar gave a terrific performance in the song of Bunny. I would like to thank him for responding immediately when I requested him to do a vital role in Bunny. Producer Mallidi Satyanarayana Reddy worked as an assistant director for my films like Abhilasha and Chiranjeevi. I am happy for him as he has become a successful producer with Bunny. Allu Arjun did extremely well in Bunny. He is on the success wave now. He should not let the success go into his head. When I came to film industry, I struggled hard. Allu Arjun is lucky to have my fans encouraging him. He is very hard working and should continue it for the future films as well."
Bunny Links
Jeevi Review
Muhurat
Photo Gallery
Wallpapers
Chitchat - Raghubabu
Gowry Mumjal interview
50 days centers
100 days centers
Triple Platinum disc function

Other 100 days functions of Allu Arjun
Gangotri
Arya