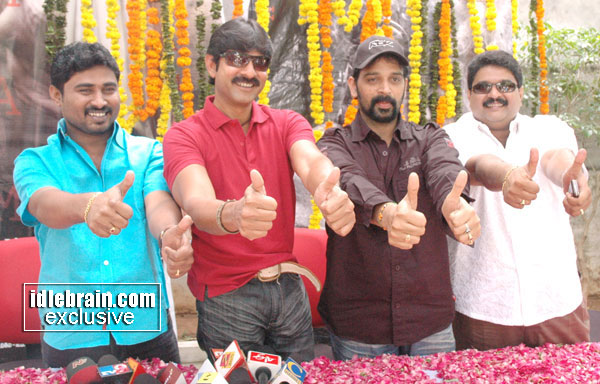 The unit of Homam, a JD Chakri's debut film as director, today expressed its joy over the "excellent collections," all over the state, Chennai and overseas. Made on Shreya Productions banner, and released through Venkateswara Creations of Dil Raju on August 28, the flick completed its first week with more than one hundred prints. A media briefing was held today at the production office, Hyderabad. Producer Kiran Kumar Koneru, director Chakri, hero Jagapati Babu and distributor (Ceded and Nellore) Hari were present.
New record in my career: Jagapati Babu
Jagapati Babu said: "For the first week, a gross of Rs. 4.5 crore is expected for Homam and this is first of its kind in my career. I consider this as big record as such a collection was not there for my previous films Pellaina Kothalo and Samanyudu, though both were hits. Everywhere we are getting positive results."
Homam Jatara & Homam in Pakistan: JD
JD Chakri said: "For the last couple of days we launched hectic publicity. Some persons tried to counter the positive talk to the film. They tried to create a feeling that we are desperate and frustrated, and hence launched the big campaign. But, I tell you frankly that we have succeeded in making our efforts reach the audience. We are going to start Homam Jatara from September 16th. If we are frustrated, we should start it early. But, we are confident and we want to enjoy the success with the audience. The Jatara is not for success, but to celebrate the success. I hope you will mark the difference. Similarly, Homam II will come up for launch on October 9th. With the title – Homam in Pakistan (caption running Marana Homam Chestara?), we will be going for selection of new artistes for the film. The question wants the aspirants whether they are ready to act for the film. We will soon furnish the details of this program on a TV channel. I thank the media for its constant support to us."
Ramu said Homam is trendsetter
JD added: "Just now, Ram Gopal Varma called my friend and producer Kiran to say that Homam is really going to be a trendsetter in Tollywood." (Minutes before JD's words, Kiran Kumar got a phone call and he stood up and attended the call removing to a distance. Later, resuming the media meet).
Housefuls everywhere: Distributor
Hari said: "My thanks to Dil Raju for giving us this film. In ceded area, we thought the collections would be just Rs. 35 lakhs in the first week, but it collected Rs. 48 lakhs. In Nellore alone, the Kaveri theatre with a huge seating capacity is bring full continuously for all the shows all the week. In Chennai, I released the film yesterday (Wednesday – Vinayaka Chaviti). Though we didn't even display a poster, just by mouth publicity and phone calls, the theatre was full for all the shows. I am expecting to bring good returns to the producers. It is a big record in Jagapati Babu's career. I will also be taking Homam II for these areas."
Kiran Kumar Koneru thanked the media and the audiences for their big support. "My special thanks to Dil Raju for his patronage. He said he missed the function as he is away in Bangkok."
Homam links:
• Press meet 2
• Music launch
• Poster launch
• Press meet
• Photo Gallery
• Wallpapers