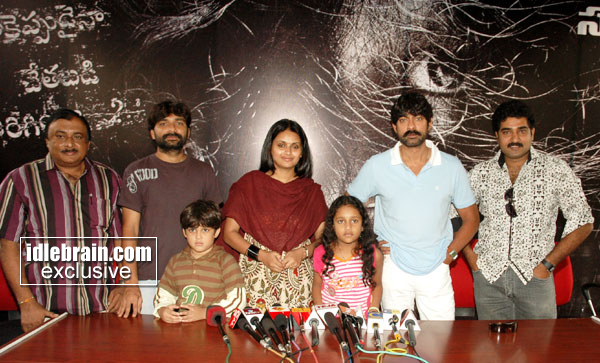 The unit members of Raksha, a recent horror film the presentation of Ramgopal Varma, today expressed their happiness at the success of the film with all segments of the audiences, all over the state. The film made on One More Thought banner is directed by Vamsi Akella, a protégé of Varma. A media briefing was held at their production house in Hyderabad to express their joy.
Jagapati Babu said: "I saw the film last night and I felt that the collections of Raksha are possessed with black magic. The film is continuously getting housefuls all over. Apart from horror, the film has great entertainment value. I was thrilled at the way how director Vamsi Akella dealt this subject. My appreciation is to the children (Neha and Athulith) who rendered terrific performance. I am in no doubt to say that the film would become a blockbuster and set a trend in the annals of horror films."
Kalyani (who played wife to Jagapati Babu in this film) said: "I watched the film at Satyam theatre. Though it's a horror film, a number of ladies and children have come to watch this. It shows that the film is being accepted by the universal crowds."
Vamsi Akella said: "When I was working with Ram Gopal Varma garu as writer, I happened to narrate the script to Jagapati Babu. I thank Ramu garu, Jgapati Babu and Subbaraju (Executive producer) for this moment of joy. These are three people who made me director. There is tremendous response to the film right from the day one with great openings."
Rajiv Kanakala said: "It has been my dream to work with Ram Gopal Varma production for the last fifteen years. I did this film to satisfy my ego. The film has really come out well. The little girl Neha provided extremely powerful title role and terrified the audience. It is a big entertainment for all sections of the audience."
Raksha links:
• Press meet
• Neha Thota Interview
• Ram Gopal Varma interview
• Photo gallery
• Trailers