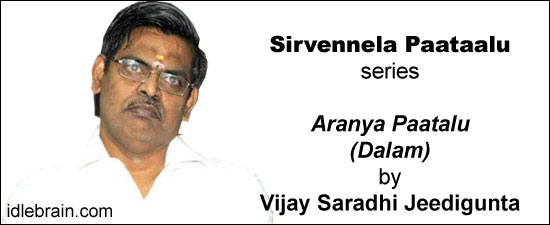 Sirivennela is the living legend of Telugu cinema. He stands as a living testament of uncompromised standards of Telugu lyrics of Telugu cinema. Idlebrain.com is starting a series called 'Sirivennela Paataalu (Sirivennela lessons)' written by Vijay Saradhi Jeedigunta.
It was the year 1986, just an year after I graduated in Electrical Engineering from College of Engineering, Osmania University. Still angry and frustrated about so many things in life like any fresh graduate and was used to get easily agitated and irritated for trivial things. I was also not matured enough to digest the events and incidents that were unfolding in and around our society at that time which in turn used to make my blood boil. Veturi's song from the film 'People's Encounter (1986)' - I nEla manadirA (ఈ నేల మనదిరా ) along with so many songs of SriSri, the first and foremost being 'pADavOyi BhaaratIyuDA ' (పాడవోయి భారతీయు డా ) through which I got influenced and resorted to a laidback state of 'I dESaanni evarU bAgucheyya lEru'(ఈ దేశాన్ని ఎవరూ బాగుచెయ్య లేరు) used to be my mantras for expressing my displeasure at all the wrong things that were more or less part and parcel of Our society. That 1961 film velugu nIDalu (వెలుగు నీడలు) song which was written 15 years after independence had some lines which at that time I thought were applicable even after 25 years it was written, unfortunately even today it still stands as a reflection of Our Society. Another song that I used to like very much during those days was 'gAndhI puTTina dESamA idi..' (గాంధీ పుట్టిన దేశమా ఇది..) from pavitra bandham (పవిత్ర బంధం, 1971). This song too had similar content which was very relevant for my anger and anguish towards the Government and Society in general. Sri Sri poems (kavitalu కవితలు), 'sApATu eTU lEdu (సాపాటు ఎటూ లేదు) song from the film Aakali Rajyam (ఆకలి రాజ్యం) were also used to be my frequent references in discussions and heated arguments with my friends and relatives to vent my anger and helplessness in not being able to do anything other than just talking . Though I knew, we definitely progressed as an Independent Nation, Developed Technologically and Advanced in many areas, but one question kept on pondering, Are We really happy?
That Question takes me back to the year 1993, RGV's Gaayam (గాయం) film released and I found a new idol through whom I could relieve some of my frustration and anger. Of course he was not at all knew to me. The Lyricist who penned so many classic songs has shown his another angle emphasizing the fact that pen is mightier than sword. surAjyamavalEni song by Sastry Garu appealed to me very much and I got connected to the content instantly. The first two lines of that song ' surAjyamavalEni swarAjyamendukani.. sukhAna manalEni vikAsamendukani...' (సురాజ్యమవలేని స్వరాజ్యమెందుకని.. సుఖాన మనలేని వికాసమెందుకని... ) made me express the words "ahA… SAstri gAru Em cheppArrA…" (అహా… శాస్త్రి గారు ఏం చెప్పార్రా..) . Guruvu garu also penned another masterpiece 'niggadeesi aDugU' (నిగ్గదీసి అడుగూ) for the same film, which stuck me like a bullet and in a way helped me change my attitude towards the social responsibilities a little bit, if not completely. Suddenly I felt ashamed for being a part of the same society and crowd (siggulEni janam సిగ్గులేని జనం) and looking for some external forces to take care of my situation. I felt the honesty and genuinity in Sastry Gari portrayal of a Journalist character when Revathi's character says "samAjam lO batukutU ilAnTi ghOram jariginappuDu janaaniki nijaanni cheppAlsina kaneesa baadhyata lEdaa.... " (సమాజం లో బతుకుతూ ఇలాంటి ఘోరం జరిగినప్పుడు జనానికి నిజాన్ని చెప్పాల్సిన కనీస బాధ్యత లేదా...)". His youthful yet reverberating voice along with his philosophical looks hit me hard when he utters the following dialogues just before the song ''niggadeesi aDugU I siggulEni janAnni…' (నిగ్గదీసి అడుగూ ఈ సిగ్గులేని జనాన్ని..)
Emi nijam anTunnAv.. aa nijaanni telusukuni nuvvu gaani nee janam gaani Em chEstAru...
nuvvu pEparlO vEstAv.. adi poddunnE aaru ganTalaki inTinTiki velutundi... daanni vaaLLu chaduvukuni pakkana paDEsi evari panullO vaaLLu munigi potaaru.. antEgaa....
ee mEnEjar kayitE rEppoddunna durgA Em chEstADO... sarkaarEm chestaaDO.... tana thiyETar EmayipOtundO.... tana fEmilI EmayipOtundO anna bhayamto nijam cheppakapOvaDAniki hakkundi... kaani aDagaDAniki neekEm hakkundi.. nuvvu raasina daanni enTarTainmenT gaa chaduvukunE aa janaanikEmundi hakku...
Following is the Telugu Text of the same lines for those who understand Telugu :
ఏమి నిజం అంటున్నావ్.. ఆ నిజాన్ని తెలుసుకుని నువ్వు గాని నీ జనం గాని ఏం చేస్తారు...
నువ్వు పేపర్లో వేస్తావ్.. అది పొద్దున్నే ఆరు గంటలకి ఇంటింటికి వెలుతుంది...
దాన్ని వాళ్ళు చదువుకుని పక్కన పడేసి ఎవరి పనుల్లో వాళ్ళు మునిగి పొతారు.. అంతేగా....
ఈ మేనేజర్ కయితే రేప్పొద్దున్న దుర్గా ఏం చేస్తాడో... సర్కారేం చెస్తాడో...
తన థియేటర్ ఏమయిపోతుందో... తన ఫేమిలీ ఏమయిపోతుందో...
అన్న భయంతొ నిజం చెప్పకపోవడానికి హక్కుంది...
కాని అడగడానికి నీకేం హక్కుంది..
నువ్వు రాసిన దాన్ని ఎంటర్టైన్మెంట్ గా చదువుకునే ఆ జనానికేముంది హక్కు…
Till I heard this song I was always under the impression that Guruvu Garu was at his best only when writing for K. Viswanath's films. Though, Money film songs were the last I seriously followed prior to leaving for Overseas Job, I always thought Guruvu Garu was more under the influence of RGV while providing lyrics to his films. Frankly I was not even following songs seriously written either by him or others during those days as I was keeping myself busy in trying to make a career in IT and fly down to the land of liberty. However, after the release of movie Gaayam, those two songs too have become my reference points along with those mentioned earlier, whenever and wherever there was a heated argument or a debate on India's situation. Between 1993 and 1998 I got busy with life trying to fulfill my dreams and delivering the responsibilities as head of my little family and as eldest son of my parents. Spent major part of my time in climbing up the corporate ladders and trying to make a name for myself in USA. With my kids too growing fast time flew away rapidly and I kept myself away from Telugu films and songs for more than half a decade or so. Of course, I still used to follow the films by renting VCDs of hit movies that were referred to me by my brother and watching some of those films that used to get screened occasionally in Houston,TX. I also used to listen most of the good songs in my car during my hour long commutes to work, that were being sent by my father in audio cassetts keeping in mind my taste and likings.
Never realized during those days that most of those songs which used to whet my appetite were written by Guruvu Garu till I came across the DVD "dEvuDu karuNistADani" (దేవుడు కరుణిస్తాడని). Never before in my life I was so much thrilled to listen and watch a compilation of songs as I was when I watched that DVD. Sirivennela Gari songs in that DVD along with the Introduction and praises uttered by the makers of those films were real gems. I suggest everyone who is an admirer of his lyrics must have that DVD in their library collection. One particular song in that DVD made me go nuts and brought back all the memories of my angry Youngman thoughts . Introduction given by Krishna Vamsi about Sastry garu for the song 'ardhaSatAbdapu aj~nAnAnni (అర్ధశతాబ్దపు అజ్ఞానాన్ని)' and Guruvu Gari explanation about that song touched deep in my heart so much that I changed my views and opinions about the naxalism. I can't remember how many times I watched that DVD during those days.
That DVD was the genesis of making me start compiling a list of Sirivennela Sitarama Sastry Gari songs . Subsequently I started adding other songs which I knew were written by Sastry Garu to that list. Very soon it has grown into hundreds of the best songs ever written for Telugu Films. During my trips to India too, I used to spend lot of time in buying Audio CDs even if it had just a single song written by Guruvu Garu. I also used to borrow CDs & cassetts from friends , even if it's a vague movie but I knew there was a song written by Sirivennela Sitarama Sastry. This time while hearing any of his songs I started noticing that all of his songs had a theme to carry around and an unmistakable concept from first to the last line with which he never deviated. I have also observed that many of his songs carried universal meaning, i.e, the thoughts and content were applicable even if there was no context or a situation in the film to attach with it. Of course, at the same time if that song was removed from the film you will see a huge gap in the film as he always used the song to express the character's emotions and story's narration. You could also able to get an idea about what the film's story line is about, just by listening to the songs whenever he penned songs as a single card lyricist. I consider this is the USP (Unique Selling Point) of all Guruvu Gari songs. I have also observed he never compromised on his integrity, ethics and morals in scripting his lyrics.
That "dEvuDu karuNistADani" (దేవుడు కరుణిస్తాడని) DVD, which has put me on a mission to collect all Guruvu Gari songs written during the period I have put my sinimA pichchi (సినిమా పిచ్చి ) in the backseat. With the advent of Internet my job became a little easier than I thought . I in fact could also get many of his private songs that were sung by him at various private events and functions, the more I collected and listened to those songs, the more I became an Ekalavya Sishya ( Don't know if it's a correct term to use it here as I was not interested in writing songs at all) of Sastry Garu to the point that my relatives and friends used to avoid the topic of Sirivennela Songs altogether in our weekend get togethers.
During my extensive research and collection of Sastry Gari songs , I came across another song on Naxals movement from Ravi Raja Pnisetti's film ARANYAM (1996) which starred R Narayana Murthy. That song sounds similar to the one in People's Encounter and superbly sung by SPB in Vandemaataram Srinivas' composition. I believe that perhaps is one of the very few songs that Sastry Garu wrote which provokes you to fight against society and has many words which are violent in nature. I have not seen the film but I am hundred percent positive about that song must have been apt for the situation in the film. However, his next song with naxal backdrop setup song ardhaSatAbdapu aj~nAnAnni (అర్ధశతాబ్దపు అజ్ఞానాన్ని) song stood on top of my list among Sastry Gari songs which can be categorized as viplava geethalu with a touch of revolution and extremism. I would like to brand these songs as 'ARANYA PAATAALU (అరణ్య పాఠాలు)'. That song also is among the very few in which you will find a little bit of నిరాశావాదం (hopelessness) and చులకన భావం (cynicism) on సమాజం (society) from Guruvu Gari కలం. Though , one may feel there is a lot of నిరాశావాదం in these songs, whenever you bring that question to Guruvu Garu he strongly denies that by saying it has got nothing to do with hopelessness but a strong desire to wake up the society and see the similarity between naxalites, who wants to take away the problems of the society and police who wants to protect the society by attending common man's problems, though we as a society keep looking at their fights as a source of entertainment. He says "vennu taTTi lEpAlanna AlOchanE tappa A nirAsAvAdAniki nispRha ki A pATalu pramANAlu kAdu (వెన్ను తట్టి లేపాలన్న ఆలోచనే తప్ప ఆ నిరాశావాదానికి నిస్పృహ కి ఆ పాటలు ప్రమాణాలు కాదు)".
Cut to 2008, Triikram and Powerstar Pawan Kalyan's Jalsa – chalOrE chalOrE (చలోరే చలోరే చల్ ) song, which again touched the naxals issue , indeed sounded like a rude awakening rather than promoting nirASA vAdam (నిరాశావాదం). champanidE batakavanI batikEnduku champamanI….. namminchE adavini adigEmlAbham batikE dAretanI.. (చంపనిదే బతకవనీ బతికేందుకు చంపమనీ.. నమ్మించే అదవిని అదిగేంలాభం బతికే దారెటనీ… ' lines superbly emphasizes the fact that by hiding from the society and living like an animal how can you expect to reform the society.
Now coming to his latest song in DALAM about which Guruvu Garu spoke so much about in the Audio function does summarize his whole philosophy on the Naxal's movement (nirASa, nispRha lonchi janinchina samAjam paTla avagAhana, kartavya bhodhana నిరాశ, నిస్పృహ లొంచి జనించిన సమాజం పట్ల అవగాహన, కర్తవ్య భొధన ), I do feel it stands as an epitome of all his songs in this genre. It also introduces you to several telugu words that you may not have heard before. Though it has just two caraNAlu (చరణాలు) without any pallavi (పల్లవి) the depth of those lines is far far greater than you can imagine if you venture into understanding it.
I will be going through all these songs, which I am labeling as 'ARANYA PAATAALU ( అరణ్య పాఠాలు)', along with my understanding in a nut shell and try to provide the meanings of the sentences and some words wherever I find necessary.
SIRIVENNELA PAATAALU : SONG 002
SONG : SURAAJYAMAVALENI
FILM : GAAYAM ; MUSIC : SRI
VOICES : SP BALASUBRAHMANYAM
DIRECTOR : RAM GOPAL VARMA
suraajyamavalEni swaraajyamendukani
sukhaana manalEni vikaasamendukani
nijaanni bali kOrE samaajamendukani
aDugutondi adigO egirE bharata pataakam
aavESamlO pratinumusham urikE nippula jalapaatam
kattikonala ee vartamaanamuna bratakadu Saanti kapOtam
bangaru bhavitaku punaadi kaagala yuvata prataapaalu
bhasmaasura hastaalai pragatiki samaadhi kaDutunTE
Sirasu vanchenadigO egirE bharata pataakam
cherugutundi aa talli charitalO viSwa vijayaala vibhavam
kulamataala davaanalaaniki karugutunnadi manchuSikharam
kalahamula haalaa halaaniki marugutunnadi hindusandram
dESamanTE maTTikaadanu maaTa marachenu nETi vilayam
amma bhaarati balini kOrina raachakurupee raajakeeyam
vishamu chimmenu jaati tanuvunaa ee vikRuta gaayam
This song which Won a Nandi award for Sastry garu questions us as a society, whether we have progressed good enough to make us live comfortably with all basic necessities and with the kind of governance we opted for? The way he chose the Indian National Flag asking us to explain her about the mindless violence in the name of caste and religion that's melting the Himalayas and as well as boiling the Indian Ocean, questioning the youth for wasting their energies and talent involving themselves in all wrong doings instead of paving a foundation to their bright future. Its very typical of Guruvu Garu to take examples from mythological characters, Like the demon king Bhasmasura in this song, who is capable of attaining anything if he wants to, he chooses to make himself into ashes if he puts his hands on his head, the symbolism here I believe is 'tama cEtultO bangAru Bavishyattuni tIrchi diddukunE avakASamunnA kUDA BasmAsuruDilA A Bavishyattuni tama cEtultOnE bUDida pAlu cEsukunTunnAru (తమ చేతుల్తో బంగారు భవిష్యత్తుని తీర్చి దిద్దుకునే అవకాశమున్నా కూడా భస్మాసురుడిలా ఆ భవిష్యత్తుని తమ చేతుల్తోనే బూడిద పాలు చేసుకుంటున్నారు) ' . Terrific is the word for that thought. Similarily Indian National Flag, for filtering away all the glory and great times by putting her head down to all heinous crimes in the society (cherugutundi aa talli charitalO viSwa vijayaala vibhavam చెరుగుతుంది ఆ తల్లి చరితలో విశ్వ విజయాల విభవం ). When we attained independence, it was symobolized by hoisting our tricolor falg everywhere. All schools , colleges and government buildings will hoist it for sure on all national holidays. So Guruvu Garu conveyed a message saying the flag is becoming helpless at the things that were taking place in front of her especially at the insult it was getting meted by the Politicians and Students. Brilliantly written song and very thought provoking.
SIRIVENNELA PAATAALU : SONG 003
SONG : NIGGADEESI ADUGU
FILM : GAAYAM ; MUSIC : SRI
VOICES : SP BALASUBRAHMANYAM
DIRECTOR : RAM GOPAL VARMA
nigga deesi aDugu ee siggulEni janaanni
aggitOTi kaDugu ee samaaja jeevacchavaanni
maaradu lOkam maaradu kaalam
dEvuDu digi raani yevvaru yEmai pOni
maaradu lOkam maaradu kaalam
gaali vaaTu gamanaaniki kaali baaTa dEniki
gorredaaTu mandaki mee jNaanabOdha dEniki
yE charitra nErchukundi pacchani paaTham
yE kshaNaana maarchukundi jittula maargam
raamabaaNamaarpindaa raavaNa kaashTham
kRishNa geeta aarpindaa nitya kurukshEtram
paata raati guhalu paala raati gRhaalayinaa
aDavi neeti maarindaa enni yugaalayinaa
vETa adE vETu adE naaTi kadhE antaa
naTTaDavulu naDiveedhiki naDichostE vintaa
balavantule bratakaalani sookti maravakunDaa
Sataabdaalu chadavalEdaa ee araNyakaanDa
This song is one of the best representation of an individual who wants to express his anguish and frustration at the way he sees all the negatives in the society. I personally liked the praasa 'paata raati guhalu paala raati gRhaalayinaa (పాత రాతి గుహలు పాల రాతి గృహాలయినా )' pure telugu without mixing any other language yet being able to compare ancient world to the modern world ( 'anAgarikata vadili Adhunikata lO aDugulesinA ATavika neeti vadalani dustiti అనాగరికత వదిలి ఆధునికత లో అడుగులెసినా ఆటవిక నీతి వదలని దుస్తితి' ) is simply superb. As mentioned earlier, when people resort taking things matter-of-factly just for entertainment purpose till they become the victims, the society will never change. gAli eTu vIstE aTu veLLipOtU gorrellAgA mundara gorre eTu naDistE aTu naDicE manastatvam unnanta kaalam A raamuDu, SrI kRshNuDu digi vaccinA kUDA EmI ceyyalEru (గాలి ఎటు వీస్తే అటు వెళ్ళిపోతూ గొర్రెల్లాగా ముందర గొర్రె ఎటు నడిస్తే అటు నడిచే మనస్తత్వం ఉన్నంత కాలం ఆ రాముడు, శ్రీ కృష్ణుడు దిగి వచ్చినా కూడా ఏమీ చెయ్యలేరు). Though we are existing as civilized societies we still are following the rules of the Jungle and the most powerful animal keeps dictating things to us. A Classic Sirivennela thought I presume.
SIRIVENNELA PAATAALU : SONG 004
SONG : ARDASATAABDAPU AJNAANAANNI
FILM : SINDHOORAM ; MUSIC : SRI
VOICES : SP BALASUBRAHMANYAM
DIRECTOR : KRISHNA VAMSI
ardhaSatAbdapu aj~nAnAnni svarAjyamandAmA.. swarnOtsavAlu chEddAmA..
AtmavinASapu arAchakAnni svarAjyamandAmA.. dAniki salAmu chEddamA...
SAntikapOtapu kuttuka temchi techchina bahumAnam.. I raktapu sindhUram..
nI pApiTalO bhaktiga diddina prajalanu chUDammA.. O pavitra bhAratamA..
ardhaSatAbdapu aj~nAnAnni svarAjyamandAmA.. swarnOtsavAlu chEddAmA..
nityam koTTuku chachchE janAla svEchchanu chUddAmA..
dAnnE swarAjyamandAmA...
kulAla kOsam gumpulu kaDutu matAla kOsam mantalu pedutU
ekkaDalEni teguvanu chUpi taguvuku lEstArE janAlu talalarpistArE
samUha kshEmam paTTani swArthapu irukutanamlo muDuchukupOtU
mottam dESam tagalaDutOndani nijam telusukOrE.. telisI bhujam kalipi rArE..
alAnTi janAla tarapuna evarO enduku pOrADAli..pOri EmiTi sAdhinchAli..
evvari kOsam evaru evaritO sAginchE samaram I chichchula sindhUram
javAbu cheppE bhAdyata marachina janAla bhAratamA o anAtha bhAratamA..
anyAyAnni sahimchani Sauryam daurjanyAnni dahimchE dhairyam
kAraDavulalo kRuramRgamlA dAkkuni unDAlA.. veluguni tappuku tiragAla..
Satruvuto pOrAdE sainyam SAntini kApADE kartavyam.
svajAti vIrulanaNache vidhilo kavAtu cheyyAlA..annala chEtilo chAvAlA..
tanalO dhairyam aDaviki ichchi tana dharmam chaTTAniki ichchi
A kalaham chUstU sangham SilalA nilichunTE
naDichE SavAla sigalO turimina nettuTi mandAram..I sandhyA sindhUram..
vEkuva vaipA chIkaTi lOkA eTu naDipEvammA.. gati tOchani bhAratamA..
tana talarAtanu tanE rAyagala avakASAnnE vadulukoni
tanalO bhItini tana avinItini tana pratinidhuluga ennukoni
prajAsvAmyamani talachE jAtini praSninchaDamE mAnukoni
kaLLu unna I kabOdi jAtini naDipistundaTa AvESam
a hakkEdO tanakE vundani SAsistundaTa adhikAram
kRshNuDu lEni kurukshEtramuna sAgE I ghOram... chiti manTala sindhUram
chUstU inkA niduristAvA viSAla bhAratamA... O vishAda bhAratamA..
Another Nandi award winner for Sastry Gaaru, this song goes to the next level of depiction of events that ruin our society and the callousness of the people who feel their job is over after they cast their vote. If 'suraajyamavalEni (సురాజ్యమవలేని)' was written in the National Flag's point of view, this song was written from the BAratamAta's (భారతమాత) point of view. In 'suraajyamavalEni (సురాజ్యమవలేని)' about Independent India, if he expressed concern by saying how can 'SAnti kapOtam శాంతి కపోతం' ( White pigeon, the symbol of peace) survive in a society full of outrageous activities, in this song he says that the society has slit the throat of that 'SAnti kapOtam శాంతి కపోతం' and gifted it to the BAratamAta (భారతమాత) by keeping it as bindi on her forehead' SAntikapOtapu kuttuka temchi techchina bahumAnam.. I raktapu sindhUram (శాంతికపోతపు కుత్తుక తెంచి తెచ్చిన బహుమానం.. ఈ రక్తపు సింధూరం)' . This song is something that not only questions the people about their contribution to the society rather than being a dumb witness to the atrocities, corruption and brutal killings that are taking place around them but also requests them to wake up and take some meaningful action. The people are not even venturing into questioning the authorities when something undesired happens ignoring the fact that they are the ones who put the Government in place and they are also part of the Governance. The lines " tanalO dhairyam aDaviki ichchi tana dharmam chaTTAniki ichchi….. A kalaham chUstU sangham SilalA nilichunTE (తనలో ధైర్యం అడవికి ఇచ్చి తన ధర్మం చట్టానికి ఇచ్చి….. ఆ కలహం చూస్తూ సంఘం శిలలా నిలిచుంటే)" which clearly convey Sastry Gari feelings ,that we want somebody else to take care of us, hence we gave the quality of courage to Jungles ( Naxalites) and the quality of justice to Law enforcement (Police) and keep watching them fight. This in essence is that We as people tend to forget that we have some rights as citizens of the Nation and want for every need of us need to be taken care of by somebody else. Instead of creating the opportunity to write our own destiny we keep electing the fear and corruption that lies within us as our representatives to rule and live under a myth that we are the biggest democracy in the world. Unfortunately we have been thrown into a war of a gigantic size of ' KURUKSHETRAM (కురుక్షేత్రం)' but do not have a leader like Lord Krishna to show us direction. We have to blame no one but ourselves for the ridiculous situation we are in.
SIRIVENNELA PAATAALU : SONG 005
SONG : ARANYAM IDI ARANYAM
FILM : ARANYAM ; MUSIC : VANDEMAATARAM SRINIVAS
VOICES : SP BALASUBRAHMANYAM & CHORUS
DIRECTOR : RAVIRAJA PINISETTI.
araNyam idi araNyam..
tirugubATuku puruDu pOsina puTTinillI araNyam..
viSrAnti kOrani krAntivIrula SaraNyam I araNyam..
asuragaNamula usuru tIyaka udyamichinadI araNyam..
viplavAniki vIratilakam diddi pampinadI araNyam..
ragili ragili PeLLuPelluna pagilina jwAlAmukhulai lenDi..
uriki uriki uppenaga dUki gaganAnnE ragilinchanDi.. || ragili ||
prati okadu oka tupAki tUTA kAvAli.
nirupEdala dhAtiki nIchulu antam kAvAli || prati ||
kadalirA... kadalirA...
tudi pOrATam modalayyindi saMhAram sAgAli..
I sangrAmam navasanGAniki SrIkAram chuTTAli.. || ragili ||
taratarAlugA jarugutunna I durAgatAlu inkennALLu..
naranarAlalO pirikitanam tO SirasuvanchaDam ennALLu..
okkO chukkA nippu kaNikalA mArAlirA mana kanniLLu..
eduru tirigitE poyEdokatE bAnisabatukula sankeLLu..
naruladESamuna tiruguchunna biranetturu pIlchE deyyAlu..
baDugu batukulanu balipeDutunnavi tegabalisina I tODELLu..
araNya nItini AcharinchanidE antam kAvI jantuvulu..
vetiki vetiki venTADi venTanE vETADAlirA InADu..
raNarangam lO SivamettanDI.. SivaSUlamunettanDI..
I pIDanaku InADainA oka pADenu kaTTanDI... || ragili ||
konDalu pinDE kanDarAlatO ganDragoDDaLLu ettanDi..
dopiDidArula dunDagAlu danDinchEnduku danDettanDi..
peLLubikina I kallOlAlnE villambulugA mArchanDi..
atyAchArapu gunDellOnA vichchukattulanu guchchanDi..
debbatinna bebbululai lEchAm mA panjA ruchi chUpistAm..
ellakAlamU mI chelagATam chelladurA ani chATistAm..
dAruNala mI doratanAniki maraNaSAsanam prakaTistAm..
manishi janmakE machchalAnTi mI pAliTi mRtyuvulai vastAm..
kasi Kadgam tO tala KanDinchi I maTTilO dorlistAm..
A netturu tO I nElantA kaLLApini challistAm... || ragili ||
This song , I believe is basically written for elevating the characterization of a revolutionary leader who is fighting against an establishment system that suppresses working class people. Sastry Gaaru as he does with so many songs goes under the skin of the character and comes out with a powerful lyrics expressing the feelings of a person who is leading the revolt against their oppressors. Just see the words which sound so colloquial and natural for people revolting. Wonderful usage of words comparing the emotions to weapons and ammunition.
SIRIVENNELA PAATAALU : SONG 006
SONG : CHALORE CHALORE CHAL
FILM : JALSA ; MUSIC : DEVI SRI PRASAD
VOICES : RANJITH & CHORUS
DIRECTOR : TRIVIKRAM SRINIVAS
chalOrE chalOrE chal chalOrE chalOrE chal
chalOrE chalOrE chal chalOrE chalOrE chal chal...
nI payanam ekkaDikO nIku teliyaaligA..
E samaram evvaritO tElchukO mundugA.. || chalOrE ||
kurukshEtram
champanidE batakavanI batikEnduku champamanI..
namminchE adavini adigEmlAbham batikE dAretanI.. || chalOrE ||
saMhAram sahajamanI sahavAsam swapnamanI
tarkinchE teliviki telisEnA tAnE tana SatruvanI.. || chalOrE ||
dhIrulakI dInulakI amma oDi vokkaTE..
VIrulakee cOrulakee kanTataDi okkaTe.. || chalOrE ||
apuDepuDO ATavikam mari ipuDo Adhunikam..
yugayugAlugA E mRgAlA kannA ekkuva Em edigaam.. || chalOrE ||
rAmuDi lA edagagalam rAkshasulanu minchagalam..
rakarakAla musugulu vEstU marichaam epuDO sonta mukham.. || chalOrE ||
tAralanE tenchagalam taluchu kunTe manam..
ravikiraNam chIlchagalam rangulugA mArchagalam.. || chalOrE ||
This song, with simple words yet with an ocean like depth is another jewel that embellishes Sastry Gari crown. He cautions those who without knowing their destination and their enemies foolishly get into dire situations. Here he propagates his very well known philosophy that mankind has not come out of the Jungle living and still uses the same rules. He makes it to point to those who want to change the society , if they go back to the wilderness they won't be able to learn anything about how to lead a peaceful and happy life. The inhabitants of Jungles live under the principle that you need to kill to survive and killing itself is a way of life. And we the human beings unlike the wild animals are capable of doing better things and become individuals like Lord Sri Rama, Of course at the same time we may also become more cruel than demons (rAkshasulu రాక్షసులు), if we just forget what and who really are we in the process of changing our colors like a chameleon according to the situation. Sastry garu conludes the song saying we basically stopped realizing our abilities and capabilities to achieve bigger things by leading our lives routinely. Sastry garu unlike in his previous songs on Naxals cleverly put his philosophy and thoughts into this song though he took the backdrop of the naxalism to begin with as demanded by the film's situation.
SIRIVENNELA PAATAALU : SONG 007
SONG : ARANYAME SARANYAMAI
FILM : DALAM ; MUSIC : JAMES VASANTHAN
VOICES : VIJAY YESUDAS & CHORUS
DIRECTOR : JEEVAN REDDY
eTeLLinA araNyamE, sthitI gatI agamyamE, vishAdayOgamaindi jIvitam...
nirIhalO nidrANamai, nirIkshaNam nirardhamai, niSIdhi nimpukundi dRkpadham...
akAlamRtyupASamai, trikAla raktapAtamai, chitAgni chimmutOndi kandaLam...
vasantamE nishiddhamai, daLam daLam vidagdhamai, viSIrNamaindi prANaparimaLam...
bratukE baruvai dari dorakani parugai suDulE tirigE payanam... || eTellinA ||
sajIvaSavasamUhamA ! samAdhulaku nivAsamA ! SilAjamaina navasamAjamA !
anantamaina SunyamA ! anardhamaina dainyamA ! javAbu cheppavEmi sanghamA !
vRdhASrujalapravAhamA ! vyadhArdha janapravAsamA ! idE prajAprabhutva dESamA !
arAchakAla nilayamA ! vinASakAla vilayamA ! punAdi lEni bhavita bhavanamA!
kalalU karuvai, veluturu kanumarugai nidarai nilichE samayam...
Finally, here is the song that made me write this article in 'SIRIVENNELA PAATAALU (సిరివెన్నెల పాఠాలు) ' series. This song is from the yet to be released film 'DALAM (దళం)' directed by Jeevan Reddy, a product of RGV school. I was really impressed by watching the trailers which hints you that it is a movie on Naxals. Guruvu Garu wrote just one song for the movie, which undoubtedly is a masterpiece. From his speech, what I understood was that when a reformed naxalite comes back into the mainstream living and to his dismay finds even in the civilized society the troubles and travails remains the same which puts him in a state of having no desires and hopes. This song echoes the pain of such individual. Here I would like to say that I always believed Sabda soundaryam (శబ్ద సౌందర్యం, beauty of words) , BAva gaambheeryam (భావ గాంభీర్యం , depth in the lyrics or content) and sangeeta mAdhuryam (సంగీత మాధుర్యం, melody of the music ) will always result in SravaNaanandam (శ్రవణానందం) , will be pleasing to the ears) and will automatically connect you to a song. This song has all of them except sangeetha maadhuryam (సంగీత మాధుర్యం) as songs of this type need more beat than melody to go with the situation, though there are some words pronounced with Malayalam accent, because of the fact that both Singer and Music Director happens to be Malayaalees. But that reason doesn't diminishes the beauty of the song at all.
ఎటెళ్ళినా అరణ్యమే, స్థితీ గతీ అగమ్యమే విషాదయోగమైంది జీవితం
It's my gut feeling that Guruvu Garu used vishAdayOgamaindi jIvitam... (విషాదయోగమైంది జీవితం ) for a reason, vishAdayOgam(విషాదయోగం) is a yOgam(యోగం) in BagavadgIta (భగవద్గీత). When Arjuna despite of being a great warrior and capable of winning the war all by himself, looking at the opposition full of his relatives decides to quit by exhibiting his helplessness. In this context too, there is a nirASa ( నిరాశ) and nispRha ( నిస్పృహ) and a kind of vishAdayOgam(విషాదయోగం) for the reformed naxalite when he finds no excitement and no direction for the life, he kind of surrenders like Arjuna does to Lord Krishna in vishAdayOgam(విషాదయోగం) .
నిరీహలో నిద్రాణమై నిరీక్షణం నిరర్థమై నిశీథి నింపుకుంది దృక్పథం
nirEha(నిరీహ) means not having any desires, kOrika lEka pOvaDam anE stiti (కోరిక లేక పోవడం అనే స్తితి), because of which your waiting , eduruchUpulu(ఎదురుచూపులు) are getting wasted and your outlook is deprived of any focus as you don't see any light in sight.
అకాలమృత్యుపాశమై త్రికాలరక్తపాతమై చితాగ్ని చిమ్ముతోంది కందళం
with untimely demise or sudden death, soaking under bloodbath the whole day, a budding plant is emanating fire particles of a burning corpse, the word trikAlam(త్రికాలం), I think was used to represent mUDu pUTalu (మూడు పూటలు) which are nothing but three segments of a day and it also rhymes with akAlam(అకాలం) which means sudden, kandaLam(కందళం) means molakaletti cigurinchaalsina mokka (మొలకలెత్తి చిగురించాల్సిన మొక్క) . It also means kalaham(కలహం ) or hEtuvAdam (హేతువాదం) or pOTlATa (పోట్లాట) , the beauty of using this word in this line by Guruvu Garu lies in using it as a continuous struggle without any break whereas same word when looked in the context of the next line indicates a whole different meaning .
వసంతమే నిషిద్ధమై దళం దళం విదగ్ధమై విశీర్ణమైంది ప్రాణపరిమళం
(Spring is banned, every leave is burnt and the fragrance of the life is dried out, nishidham ( నిషిబ్ధం ) means raddu cheyyaDam(రద్దు చెయ్యడం) , vidagdham (విదగ్ధం ) means tagalapaDi pOvoDam(తగలపడి పోవడం), visIrNam(విశీర్ణం) means vADi pOvaDam(వాడి పోవడం). Here daLam daLam(దళం దళం) means leaves, where as for the film title I feel the meaning is an unit or an army ( group of soldiers or fighters)
బ్రతుకే బరువై దరి దొరకని పరుగై సుడులే తిరిగే పయనం
With all the above reasons the life has become so heavy and your journey is not able to find a destination circling round in a whirlpool.
సజీవశవసమూహమా! సమాధులకు నివాసమా! శిలాజమైన నవసమాజమా!
అనంతమైన శూన్యమా! అనర్థమైన దైన్యమా! జవాబు చెప్పవేమి, సంఘమా!
వృథాశ్రుజలప్రవాహమా! వ్యథార్థ జనప్రవాసమా! ఇదే ప్రజాప్రభుత్వ దేశమా!
అరాచకాల నిలయమా! వినాశకాల విలయమా! పునాది లేని భవిత భవనమా!
కలలూ కరువై, వెలుతురు కనుమరుగై నిదరై నిలిచే సమయం
Guruvu garu chose this charaNam (చరణం) to give adjectives to the society that fail to live upto the expectations of the reformed naxalite in his own interpretation, these phrases really are thought provoking and can be discussion points each by itself , A group of live corpses, Living in graveyards, the modern society is nothing but an extinct animal like dinosaur fossil. A never ending emptiness , meaningless helplessness , why is there no answer from the community for such a situation, a stream of wasted tears, people with full of meaningless sorrows and problems, Is this the country we call a democracy? An establishment of atrocities, An end of world like happenings, Are these foundationless things we are considering to build our future? In such a horrible state of affairs, you can't even dream of good things, can't even see a light at the end of the tunnel and you feel like the time has gone to a deep sleep or coma and became standstill.
Just to reiterate Guruvu Gari thoughts and concurring with what he says in this song I would like to conclude this article with these words - It really upsets me to see the same sad state of affairs in these songs happening as recently as last Sunday ( Dec 16th, 2012) during the Delhi Gang Rape incident. Only difference is the information transmission is quicker and more widespread, but reaction from the Government and Society is more or less the same. Yes, We have advanced as an Independent India, but still considered as one of the underdeveloped countries. Reminds me Sastry Gari words. "sukhaana mana lEni vikaasam" (సుఖాన మన లేని వికాసం).
PS : I am really overwhelmed to see the response and feedback I got for my previous article on Krishnam Vande Jagadgurm Song. I would like to personally thank you all for spending your valuable time to go through my article and write comments on Idlebrain.com. I also got several mails to my gmail account and the article was shared many facebook profile walls. Thank you very much for your kind gestures. I would like to let you all know that I too learned some new things through your valuable feedback and suggestions. I am providing the complete lyrics of the songs in Telugu as separate attachments instead of including in the article to minimize the confusion while reading. Thank you all for your appreciation again. It keeps me going.
VIJAY SARADHI JEEDIGUNTA.