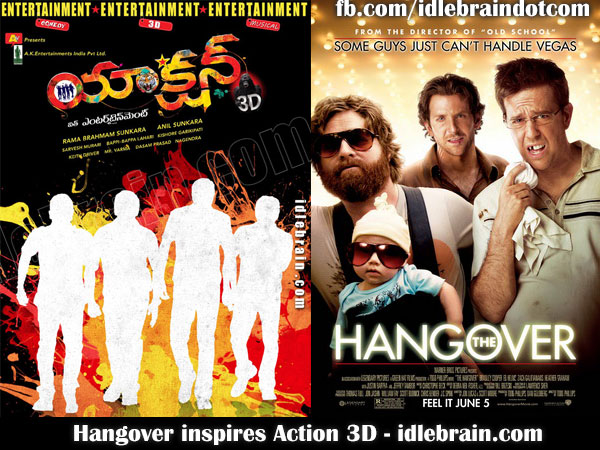 22 June2013
Hyderabad
Action 3D film which is the first comic 3D in India and first stereoscopic straight Telugu film has many inspirations when it come to the storyline and scenes. The basic storyline is inspired by Hangover part 1 and a few scenes are inspired by Bollywood flicks like Dhamaal, Double Dhamaal and Hey Baby.
Scenes that are inspired by Hangover
1. Four friends going to a bachelor party in a swanky car given by the future-father-in-law.
2. Four friends consume drinks that have drugs.
3. Baby, Chicken and Tiger found in hotel room. And the groom is missing.
3. Dentist losing his tooth and then ending up marrying a dancer.
4. Stealing police car.
5. going to doctor, dancer and marriage agency to find out what happened a night before.
6. Cops busting these three bachelors and put them through sten-gun test for NCC students.
7. Owner of wild animal asking these guys to leave back the animal at his place and then showing wild videos of what happened a night before.
Dhamaal: (The entire comedy episode of flight and landing from Dhamaal was used in Anil Sunkara's earlier production Aha Naa Pellanta)
1. The scene in which four guys were made to stand with noose around their neck.
2. The scene of jumping car (This scene in Dhamaal is inspired by a Hollywood film called Road Trip).
Double Dhamaal:
1. The entire Gorilla episode.
Hey Baby:
1. The flying diapers scene.
Note: The purpose of this article is about mentioning inspirations. It's neither a review nor a box office report. We appreciate that there are some good things in all movies and the directors have worked hard for making these films.
Other inspiration articles:
1. A Good year inspires Greeku Veerudu and Sukumarudu .