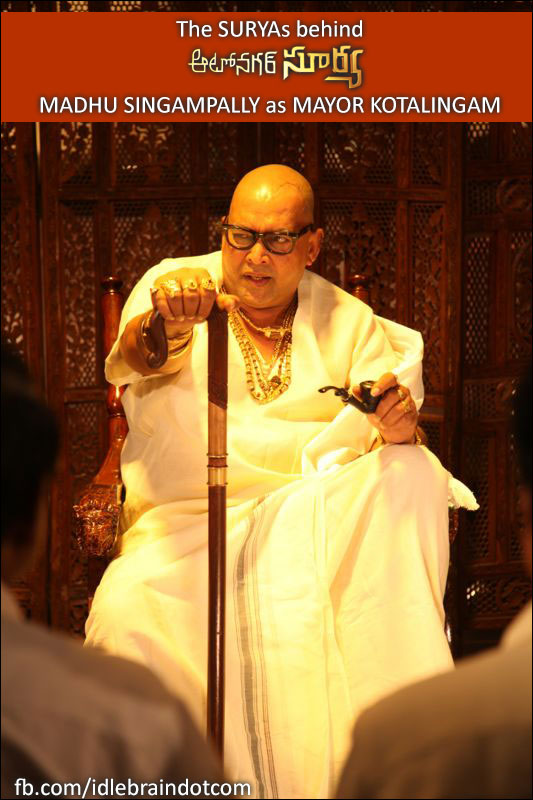 30 June 2014
Hyderabad
The SURYAs behind Auto Nagar Surya: In this series I would like to share my journey with the character artists who delivered impeccable performances in Autonagar Surya.
MADHU SINGAMPALLY as MAYOR KOTALINGAM
When I was auditioning for Prasthanam, one of the actor who was well known through "chakravakam' serial approached me with a portfolio DVD. He was a very good actor and good choice for what I was looking for....but my attention suddenly shifted to another actor in one of the scenes he was displaying. That actor was Madhu Singampalli widely known as Chakravakam James. In an instant I was sold with his looks and thought he would be a better choice. I apologized to the gentlmen asked him to introduce me to Madhu Singampally. That's how Madhu was casted in Prasthanam as Bhasha and he proved out to be an impeccable actor with extra- ordinary receptive and responsive sensory system.
After Prasthanam I expected him to get many more characters and become one of those high paid actors in no time. But it didn't happen.
Later when I was looking into Autonagar Surya casting, I needed an under-recognized (in films) and relatively newer face for Mayor Kotalingam to justify the script. That's when Madhu came to my mind and I was convinced at the very thought of him. Though the producers were looking for bigger names at the time, I told them my decision and they accepted immediately.
Madhu approached the character with utmost commitment. He gained weight, shaved head and remained so for more than a year even when we were shooting 5-7 days a month on an average for the six months and had to face a 3 month break before set construction due to lack of funds. In the meantime Madhu couldn't go after any other opportunities because of the look.
After the shoot was over, the movie didn't release for more than one and a half year due to financial constraints. In the meantime Madhu never got a bankable opportunity in Telugu even though I let him showcase his images from Autonagar Surya. But one glance at the mayor character by a debutant Tamil director Shantha Kumar changed his life, got him a breakthrough Tamil super-hit film "Mouna Guru'. He got another big opportunity as main villain in recent Tamil blockbuster 'Goli Soda'. He is well known all over Tamil Nadu as 'Goli Soda mama' now.
I thank this Surya for his commitment and sacrifices. Wish him all the best going forward in both Telugu and Tamil cinema.
- Deva Katta
other ANS articles by Deva:
The seed of Auto Nagar Surya by Deva Katta
snippet 1: anaadhane.. kaani anaamakudini kaadu
snippet 2: edagadam
snippet 3: Motor Caste.
snippet 4: Loafer Jaathi