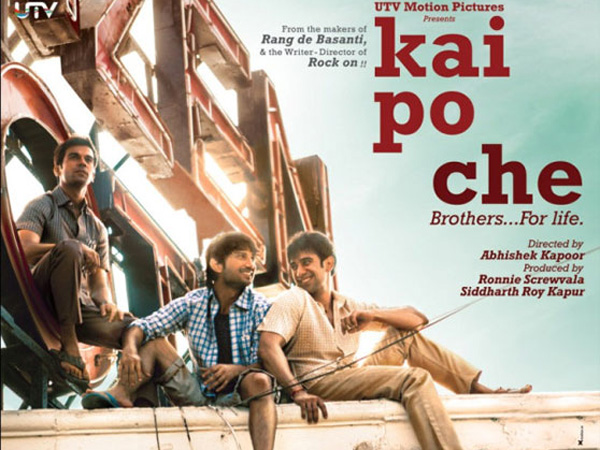 Oops! My bad – Once again I assumed this movie to be Dil Chahta Hai or 3 IDIOTS. I should sincerely appreciate BOLLYWOOD for making such amazing movies.
"Ek Baniya – Ek Ishu – Ek Omi" teen mil kar aisi dhoom machaye khi DIL kush hogaya - Wah Kya Cinema hai!
Got to give 100% for picturization of this movie and songs were brilliantly sung in GUJURATI native slang.
And one song just caught my heart – "SHUBHAARAMBH" mixed with Irish beats – JUST Pure Excellence!
No one should EVER miss this movie at all. Superior quality STORY conveyed in such suave manner. Must tell you something about this movie that I noticed – The perfect blend of ROMANCE, FRIENDSHIP, POLITICS and VIOLENCE actually gives you a glimpse on the facts that actually took place. It's conveyed in such ease without losing the main character's played by some amazing YOUNG BLOOD artist Sushant Singh Rajput, Amit Sadh, Raj Kumar Yadav; who are actually like fresh breeze on to the silver screen.
By the way – Don't miss Bittoo MAMA - One character who captures your attention threw out the movie.
Abhishek Kapoor THE DIRECTOR did such prodigious job – He should most definitely make the dough (Money) back without a doubt. He worked so hard to bring such innate tone to the movie that it's pure Bliss to watch with Marvelous Cinema.
Thanks to Chetan Bhagat – He does not need any introduction. He has proved time and again that quality wins over quantity.
By Vasudhara
bykerusso at gmail dot com
Other reviews by Vasudhara:
• Zila Ghaziabad
• Mirchi
• Ongole Githa
• Vishwaroopam
• Matru Ki Bijli Ka Mandola
• SVSC
• Naayak