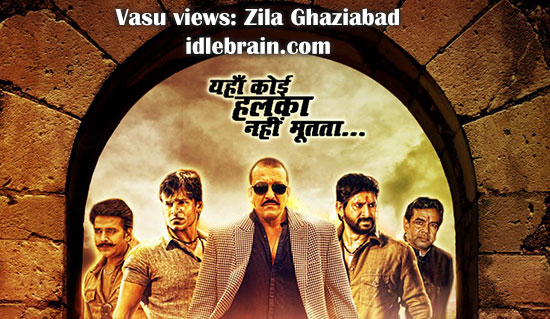 Freezing in Chicago! While I drive across 42 miles just to catch a glimpse of Arshad Warsi in Zilla Ghaziabad movie – which was entertaining, but very little humor which is ok by me.
Before seeing ZG movie – Just a week ago I saw Gangs of Wasseypur 1 & 2 which literally made me bow myself to the talent of Manoj Bajpai and Nawazuddin Siddiqui! What a movie totally AWE and SALUTE to the art & perfection. I would Say – ZG was mini version of Gangs of Wasseypur with BIG TIME commercial masala picturization.
Of course, being a South Indian – Let me talk about our south Siren's like CHARMI & SHREYA SARAN have showered some glamour in to the movie. Charmi! The main HEROINE of the movie performed so well. She always had talent and cuteness. Hope, she appears more often on silver screen as she has some miles left in her before settling down. Charmi was adorable, elegant and totally fit perfectly with Vivek Oberoi.
Ha! Coming to the Vivek Oberoi one of the main "Hero's" of the movie was really cool. He turns from being a Gandhi BELIEVER to a deadly killer machine. After years of ordeal, he deserved this break and did a good character while he shared his space with Sanjay Dutt and Arshad Warsi.
Please – Sanjay Dutt – Big Baby of Bollywood! Affectionately called SANJU BABA was magnificent. What a mighty body and performance. His humor was really funny while he enjoyed listening to own movie songs like Sanjan and Khalnayak, making fun of himself, which was really adorable to watch. But, he surely fills the silver screen up like a LION every time he walked in to a shot. I recall my 1st encounter with SANJU BABA in Frankfurt, Germany – What a Handsome tall man and extremely polite – Since then; I have watched all his movies.
Coming to Arshad Warsi – He WALKED away with everything and I felt, I was watching Pure Evil while I saw him perform. I confess even with his evil act I totally loved watching him.
Of course, Please Xcuse the masala fights for commercial purpose and song's which had a glimpse of LAGAAN/DABAANG feel to it. This movie is not even close to Dabaang story line it's actually a MINI VERSION of Gangs of Wasseypur as mentioned before.
Another coincidence – After 16+ years later Arshad Warsi and Chandrachur Singh both from ABCL products who are successful artists in Bollywood came together in this movie again. Thanks to Big B & Jaya Bachchan to have launched such good talented artists
How can I forget to mention our outstanding artists like PARESH RAWAL, ASHUTOSH RANA and RAVI KISHAN (Top Hero of Bhojpuri Movies) who not only supported this movie but brilliant performance. Before bidding adios – If you enjoy seeing movies remember this movie carries some great talent on to the silver screen.
Truly – A sight to see excellent PERFORMANCE
Enjoy watching ZILLA GHAZIABAD!
By Vasudhara
bykerusso at gmail dot com
Other reviews by Vasudhara:
• Mirchi
• Ongole Githa
• Vishwaroopam
• Matru Ki Bijli Ka Mandola
• SVSC
• Naayak