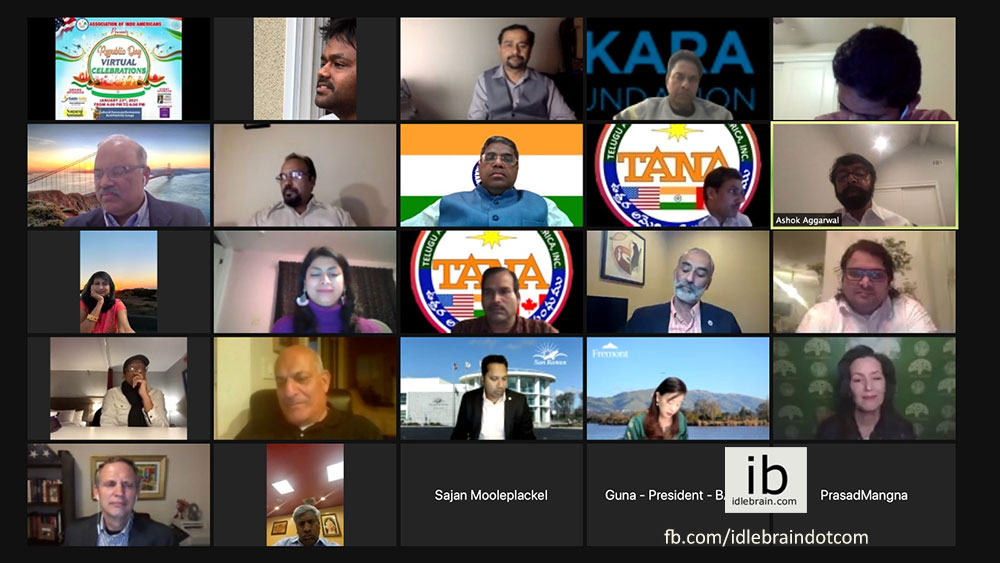 To feature your NRI communty news in idlebrain.com, please mail us at [email protected]
25 January -2021
USA
72nd Indian Republic Day celebrations by Association of Indo Americans (AIA)
The Association of Indo Americans (AIA), a conglomeration of 38+ Indian non-profit organizations in the San Francisco Bay Area, have celebrated the 72nd Republic Day in a grand way virtually. The event was telecasted via Live YouTube keeping the pandemic situation in view. The program started with National Anthems.
Indian Consul General Ambassador Dr. TV Nagendra Prasad joined the event as the Chief Guest. Speaking at this occasion, Nagendra Prasad mentioned that the vibrancy and vigor of Indian origin community in the Bay Area is great applaudable. The Indian communities social, economic, and cultural engagement with local communities has developed a greater bonding between India and US. Further, he stated that India being the largest democratic country and US being the oldest democratic country, together brings pluralistic societies, our chosen democratic paths of development, and all provide us similarities and commonalities which will hold us in our steadfast partnership. Also he mentioned about the important role India is playing in providing free COVID-19 vaccines to other friendly countries.
The elected officials conveyed their greetings and supportive message on this occasion. The following elected officials have joined and addressed the gathering:
1) Senator Dave Cortese, (SD 15)
2) Assembly member Bill Quirk (AD 20)
3) Assembly member Ash Kalra, (AD 27),
4) Assembly member Alex Lee (AD 25)
5) Alameda County Supervisor David Haubert,
6) Santa Clara county supervisor Otto Lee
7) San Jose Mayor Sam Liccardo
8) Oakland Mayor Libby Schaaf,
9) Fremont Mayor Lily Mei
10) Sunnyvale Mayor Larry Klein,
11) Fremont Councilmember Raj Salwan
12) San Ramon Councilmember Sridhar Verose
13) Santa Clara Councilmember Raj Chahal

Followed by the elected officials, representatives from each of the supporting organizations of AIA addressed the gathering and conveyed their greetings. During the program, there were Indian Bollywood dance performances presented by Tarangini School of Kathak Dance, Aerodance, and Bay Area Nritya Gurukul. Also, popular bay area singers Shreedhar Ganapathy, Sachin Srivtasava & Shubha Chaki sang patriotic songs apt for the occasion and Bollywood hits.
List of AIA supporting organizations:
American Organization for Development of Bihar (AODB)
Asha Jyothi Organization
Association of Rajasthan in America (Bay Area)
Bihar Foundation (USA - California Branch)
BATA - Bay Area Telugu Association
BATM - Bay Area Tamil Manram
Bay Malayali
Bihar Association
Brahma kumaris
Federation of Malayalee Associations of Americas
Gujarati Cultural Association (GCA)
GOPIO (Global Organization of the People of Indian Origin)
ILP (India Literacy Project)
Indo American Society of Bay Area
IACF - Indo-American Community Federation
KKNC (Kannada Koota of Northern California)
KTF Kashmiri Task Force
MANCA
NAIR SERVICE SOCIETY
OSA (California Chapter)
Paatasala (Telugu School)
PCA (Punjabi Cultural Association)
Rotary International
SRCA (San Ramon Cricket Association)
SEF (Sankara Eye Foundation)
Spandana organization
TANA (Telugu Association of North America)
TCA (Telangana Cultural Association)
TDF (Telangana Development Forum)
United Fiji Association
UPMA (Uttar Pradesh Mandal)
VEDA Temple
VPA (Vokkaliga Parishat of America)
VT Seva