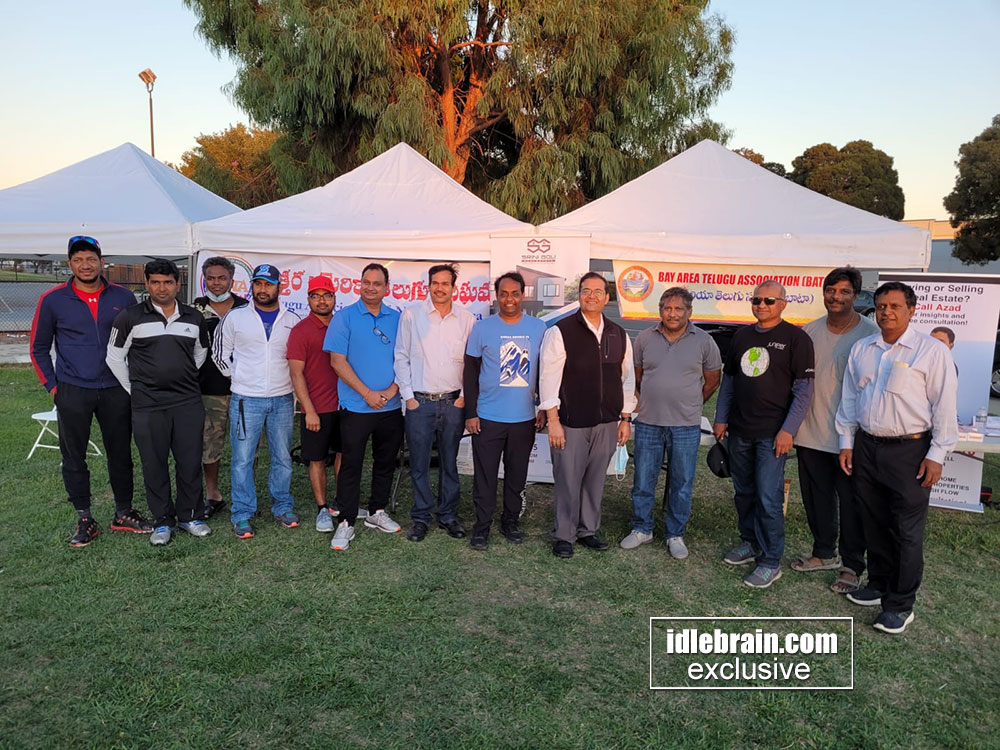 To feature your NRI communty news in idlebrain.com, please mail us at [email protected]
14 September -2021
USA
Telugu Association of North America (TANA) & Bay Area Telugu Association (BATA) organized their Annual Volleyball/Throwball Tournament at Newark, California.
Sanjay Taxpro, Apex consulting, Srini Goli RealEstates, PNG Jewelers, Dunkin, Sridhar CPA, Azad financial services, Swagat, Mallik Realtor, RitePros & Paatasala Telugu school were the sponsors for the event and the food sponsor was GumaGumalu.
The tournament had 3 groups "Advance", "Intermediate" & "Recreation" for Men, and "Throw Ball" for women. Over 35 teams participated in this event, involving more than 200 players. The playing ground was packed with well-prepared players and enthusiastic supporters. The tournament started early morning around 8 am and went throughout the day till 7 pm.
The teams participating varied from seasoned volleyball teams to casual players who wanted to come and support the cause. Most of the matches were very closely contested. The audience enjoyed several nail-biting matches. In all the matches players exhibited their skills and style with spikes and returns resulting in long rallies.
Tournament Organizers Ram Thota (TANA RR Northern Cal), Sateesh Vemuri (TANA Secretary), Harinath Chikoti (BATA President), Prasad Mangina (BATA Advisor) & Veeru Vuppala (BATA Advisor) thanked all the teams for their participation and continued support in organizing this successful tournament. And mentioned the funds raised will be donated to a worthy cause. ShivSekhar &Vijay were specially acknowledged for leading the tournament. Manish, Ekta Daga & ShivaKumari were also appreciated for their support.
Speaking on the occasion Harinath Chikoti (BATA President) said he is extremely happy with the response and congratulated all the players for their dedication. He introduced the BATA committee - Kondal Rao (Vice President), Arun Reddy (Secretary), Shiva Kada & Varun Mukka.
"Steering Committee" consisting of Ravi Thiruveedula, Kamesh Malla, Sirisha Battula, Yashwant Kudaravalli & Sumanth Pusuluri.
"Cultural Committee" includes Sridevi Pasupuleti, Srilu Veligeti & Taraka Deepti.
"Logistics Team" includes Hari Sannidi, Suresh Sivapuram & Sarath Babu.
Youth Committee – Sanketh, Adi, Harish, Uday & Kranti
BATA "Advisory Board" Jayaram Komati, Vijaya Aasuri, Veeru Vuppala, Prasad Mangina, Karun Veligeti, Ramesh Konda & Kalyan Kattamuri congratulated the team in making the tournament a grand success.
TANA President Anjaiah Chowdary Lavu congratulated TANA & BATA teams.
TANA team consists of Murali Godavarti, Bhargav C , Hari Nallamalla, Srinivas Veerapaneni, Srikanth Koneru, Sastry Lal, JP Vegendla, Sridhar Panchumarthi, Azad, Vinay Parachuri, Sreedhar Chava, Srini Valluripalli, Mike Bandla, Vivek, Veerababu, Reddaiah & Sridhar Reddy took an active role in conducting the tournament successfully.
Fremont Councilmember Raj Salwan attended the event and congratulated TANA/BATA teams for conducting the event & making it successful in these tough times. He presented trophies to the winning teams.
The team thanked all the volunteers for their support and efforts in organizing the tournament and ensuring all matches were conducted on time & they also thanked all the sponsors for their continued support.
Results:
ThrowBall:
Silver – Thunders (Runner) & Positive Vibes (Winner)
Volleyball Recreation:
Silver – Golden State Acers (Runner) & Sahoo Boys (Winner)
Gold: Fremont Riders (Runner) & Angry Birds (Winner)
Volleyball Intermediate:
SpikeIT (Runner) & The Crew (Winner)
Volleyball Advanced:
Raynor Club (Runners) & NorCal (Winner)