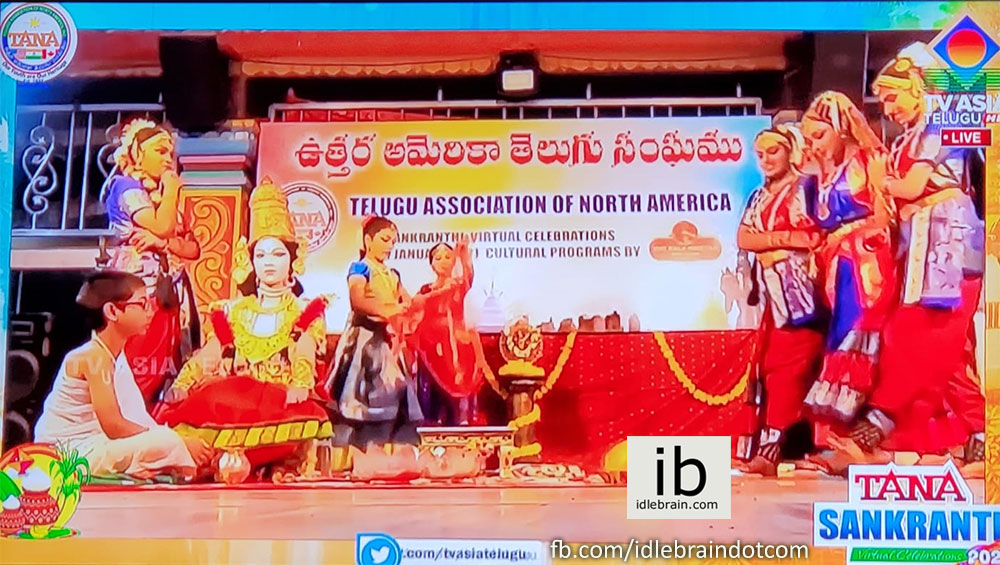 To feature your NRI communty news in idlebrain.com, please mail us at [email protected]
25 January -2021
USA
TANA Grand Sankranti Virtual Celebrations conducted on Saturday January 16th 2021 from 10 AM EST onwards. It got kicked off with Priest Seetharama Swamy garu blessings. Swami garu explained the importance of Sankranthi Festival and provided blessings to all Indian Families. We had 11 local cultural performances consisting of kids programs, classical dances and filmy songs. Patasala kids provided sankranti wishes in pure telugu and also sang Sankranti songs. The programs are from different states of USA, India and omen. Philadelphia Shobaraju garu kids welcomed Shobharaju with the song that they learned from her. Padma Shree Shobharaju garu appreciated TANA for the auspicious Sankranthi program and provided her blessings to all kids. She thanked TANA president and all the leadership.
Padma Shree Chitra garu Musical Concert is the highlight of the day. She introduced orchestra members and she enthralled all the audiences with her mesmerizing singing. Shobharaju garu and Chitra garu thanked TANA President Jay Talluri, Secretary Ravi Potluri, Cultural Coordinator Sunil Pantra and Mid-Atlantic Regional Coordinator Satish Chundru and the entire TANA Team for conducting this event.
TANA Board Chairman Harish Koya, EVP Anjaiah Chowdary Lavu, Secretary Ravi Potluri and Cultural Coordinator Sunil Pantra spoke about the event and appreciated the TANA Mid-Atlantic Team for executing this flawless event. Ravi Potluri thanked Grand Sponsor NSR Estates for supporting the musical concert and also congratulated the Mid-Atlantic team for a successful Sankranti event. Satish Chundru thanked Mid-Atlantic Team and Harrisburg team for their unconditional support and also thanked Parivaar Indian restaurant for their continuous support and also thanked all the sponsors. Satish also thanked all program coordinators, choreographers and participants for their performance. Satish also thanked TANA Patasala chairman Nagaraju Nalajula, NJ RC Raja Kasukurthi, Venkat Singu, TANA Mid-Atlantic committee members and Harrisburg Core committee members for making this event a grand success. Thanks to TVAsia Telugu, Singer Dheeraj and Mimicry Ramesh for their contribution.
They also thanked all the kids and ladies for submitting entries for Rangoli and kids art competitions. They also thanked competition judges Himabindu Koduru and Srilakshmi Alapati for finalizing winners and runners. Srilakshmi Kulakarni is the Anchor for this event. She announced winners and runners in two different categories as follows:
Rangoli: Nitya Kodali, 1st , Srikar Majeti 2nd , Radhika 3rd
Kids Art: Shrijani Padmanabhan 1st , Vedarka Anandi 2nd, Karthika Chandu 3rd.