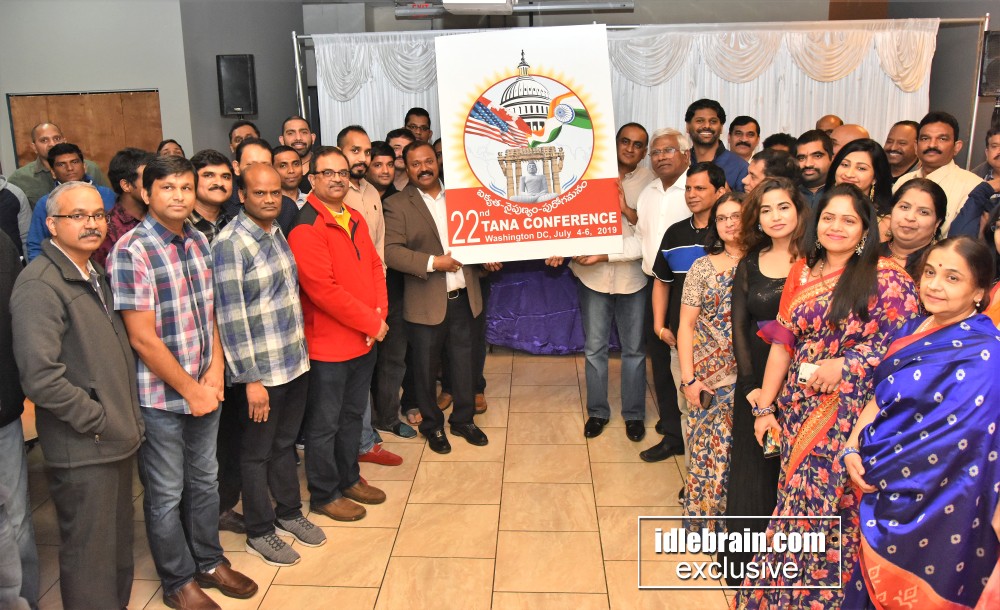 To feature your NRI communty news in idlebrain.com, please mail us at [email protected]
13 March 2019
USA
The Conference Logo and Theme for 22nd TANA Conference be held at the Walter E. Washington Convention Center in downtown Washington DC from July 04– 06, 2019 were launched at an event attended by the TANA Leadership, over 200 conference committee members and the local DC Metro community.
The program started with a traditional lamp lighting ceremony and the logo was inaugurated by TANA President Satish Vemana,Conference Chairman Dr. Naren Kodali and Conference Coordinator Dr. Venkata Rao Mulpuri to the approval and applause of the attendees. The logo encompasses the historic and prominent landmarks of Telugu States (Amaravati Buddha from Andhra Pradesh and Kakatiya Kala Thoranam from Telangana) and the flags of the United States, Canada and India in the foreground of the Capitol Hill. The power of integration and unity leading to our success as a community is the central idea as represented through our conference theme "Ikyata - Naipunyam and Purogamanam" - standing for Unity, Skill and Progress.
The 22nd TANA Conference is intended to be the actionable showcase of the intellectual, social and cultural confluence of the Telugu people across the Telugu States and North America to show solidarity and commitment to bring our common goals and dreams to fruition.
Speaking on the occasion, TANA President Satish Vemana thanked the conference team for their enthusiasm and commitment and ensured that this is going to be a historic conference with very well planned activities reflecting the theme and that dedicated team members are striving hard to ensure a seamless, attendee-friendly conference that is going be a long standing memorable experience. He also informed the audience about the upcoming DHIM TANA Competitions and the fund raising activities across North America and emphasized that the key to success is efficient and effective coordination and hard work.
The event was attended by the TANA Foundation Treasurer Ramakanth Koya, TANA Capital Regional Representative Raghu Meka, Conference Treasurer Nag Nelluri and Conference Secretary Janardhan Nimmalapudi and the 2019 Conference Committee Chairpersons and their teams. Committee Chairs provided updates on their activities, timelines and progress and sought advice from the leadership.
Business Committee Chair Goutham Amarneni, Cultural Committee Chair Ravi Gourineni, Exhibits Committee Chair Satya Surapaneni/Co-Chair Chakravarthy Ashok, Hospitality Committee Chair Ramu Jakkampudi/Co-Chair Vamsi Surampalli, DHIM TANA Chair SaiSudha Paladugu, TANA Capital Regional Representative Elect Anil Uppalapati, Registration Committee Chair Krishna Lam/Co-Chair Srinivas Pendurthi, Venue Committee Chair Sushanth Manne, Finance Committee Chair Mohan Venigalla/Co-Chair Rambabu Yadlapalli, Inaugural Committee Chair Saikantha Raparla, TANA Curie Chair Gowri Vemuri, Religious Committee Chair Subbu Varanasi, Invitations Committee Chair Goutham Yalamanchili, Panels Committee Chair Ramesh Ravella, Youth Committee Chair Ravi Adusumilli, Donors Relations Chair NRC Naidu/Co-Chair Bhanu Maguluri, Security Committee Chair Ashok Devineni, Hotels Committee Chair Sudhir Kommi/Co-Chair Vijay Atluri, Sports Committee Chair Rajesh Kasarneni, Transportation Committee Chair Satish Chinta, Command and Control Chair Srinivas Mikkilineni , Alumni Chair DC Satish/Co-Chair Chandra Mohan Reddy, IT Infrastructure Chair Trilok Kantheti and Social Media Chair Yash Bodduluri along with several other conference committee members spoke on this occasion.