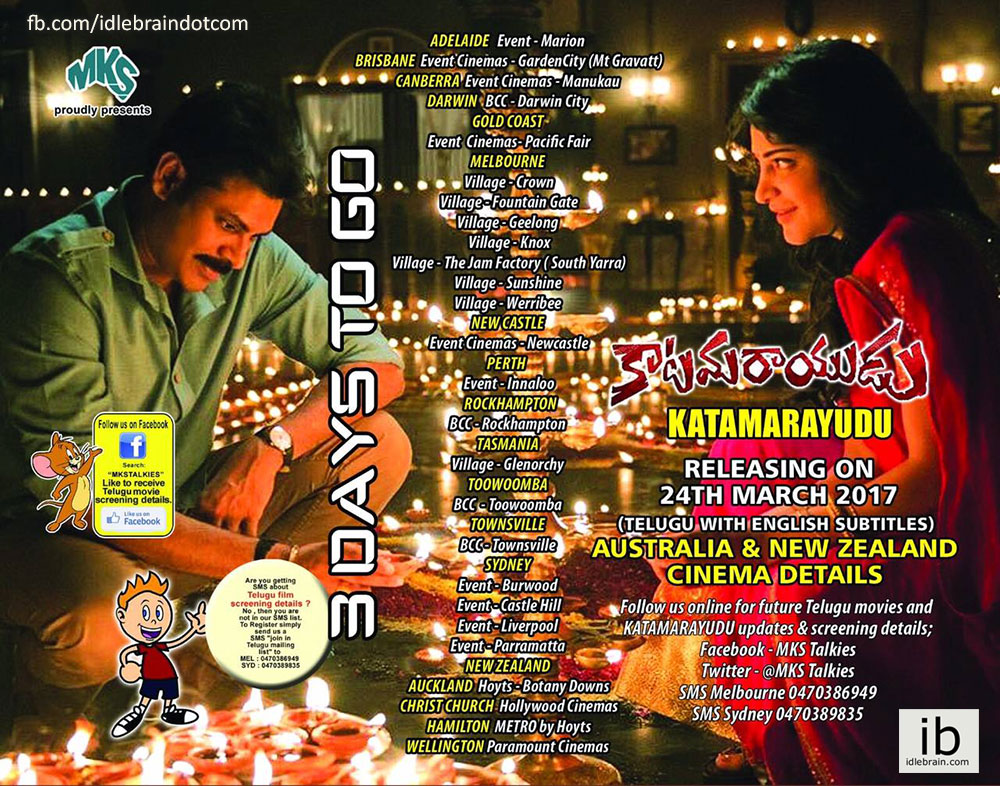 MKS Australia; has got some very exciting news. The leading distributor of Tamil cinemas in Australia & NZ is set to bring to you Power Star Pawan Kalyan's most awaited Telugu film KATAMARAYUDU, to your closest theatres in Australia & NZ as a treat for the upcoming Ugadi festival, March 24th release.
MKS Australia has been distributing Tamil movies in Australia & NZ since 1997.
Soo faar they have screened 100+ movies in Australia & NZ
From 1990's to 2009 all tamil movies in australia & NZ were screened on "Private Hire" Basis i.e with Very Limited shows on the weekend very few locations
MKS Australia introduced Direct screening of tamil movies in Village cinemas i.e movie will have daily shows & run for 2-4 weeks. Online booking & seat selection was available. Audience can watch the movie any day to suit their timings. Same like any other hollywood movies.
KATAMARAYUDU will be the Biggest release for any Telugu movie in Australia & NZ
with Max number for screens & sessions.
Online Bookings
www.eventcinemas.com.au/Movie/Katamarayudu
http://villagecinemas.com.au/movies/katamarayudu
NZ - Hoyts NZ
Contact - 0470386949, 0470389835 & 0432547993.