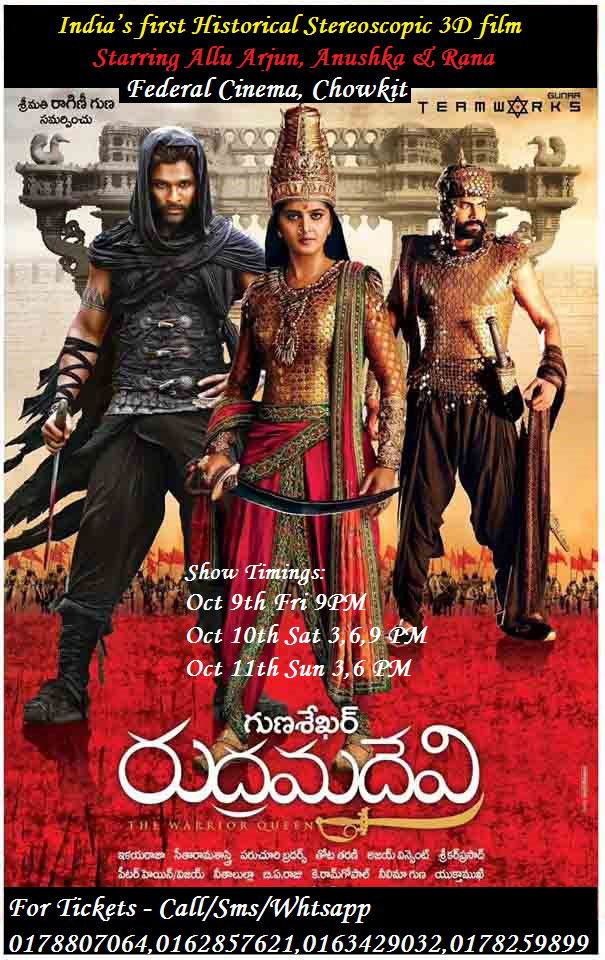 Venue: Federal Cinema, Chowkit,Kualalumpur
Show Timings: Oct 9th Fri 9:00 PM
Oct 10th Sat 3:00 PM, 6:00 PM and 9:00 PM
Oct 11th Sun 3:00 PM and 6:00 PM
For Tickets & Advertising: Call/SMS/Whatsapp
Anand Kancharla - +60178807064
Sai - 0162857621
India's first Historical Stereoscopic 3D film Rudramadevi is all set for grand opening on Oct 9th in Malaysia
Rudrama Devi is a real story of warrior Queen Rani Rudrama Devi who succeeded her father at the age of 14 and ruled Kakathiya Dynasty in 1260 AD. Anushka Shetty played the lead role as Rani Rudrama Devi followed by Rana and other several senior actors and actress like Prakash Raj, Krishnam Raju, Suman, Ajay, Baba Sehgal, Nitya Menon, Catherine Tresa and Hamsa Nandini.
Dynamic Hero Allu Arjun playing key role as Gona Ganna Reddy which is expecting to be highlight of the movie. Last 30 minutes of Climax expected to be mesmerized and you will be glued to your seats.
Director Gunasekhar is directing and producing this film under his own banner Gunaa Team Works with lots of passion and commitment towards Cinema.
Music is being composed by Isaignani Ilaiya Raja where background score and mixing done in London studios.
To screen in your area or to advertise on theater screen contact me [email protected]