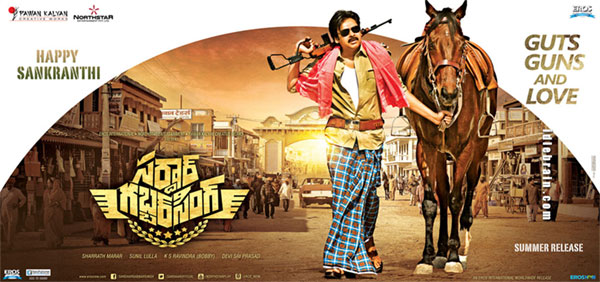 COLOURS MEDIA ENTERTAINMENTS LTD - UK Release
SARDAR GABBAR SINGH
Place/Theatre

Show Details

Contact Details

BOLYEN Cinemas,

7-11 Barking Rd,

London - E6 1PW

Thursday 7th April

(Premier Show)

8pm & 09:30pm

Friday 8th April

7:30pm, 10:00pm,

Saturday 9th April

1:00pm, 4:00pm, 7:00pm,

10:00pm

Sunday 10th April

1:00pm, 4:00pm, 7:00pm

Boleyn: 02084714884

Nitin: 07470371757

Sasi: 07557514243

Grason:07455909917

Uday: 07734350492

Book tickets online at

www.boleyncinemas.com

SAFARI Cinemas,

Station Road
Harrow - HA1 2TU

Thursday 7th April

(Premier Show)

8:00pm

Friday 8th April

8:00pm

Saturday 9th April

5:00pm

Sunday 10th April

TBA

ALL SHOWS ARE IN BIG SCREEN

Dharmi: 07432263666

Uday: 07440061161

Book tickets online for Harrow Safari also at

www.boleyncinemas.com

Picadilly Cinemas

Birmingham

372, Stratford Road

Birmingham

B11 4AB

Thursday 7th April

(Premier Show)

8:00pm, 9:00pm

Friday 8th April

8:00pm, 9:00pm

Saturday 9th April

4:00pm, 7:00pm, 10:00pm

Sunday 10th April

1:00pm, 4:00pm, 7:00pm

Theatre: 01217710421

Karthik: 07398854497

Mani: 07854920808

Uday: 07734350492

Book tickets online for Birmingham also at

www.boleyncinemas.com

MANCHESTER

The plaza stockport

Mersey square

Stockport SK11SP

Thursday, 7th April 8:00pm

(Premier show)

Sunday 10th April 3:00pm

Praveen: 07725799582

Sudeesh: 07712435718

Book tickets online for Manchester and surrounding area also at

http://www.boleyncinemas.com

Picadilly Cinema,  
2 Green Lane Road

Evington

LEICESTER -

LE5 3TH

Thursday 7th April

(Premier Show)

8:30pm

Friday 8th April

8:30pm

Saturday 9th April

12:00pm, 6:00pm

Sunday 10th April

12:00pm, 6:00pm

Theatre: 01162518880

Uday: 07734350492

Suresh: 07557797774

(off business hours)

Book tickets online at

www.piccadillycinemas.co.uk

Reading Film Theatre,
Palmer Building,
Whiteknights,
Reading  

RG6 6UR

Saturday 9th April 07:30pm

Dharmi: 07432263666

Suresh: 07557797774

(off business hours)

Book tickets online at

www.boleyncinemas.com

Errol flynn film house

Northamton

NN11TU

Saturday 9th April 10:00am

Sunday 10th April 09:45am

Kaushik:07525164398

Harbour Lights Picturehouse
Ocean Village, Maritime Walk
Southampton,

SO14 3TL

Saturday 9th April 11:00am

Raghu-07830011000

Pradeep-07515146849



Grosvenor Cinemas,
Ashton Lane,

Glasgow

G12  8SJ

Thursday, 7th April 10:00pm

(Premier show)

Zakir:07525269703

Naresh:07703101516

Book tickets @
www.telugucinema.uk

Dominion Cinemas (Gold 1),
18 Newbattle Terrace, 
Edinburgh

EH10 4RT

Thursday 7th April - 8:00pm

Saturday 9th April 10:00am

Uday: 07891381203

Niranjan: 0754247373

Book tickets @
www.telugucinema.uk

Belmont Film House, 
49 Belmont St, 
Aberdeen AB10 1JS

Friday 8th April 7:30pm

 Pradeep – 07860448135

Satya: 07896970257 

SHEFFIELD

Showroom & Workstation

 15 Paternoster Row

 Sheffield S1 2BX

Saturday 9th April 9AM

Praveen: 07725799582

Sudeesh: 07712435718

Customs House, South Shields,

New castle

NE33 1ES

Sunday 10th April

4:30pm

07737663520

07894292941

www.telugumovietickets.co.uk

LEEDS

THE PICTURE HOUSE
NORTH STREET, KEIGHLEY, WEST YORKSHIRE

BD21 3AF 

Saturday 9th April 09:00 am

Suresh Kancharla :

07470481007

BELFAST

Movie House

14 Dublin Road

Belfast,co.antrim

BT2 7HN

Saturday 9th April 10:30am

SUNDAY 10th April 11:00am

00353879428129

www.asktraders.com
COLOURS MEDIA UK has acquired the theatrical rights for entire UK of Power Star Pawan Kalyan's upcoming action entertainer, Sardaar Gabbar Singh .
Sardaar Gabbar Singh is one of the most eagerly awaited Telugu films of 2016 and for good reason. Pawan Kalyan will be reprising the role of Gabbar Singh, a dashing and maverick cop who is posted to Rattanpur this time. The last time he played the role in Harish Shankar's Gabbar Singh, back in 2012, the movie went on to become the biggest hit in the Star's career back then.
The film is readying to be a high-octane mass entertainer with an original story. Besides the fact that the last Pawan Kalyan Starrer was the History making Attarintiki Daredi, two and half years ago, in September 2013, is only making his fans and movie lovers rave in delight about the approaching release date. After Attarintiki Daredi, Pawan Kalyan has only appeared in Gopala Gopala (Jan' 2015) in a very special role, as the God Himself!!
Between Attarinkitiki Daredi and now, Power Star's persona and magnetism have manifested in newer dimensions for the Telugu people as a concerned people's man and a courageous crusader.
For Sardaar Gabbar Singh, Devi Sri Prasad (DSP) is scoring the music and Arthur Wilson is the cinematographer. Kajal Aggarwal is teaming up with Pawan Kalyan for the first time in her career. The film also stars Raai Laxmi, Sharad Kelkar, Sanjjana, Mukesh Rishi, Brahmanandam, Brahmaji, Posani Krishna Murali and several other leading actors from Tollywood.
The film's first look poster and teaser, which was unveiled on the eve of Sankranthi, went viral on the internet and from the official YouTube channel alone, the teaser got close to 2 million views in less than 10 days.
Directed by KS Ravindra (Bobby), the film, is being jointly produced by Sharrath Marar under North Star Entertainment Pvt. Ltd. and Eros International banner. The principal shooting of the film had begun in late 2015 and it's slated for release later this Indian summer.
With huge anticipation and positive buzz, Sardaar Gabbar Singh is all set to create a new benchmark in the Telugu Industry. For the Telugu audiences in overseas markets, Sardaar Gabbar Singh will be a veritable feast and an early summer for the US and Europe audiences. Keep watching this space for more details.
For business enquiries:
COLOURS MEDIA ENTERTAINMENTS LTD is really excited to be part of after their successful distribution of big hits Soggade Chinni Nayana,RUDRAMADEVI, BAHUBALI,SRIMANTHUDU, LOUKYAM, ATAHRINTIKI DAREDI,YEVADU SVSC, RACHA, EEGA, JULAYI, LIFE IS BEAUTIFUL, CAMERAMAN GANGATHO RAMBABU, DAMARUKAM & etc. Our sincere thanks to producers Sharath Marar Garu, Power star Pawan kalyan Garu, Vasu from I dream media and EROS international for making COLOURS MEDIA ENTERTAINMENTS LTD as part of this venture.
All interested in screening, in UK please contact
We are looking forward to release this movie in every corner of UK and make every one a part of the release for new and old cinema centres.
Uday 00447734350492
Suresh 00447557797774