Tell us about yourself?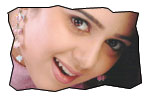 I am from a very normal family in Vasai, Mumbai. One day I was walking on the road, a model coordinator spotted me offered me a modeling assignment. I said I was not interested. He asked me to come for the shooting of a film. I want there and saw Abhishek Bachchan, Hrithik Roshan and Kareena Kapoor working for a film. Somebody spotted me over there and offered me a role in 'Nee Thodu Kaavali' in Telugu. I had my vacations going on at that time, so I said yes. I acted the role of a housewife at the age of 13.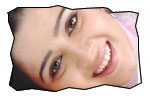 After completing 'Nee Thodu Kavali', my vacations were over. After reaching Mumbai, the bug of acting started biting me. I wanted to become a Hindi film heroine. I used to travel by local trains in 2nd class to scout for the opportunities as Bollywood heroine. I struggled for 3 months. Then T Rajender sir signed me for 'Kadal Azivadilai' (Kurradochadu in Telugu). And my acting career took off. I did 3 films in Tamil and one film in Malayalam. Then I made a re-entry into Telugu with 'Neeke Manasichanu' starring Srikanth. I just completed 'Sri Anjaneyam'. And now I am doing this film with Sumanth as hero.
How is it like working for Sri Anjaneyam?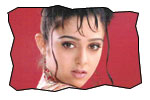 When I met Krishna Vamsi sir, he told me the movie name 'Sri Anjaneyam'. I wondered what kind of movie title it is. He explained me that it is about Lord Hanuman. Then I was not a great devotee of Lord Hanuman. But today I am. Today is Tuesday and I am fasting. The whole movie was a learning experience for me. I have not done any acting course prior to joining the films. Doing Sri Anjaneyam is like doing a course in acting for which I am getting paid. It was a great fun. I am very lucky to do that film.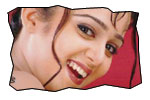 Tell us about your role in 'Sri Anjaneyam'?
My character's name is 'Paddu' (Padma). She is the beauty queen of the village. She is very rude, rough and arrogant. She does not care about anybody. Still the people in village are very fond of her. Nitin's character is Anji. Due to certain incidents, she falls in love with him. She is behind him to marry her. Since he is an ardent devotee of Lord Anjaneya, he can't marry her. She lives for Anji and dies for Anji.
How was the experience of working with Nitin?
He has got innocence in him. He is still not open to the world. We both were more excited to learn things. He is very cooperative and we have a very good chemistry between us. He has no airs even after giving two hits. That is the best thing I like in him. He is always career-minded like me. He is a very good actor. He can be a very good friend too.
What is your role in this film with Sumanth?
I am playing Swetha - a rich, college-going, modern and arrogant girl. She thinks money is everything. She thinks she can buy anything for money. This is my first film in Telugu in which you see me in western outfits. She is a chocolate-loving girl. She eats chocolates all the time.
How is it like working with hero Sumanth?
Though I worked with him for 3 days only, I felt like I knew him for a long time. He makes me very comfortable on sets. He is very down to earth and gets along with everybody pretty well. After the success of 'Satyam', he is very much charged up to make this film also a very big hit. He is a workaholic.
What are your future projects?
I will be acting with Ravi Teja in the direction of Mehar Ramesh.
We heard that you would be acting with Nagarjuna in 'Mass Dammunte Kasko' along with Jyotika?
I would be very happy if I get a chance to act with Nagarjuna. It is not confirmed yet. By God's grace, I might be signed up for that film.
We also heard that you are being considered for Allu Arjun's film 'Badrinath'?
Talks are on. I will let you know about it soon.
You seem to have lost a bit of weight after 'Neeke Manasichanu'?
Not a bit. But I have lost around 12 Kgs for 'Sri Anjaneyam'.
We heard that you have even fixed a weighing machine in your van?
(giggles) Who told you that? It is true. I keep a weighing machine and watch with me wherever I go. Time and weight are two things, which are really important to me. If I value these two things, I can reach my destination.
What are your strengths?
Positive thinking and confidence that I would shake the film industry
What are your weaknesses?
Chocolates! I am very moody. I am trying to have control over my weaknesses.
What brings you cheer when you are in bad mood?
A motivational book by Shiv Khera.
You entered film industry at a small age. How are you going to continue your studies?
Why do people study? To have a job, earn money and have a good life. If I am having all those things and even more than that now, why do I need to continue studying?
Don't you think you will miss college life and fun with friends?
I think I am enjoying 3 times more that what I should have enjoyed going to college and spending time with friends.
How different is your life in Hyderabad compared to Mumbai?
It is same for me. I am not the kind of girl who takes everything in the life as it comes. I make the life happen the way I want it to be. Mumbai is more polluted and Hyderabad is less polluted. This is the only difference I noticed.
How did you feel when you saw yourself first time on screen in a public theater?
My mom wept after seeing me on big screen. I also wept, but for a different reason. My role was getting over in the first half itself.
You are earning so much money at a tender age. Are you not spoiling yourself?
What is big money? It is not come on my way yet. Even if I get 100 Arabs, it is not a big money for me. I am a girl who is never satisfied. My parents are proud of my earnings. I think I am earning just 0.5% of amount I deserve. 99.5% of money is yet to come.
Tell us about your hobbies?
My hobbies keep changing. One steady hobby I have is reading. I have been a champion in swimming since my childhood days. I love dancing and chatting. I am very fond of cosmetics.
Who are your favorite actors and actresses?
Amitab Bachchan, Shahrukh Khan, John Ibrahim, Rekha, Dimple Kapadia, Juhi Chawla, Soundarya, Ramya Krishna, Trisha, Shriya, Genelia and Bhumika Chawla.
What is your dream role?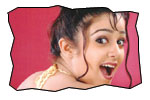 I want to do 10 different characters in one film. I heard that Kamal Hassan done 4 characters in Maichel Madana Kama Raju. Eddie Murphy has done 7 roles in Nutty Professor. I heard that some other actor did 9 roles. I want to beat it. I don't mind playing the role of even a hooker or a 2-scene role. I would do it for free if any producer offers me this dream project. If nobody comes forward, I don't mind producing that film myself. I sincerely hope that some director would offer me these many roles after reading this interview in idlebrain.com
What is your ultimate goal in life?
I want to be a star of the Planet Moon. I would call the film industry in Moon as Mollywood. One day people would start living on planet moon. And film industry would shift over there and I would love to star in films made on moon for the people living on moon.
Who is your role model?
Nobody! I am not highly inspired by anybody. I am a fan of many people. I try to grasp particular things from everybody.
If you were given an opportunity to be born again with specific qualities/features from various people, how would you like it to be?
I would like to have eyes of Aishwarya, figure of Jennifer Lopez, a boy friend like Shahrukh Khan, brains like Krishna Vamsi, smile like Juhi Chawla and acting talent like Dimple Kapadia in Bobby.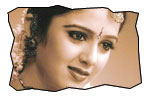 Would you mind giving your yahoo ID to idlebrain.com visitors so that they can chat with you whenever you pop up on their messengers?
I want to share my yahoo ID. My yahoo ID is charmykaur and yahoo mail ID is [email protected] . I encourage everybody to chat with me and give their valuable suggestions. I am on invisible mode when I am chatting with friends. I am on visible mode when I want to meet movie lovers and fans. I love my PC and would love to reply to all messages and mails I get!
What kind of suggestions do you get from your fans?
I do value the opinions of fans. With out fans, I can never become a star. They used to suggest me to lose weight earlier. Now they want me to act with Nagarjuna and NTR.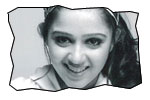 Do you want to say anything to idlebrain.com visitors?
I have been browsing idlebrain.com for a long time. My brother is also a computer freak. It is a very good site without any wrong gossips. I get my quotient of Telugu film information from idlebrain.com. I can see that there is something new added to the site everyday. I recommend it to my colleagues that they should visit idlebrain.com everyday for at least an hour.