Story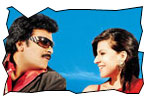 Shankar (Chiranjeevi), a local goon falls in love with the voice of Jahnavi (Karishma Kotak) who works as radio jocky in an FM station. He introduces himself as a history professor in order to impress Jahnavi. Meanwhile, he gets hallucination of seeing Gandhiji and talking to him. Shankar as a part of his wrong deeds also helps a land grabber called Lingam (Sayaji Shinde). Lingam tricks Shankar to grab the old-age home run by Jahnavi. Instead of attacking Lingam in his routine rough style, he applies the technique of Gandhigiri. The rest of the story is all about how he reforms Lingam and wins the heart of Jahnavi.
Artists Performance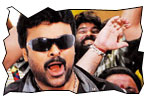 Chiranjeevi: Chiranjeevi is excellent in this film. There are pretty good comedy scenes in first half which were performed by Chiranjeevi with impeccable timing and ease. Chiranjeevi has sacrificed on his image aspect while doing the second half of the film. His dance movements are pretty good, asusual.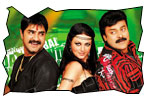 Others: Karishma Kotak with a broad structure is just ok as the female lead. Srikanth is given liberal screen space in first half and he excels with renewed dialogue delivery and interesting expressions. Sayaji Shinde is alright as the land grabber. Marathi stage thespian Dileep Prabhavalkar played the role of Gandhiji to perfection. Rohit is adequate. Allu Arjun, Ravi Teja, Prabhu Deva, Devi Sri Prasad and Nagababu made special appearances in songs. Pawan Kalyan enters the film during climax and he has pretty powerful dialogue that refers to his relationship with Chiranjeevi in his real life.
Technical Departments: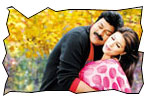 Story - screenplay - direction: This film is a remake of Hindi film Lage Raho Munnabhai. And most of the film is adapted in Telugu as it is. The director added a couple of fights and an item song to please the masses. When it comes to Shankar Dada MBBS, director Jayant has nicely added entertaining elements (style walk of hero and Telugu proverbs in butler English). These things caught up like a wildfire with the masses as well as the classes who have already seen Munnabhai MBBS. But in Shankardada Zindabad, the director did not put any extra efforts to make it more entertaining than the original. And when Prabhudeva directs a film we expect extraordinary dances and his kind of creativity and entertainment. But he seems to have just stuck to the original Hindi film and took a couple of references from Shankar Dada MBBS. Direction of the film is adequate.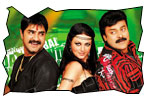 Other departments: When Prabhudeva and Chiranjeevi team up, we expect fireworks in dance department, but Prabhudeva could not create any sort of magic in his base department of choreography. Music is very good to listen on the audio player. On screen, Jadageka Veerudiki and melodious Chandamama song are pretty good with nice costumes and luster locations. Dialogues by Paruchuri brothers should have been better though there are couple of nice dialogues (piece vs peace etc). We expect better cinematography from a talented technicians like Chota K Naidu.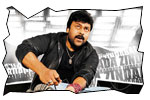 Analysis: First half of the film offers entertainment. Second half has heavy moments with emotional appeal. The plus points of the film are Chiranjeevi and Srikanth. On the flip side, second half should have been handled in a more compact manner and there should have been more Chiranjeevi kind of entertainment. Chiranjeevi is one hero who has all-round appeal and has terrific following in family circles. The second half of the film is aimed toward to the family crowds. The success of the film depends on how the family crowds embrace the second half.
SDZ links
• Audio launch
• Audio review
• Muhurat
• Photo gallery
• Wallpapers
• Abroad schedules
US | UK | Aus
Jeevi reviews of previous 5 films
• Lakshyam
• Bahumati
• Sivaji
• Dubai Seenu
• COAFM
• Aata
• Srimahalakshmi
More Reviews