Chit Chat with Mahesh Babu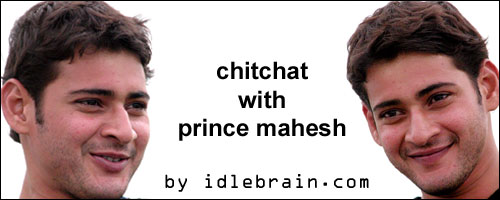 Mahesh Babu is shooting for his film 'Athadu' in the direction of Trivikram Srinivas at a lake located in ICRISAT campus in Hyderabad on 7th August 2004. A scene on the bridge of the lake is being canned on Mahesh Babu and Sunil. Idlebrain.com has caught up with Prince Mahesh in the shooting break for 10-minute chitchat as his birthday (9th August) and the film Arjun's release (18th August) are fast approaching. Here are the excerpts ….
How different is your birthday going to be this year?
I am looking forward for 18th August so that my Arjun film would be released.
Did you make any mistakes in the past one year?
I think you wanted to know my opinion about the failure of Nani film. Nani is a well made film. It is a big hit in Tamil too. It did not do well in Telugu because my image did not suit the Nani character. I think I miscalculated my image factor when I accepted Nani film.
Did you make any changes in Arjun film because Nani flopped?
We did not do even a single change in Arjun script because of Nani's flop. We went ahead and completed the film Arjun the way we wanted to make it. Arjun is a complete commercial mass film.
Before the release of Nani, you announced that there would be another film in the combination of you, Manjula and Surya. Is it still on?
The film with Manjula would start in the month of December 2004 (director is not Surya). However a film in the direction of Surya would be there at a later point of time.
What are you offering to the Telugu film lovers through your film Arjun?
Arjun is a perfect film for big screen entertainment. Even if you get hold of a pirated CD, you do not feel like watching it, as Arjun would be feast to your senses only when you watch it on big screen.
Arjun is a Rs. 20-crore budget film. Were you nervous while working for this film?
Not at all! The main reason for my confidence is the direction of Gunasekhar. He handled such a thin subject like Okkadu in an extraordinary way. Now that we have a strong subject for Arjun, I am sure Gunasekhar would take it to higher levels.
Trivikram Srinivas is known for his soft scripts and lighter vein dialogues. How is this 'Athadu' - a mass film - going to be?
The title 'Athadu' is a self-explanatory one. It is not a soft title. There is so much of force (mass punch) in it. Trivikram is one technician who is flawless with 100% success rate. He would live up to the expectations movie lovers have for 'Athadu'.
You seem to be getting hits and flops alternatively. How do you feel about change of fluctuations in the results?
I feel sad about it. Do you think I enjoy it when I get flops? (Giggles) I sign films hoping that they would become blockbusters. I will try my best to deliver the next 2-3 films as blockbusters.
You are accepting a lot of films from your home productions (Manjula's film Nani followed by Ramesh's film Arjun and again another film with Manjula as producer in December 2004). Don't you give preference to outside producers?
Do you think we are making films on home banners only for the sake of money? Arjun is such a big budget film and Nani is such an experimental film. I took the risk by making good films on my home banner.
What are the highlights of Arjun?
It is a very high standard cinema technically. The Madhura Meenakshi set is terrific. The night effect song in that set is mind blowing. There would be lot many highlights. And it is a 20-crore film. Hence we want to keep the surprise elements in tact till the film is released.
Do you get any premonitions about the fate of the film while it is under production? What is your gut feeling about the film Arjun?
I am always confident for all the films I acted so far. But with a director like Gunasekhar at the helm of affairs, I am supremely confident about the success of Arjun film. More than my gut feeling, I have tremendous faith in the judgment of my father (Superstar Krishna). My father has seen all nine films I acted so far before the release itself. For all films, he appreciated me that I did well. But only for Okkadu, my father told me privately that the movie was good. After watching Arjun film, he is more excited than that of Okkadu. And he commended that Arjun movie is very good.
Idlebrain.com - on behalf of our esteemed visitors - wish Mahesh Babu a great birthday and a prosperous year of hits in form of Arjun and Athadu.