Chit Chat with Vani Sri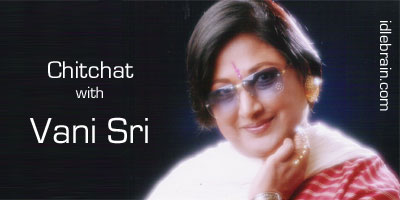 Vani Sri is the diva of Golden Telugu cinema. She joined the winning Congress Party before elections and campaigned in places like Nizamabad and Vizag. She held press meet today (26th May) to share her happiness with press. Here are the excerpts of the chitchat
Why did you choose politics as your new career?
I am admirer of Indira Gandhi. As an actor I liked her charming walking style. Jalagam Vengal Rao is a close family friend of us and I met Indira Gandhi through Jalagam Vengala Rao. I am thoroughly following the politics for the past 5-6 years. My kids are into higher studies now. My daughter is doing her MS and my son is into MBBS. I got enough free time. Hence I joined that party of my liking Congress to serve the people. I flourished in whatever career I have chosen so far. I am feeling lucky that Congress won so many seats after joined the party.
Every politician wants to have power and aims for certain positions in public office. What are you expecting from Congress Party?
I have no positions in my mind when I joined Congress. They offered me ticket to contest for MLA, but I refused.
Would you accept it if you are position like Chairman of FDC (Film Development Corporation) or Electronic Media advisor?
I am a woman of self respect. I do not ask for any positions. If they offer me anything, I would accept it humbly.
When one woman (Sonia Gandhi) wants to become PM, another woman (Sushma Swaraj) vowed to tonsure her head? Is it a fair fight between two women? What is your stand on that??
If you tonsure your head, you would get your hair again. And if you tonsure your head in Tirupati, you would get punyam as well. Ask sushma Swaraj to sacrifice something which she can never get back!
Our CM says that one must retire from politics after reaching 60. How many more years would it take for you to reach sixty?
Are you asking my age? It would take 7 more years to reach sixty. I guess there is no age bar when it comes to acting. Nageswara Rao garu acted even when he is 80.
When the entire Telugu film industry shifted to Hyderabad, you continued your stay in Madras. Why is it so?
The government invited others and offered free sites to those who shifted to Hyderabad. Nobody has invited me to Hyderabad.
You have been in film and political industry. Which politics are dangerous?
Politics are everywhere. When four men meet, there are politics. When two women meet, there are politics as well.
What do you think is the essential quality for a politician?
One should be a good orator. One should be able to explain to people what his vision in. I like Chidambaram, Rama Krishna Hegde and VP Singh when it comes to oratory skills.
What are the films you are doing currently?
I am doing the role of arrogant aunt to hero in 'Bhadradi Ramudu' film.