20 July 2012
Hyderabad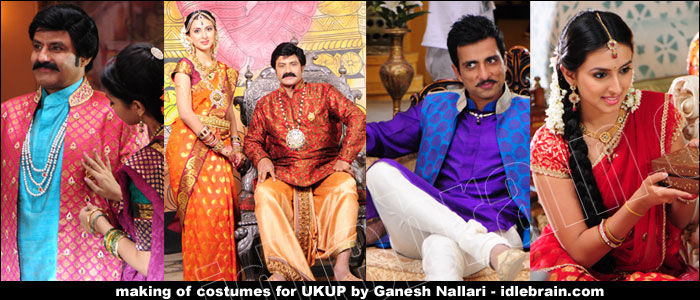 The research for this project started almost a year back, when the director Mr. Shekar Raja briefed me about the film and its characters. The film is a socio-fantasy and I was told to work on the characters, which belonged to a certain period, when the Zamindar (almost king like) ruled.
I was a little nervous when I knew whom I was designing for, because it involved some big names, however my director Raja & the producer Lakshmi Manchu encouraged and supported me all through. Their trust in me, gave the confidence to put my creativity to the best of its ability.
After a lot of yardage being wasted to get the right fits, test trial shoots with actors, experimenting with hair-do, make up and finally the right look for each character was decided. And I must admit, all the actors were very patient, humble and down to earth.
I've been fortunate to design for Nandamuri Balakrishna, Sonu Sood, Panchi Bora, Simar, Aishwarya, Adi & Lakshmi Manchu.
Without revealing much about each character, all I can say is every character has a distinct style, which reflects in their personality on screen.
For Balakrishna and Sonu Sood I have used pure Banaras brocades and raw silks with fine intricate hand embroidery detailing.
You'll see Balakrishna as a married middle aged rich Zamindar in Sherwani's, Open jackets & Dhotis. And Sonu Sood being a younger man in Waistcoats, Bandgals and Long Sherwanis with chudidhars.
Panchi as Balakrishna's wife has a distinct style in the way her sarees and blouses are styled; it ought to set a trend. Her jewellery was hand picked from various parts of the country. Simar is seen in traditional half sarees as Balakrishna's sister.
Lakshmi's character in the movie is tricky, there is a certain history she has yet innocent and charming. There is a mix of simplicity and grandeur in her costumes.
The color palate varied from warm hues to cool colors depending on the scene and location. All the actors in a frame well coordinated.
Sleepless nights and the mid-night oil burnt, short deadlines, embroidery's made over night and sometimes during fight sequences when the clothes were damaged had to make another set of clothes which looked exactly the same… "Uu... Kodathara? Ulikki Padathara?" has been a wonderful experience and my favorite Tollywood project I have worked on so far.
Ganesh Nallari
Director & Design consultant,
Chic Pea Studios Pvt. Ltd.