CineMAA Awards 2004 (by MAA TV) was presented on the eve of Republic day (26th Jan 2006) at a function arranged in Hitex, Madapur. This function was graced by ANR, Krishna, D Rama Naidu, Chiranjeevi, Nagarjuna, Rajendra Prasad, Srikanth, Allu Arjun, Vishnu, Raja, Brahmanandam, EVV, Charmme, Kamalinee Mukherjee, Sneha, Kamna Jetmalani, Madhu Sharma, Gowri Mumjal, MS Raju, Prabhu Deva, Sekhar Kammula, Dil Raju, Sukumar and Paruchuri brothers.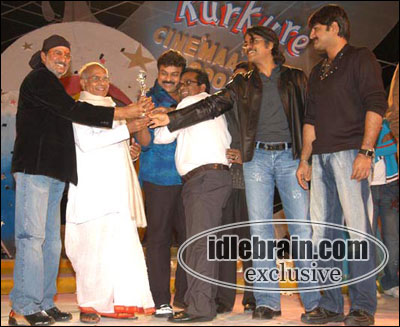 Veteran telugu film celebrities like Krishna, Gummadi, Kaikala Satyanarayana, SP Balasubramanyam, Anjali Devi, Krishna Veni, Kanchana, Vani Sri, VB Rajendra Prasad, P Suseela, Kantha Rao, C Narayana Reddy, D Rama Naidu, DVS Raju, Ramesh Prasad, Vijaya Nirmala and Veturi were richly felicitated on the eve of Telugu cinema completing 75 years.
D Rama Naidu is given NTR's Lifetime Achievement Award. Chiranjeevi was given Swarnakankanam by ANR on this occasion. MAA TV gave I lakhs cheque to heroine of yesteryears Kanchana. Brahmanandam was given Allu Ramalingaiah Gold Medal.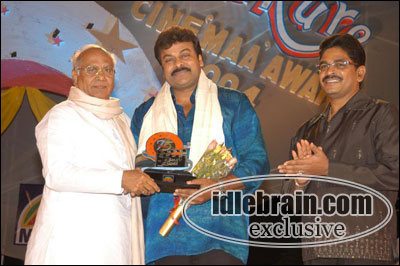 Speaking on the occasion ANR said, "I am very happy to see Chiranjeevi getting Padma Bhushan award on this republic day. I witness the unfortunate demises of my heroines like Santha Kumari, Bhanumati etc in the last year. Bhanumati was a superstar when I entered films. Later on she encouraged me and I acted as hero in films produced by her. I am really happy to see so many celebrities from the golden era to be present here on this occasion."
I am dedicating Padma Bhushan to my fans - Chiranjeevi
Padma Bhushan Chiranjeevi said, "I am really excited and feeling very happy today. I got Padma Bhushan award because of my fans, producers, co-actors and technicians. I am not getting any words to describe how happy I am. All I could do now is to bow to you for giving me such a position. I am dedicating my Padma Bhushan award to fans. I am happy to get blessings of legends who graced this function today."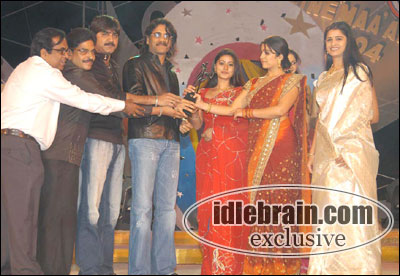 D Rama Naidu who received NTR's Lifetime Achievement Award said, "I am feeling fortunate to get this award. NTR was the hero of my debut film Ramudu Bheemudu. ANR acted in a milestone film called PremaNagar. Both these films were the most memorable films. I treated filmmaking as business and produced over 100 films so far. Veteran heroines who graced this function like Kanchana, Vanisri and Anjali Devi acted in my films."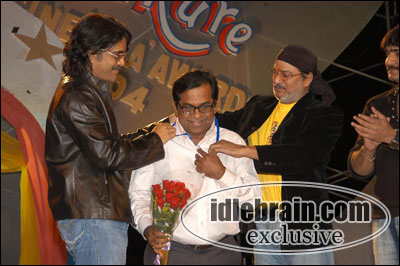 Chiranjeevi is the living example - Nagarjuna
Nagarjuna who won the best hero award said, "I am happy yesterday when I came to know that Chiranjeevi got Padma Bhushan award. I feel that Chiranjeevi getting Padma Bhushan is like an honor to the entire Telugu film industry. Chiranjeevi is known for his style in breaking records. Likewise, he got Padma Bhushan award directly. Chiranjeevi is a living example of how man can attain the impossible with dedicated hard work. For me he is not Padma Bhushan Chiranjeevi, he is still my Mega Star Chiranjeevi. I am happy that all films released for Sankranthi got good talk and are generating good revenues. Lawrence Style is a hit and I congratulate him."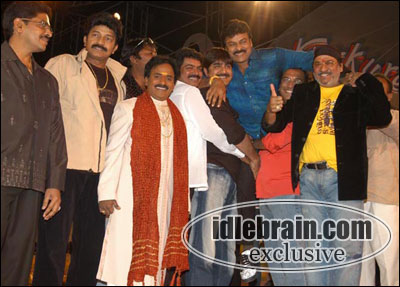 Here is the list of winners of CineMAA 2004 Awards
| | | | |
| --- | --- | --- | --- |
| S. No | Category | Winner | Film |
| 1 | Best Film | Varsham (MS Raju) | Varsham |
| 2 | Best Hero | Nagarjuna | Mass |
| 3 | Sensational Hero | Prabhas | Varsham |
| 4 | Best Hero Jury | Rajendra Prasad | Aa Naluguru |
| 5 | Best Heroine | Trisha | Varsham |
| 6 | Best Heroine Jury | Bhumika Chawla | Naa Autograph |
| 7 | Best Director | Sekhar Kammula | Anand |
| 8 | Best Director Jury | Sukumar | Arya |
| 9 | Best Pair on Screen | Srikanth & Sneha | Radha Gopalam |
| 10 | Sensational Producer | Dil Raju | Arya |
| 11 | Best Debut Heroine | Kamalinee Mukherjee | Anand |
| 12 | Best Debut Hero | Manoj | Donga Dongadi |
| 13 | Best Debut Director | Lawrence | Mass |
| 14 | Best Comedian | Venu Madha | Sye |
| 15 | Best Villain | Gopichand | Varsham |
| 16 | Best supporting actress | Satya | Anand |
| 17 | Best Supporting Actor | Kota | Aa Naluguru |
| 18 | Best Dialogue writers | Paruchuri Brothers | Shankar Dada MBBS |
| 19 | Best Screenplay | Sukumar | Arya |
| 20 | Best story writer | Sri Raghava | 7GBC |
| 31 | Best Choreographer | Prabhudeva | Varsham |
| 32 | Best Music Director | Devi Sri Prasad | Varsham |
| 33 | Best Female Playback singer | Kousalya | Pedababu |
| 34 | Best Male playback singer | SP Balasubramanyam | Swarabhishekam |
| 35 | Best Lyricist | Chandrabose | Naa Autograph |
| 36 | Best Cinematographer | S Gopal Reddy | Varsham |
| 37 | Best Editor | Marthand K Venkatesh | Arya |
| 38 | Best Fight Master | Vijay | Sye |
| 39 | Best Art Director | Thota Tharani | Arjun |
| - | NTR Lifetime Achivement Award | D Rama Naidu | - |
| - | Allu Ramalingaiah Gold Medal | Brahmanandam | - |
| - | Swarna Kankanam | Chiranjeevi | - |
Other CineMAA awards coverage at idlebrain:
Telugu cineMAA awards 2003
Telugu cineMAA awards 2002