The double function of King Music launch and Naga Chaitanya birthday celebrations was held a jam-packed Gachibowli stadium on the night of 23 November 2008. Naga Chaitanya being the grandson of ANR and D Rama Naidu and being son of Nagarjuna and nephew (menalludu) of Venkatesh is given prominence to the function as the both families attended it. Devi Sri Prasad performed some music from his films. Nagarjuna also danced to King title song like he did for Mass title song in the music launch in the past.
K Raghavendra Rao launched the audiocassette of King and gave the first unit to Venkatesh. Venkatesh released the audio CD and gave the first unit to Nagarjuna.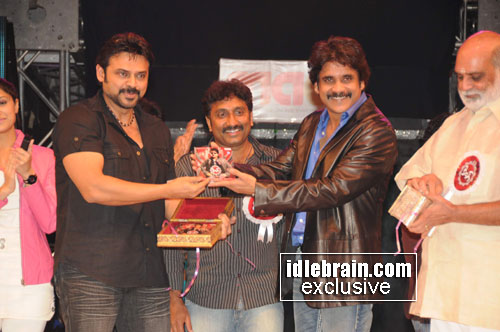 Speaking on the ocassion Seenu Vytla said, "Everybody worked like soldiers for King. Music is very good. Devi Sri Prasad gets full credit. Nagarjuna gave us full freedom. Siva Prasad Reddy is a good producer. Rama Jogayya Sastri penned most of the songs."
Don't call me Yuva Samrat, Call me King instead - Nagarjuna
Nagarjuna address his fans by saying 'my kings'. Nagarjuna said, "It needs a qualification and position (level) to title one's film as King. I am happy that you gave me that qualification and level. King might look as class film with me wearing suits. But it has comedy, fights and dances. There is absolutely no sentiment (crying). I felt really happy by looking at the rushes. December is a very lucky month for us and King will be released in December. I am very eagerly waiting for the movie."
Naga sentiment will work for Chaitanya- ANR
ANR said, "Siva Prasad Reddy is a close family friend of us. He gave many hit films for us. He organized a grand function today. I saw many of Trisha's films. I like her very much. I introduced dances into films. I am 85 year old. I got introduced in films in 1945. I never believed that acting is hereditary. Nagarjuna has shown interested in acting at the age of 10. I wanted him to study. He completed studies in USA, came back and told that he was interested in acting. I did not have a reason to say no. He proved himself as a great actor through Annamayya and Sri Ramadasu. Akhil was the next actor to make debut with Sisindri. Next Sumanth made his debut. He was also encouraged by fans and movie lovers. Sushant – my grandson and PAP Subba Rao's grandson – made his debut with Kalidasu. I did not expect him to enter films after he went to USA to do studies. We never expected Naga Chaitanya to act in films. He said that he would act in films after completing studies. I told him Naga Chaitanya that he needs to have all qualifications to satisfy the humongous expectations set by movie lovers. We sent him to Mumbai for a crash course in acting. We sent him to Hollywood to learn fights and dances. We also tutored him in Telugu diction because I am very particular of him having a nice Telugu diction. Naga sentiment will work for Naga Chaitanya because my name and Nagarjuna name also has Naga in it. We would not have let Naga Chaitanya into films if he did not have stuff in him. We wanted to produce film on Annapurna banner. Dil Raju came forward to produce this film. He is a big producer and man with Midas touch. Today is the birthday of Naga Chaitanya."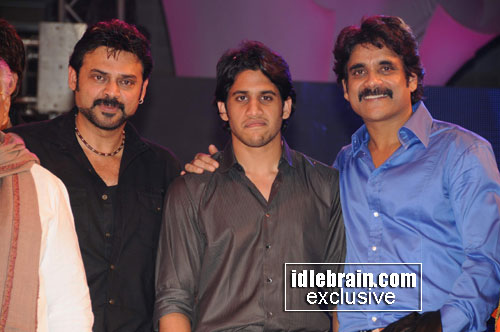 Waiting for this moment since 2 years – Naga Chaitanya
An elated Naga Chaitanya said, "I had been waiting for this occasion since 2 years. I expressed my interest in acting films to dad two years back. He felt happy and okayed it. But he took the care to launch me after making me undergo various training exercises. This (acting in films) is my aim, dream, challenge and responsibility. I should make two grandfathers (ANR and D Rama Naidu) happy. I have to make my entire family happy including Venkatesh uncle. This is my happiest birthday. I need support from every corner during my career."
Chaitanya should do variety roles - Venkatesh
Venkatesh said, "Nagarjuna's chain in Shiva created sensation 20 years back. Naga Chaitanya is going to repeat the magic now. I want Chaitanya to do variety roles. Nagarjuna did many variety films. Fans should encourage Chaitanya to do novel roles."
Dil Raju said, "It's a huge responsibility to launch Naga Chaitanya. I will try my best to make a film that would be entertained by fans and movie lovers."
K Raghavendra Rao said, "ANR declared Nagarjuna as his nata varasudu after watching Annamayya film. I am sure Naga Chaitanya will also get similar compliment very soon"
King music will be on the racks by 1st December.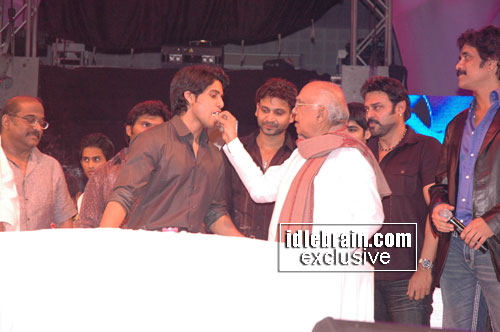 Naga Chaitanya cut the cake on this occasion.
King links:
• Photo Gallery
• Working stills
• Press Meet
• Wallpapers
Naga Chaitanya links:
• Photo Gallery
• Wallpapers