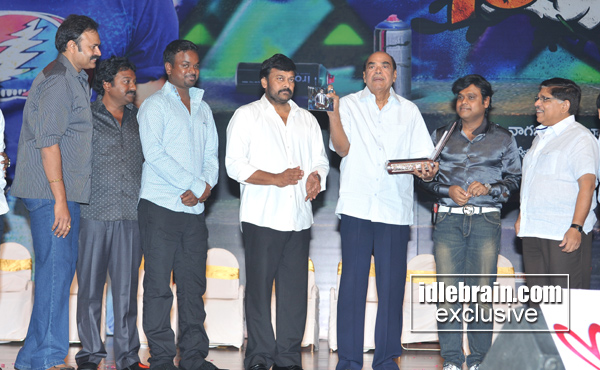 Music of Ram Charan Tej's latest movie Orange was launched at a function organized in Shilpa Kala Vedika on the night of 25 October. Harris Jayaraj composed music. Naga Babu produces it in the direction of Bommarillu Bhaskar.
This function was attended by Chiranjeevi, D Rama Naidu, K Raghavendra Rao, Nagababu, Bhaskar, Allu Arjun, RaNa, Sai Dharam Tej, Harris Jayaraj, Anand Sai, VV Vinayak, Boyapati Seenu, Allu Arvind, KS Rama Rao, KL Narayana, Bhogavalli Prasad, D Danayya, Gemini Kiran, Paruchuri Venkateswara Rao, Brahmanandam, Ali, Venu Madhav etc attended it.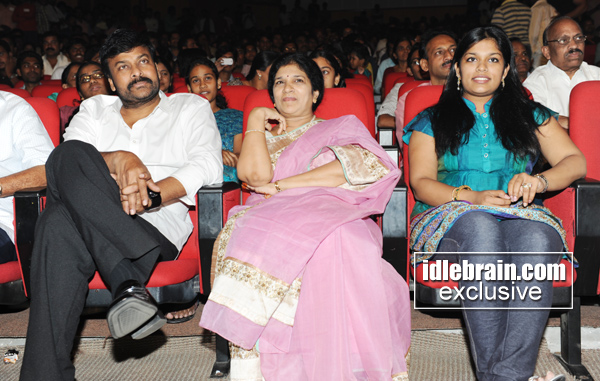 Orange is a perfect follow up for Magadheera - Ram Charan Tej
Since Ram Charan Tej is in Australia to shoot a song, he spoke live. He said, "Though I am in Australia, I feel like I am amidst my fans in this auditorium. I had been an avid fan of Harris Jayaraj since I listened to his songs in Vasu movie. I am happy that Harris composed music for Orange. Bhaskar is a passionate director. I worked with lot of determination and dedication. Orange is a perfect follow-up for Magadheera."
It's a musical love story - Genelia
Genelia (from Australia) said, "Orange is a musical love story. It will entertain everybody. The entire team worked hard for Orange movie."
Harris Jayaraj spoke in Telugu and wished that all fans of Ram Charam Tej would love the romantic tunes scored by him.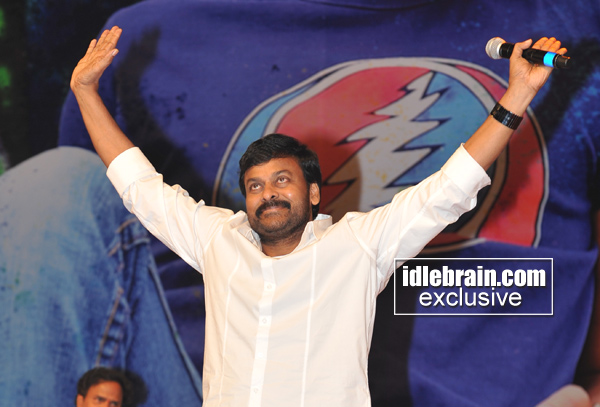 RCT looks like Bollywood hero - Allu Arjun
Allu Arjun said, "I recently went to Mumbai and met a big Bollywood hero. He was mentioning about the humongous success of Magadheera film. When I showed him the pics of Ram Charan Tej from Orange to him, he felt that Ram Charan Tej will threaten the Bollywood hero with his looks and performances if he enters Hindi film industry. Bhaskar is the reason for me getting Nandi award for Parugu movie. I am sure that he is done a fabulous work for Orange"
RaNa opined that Bhaskar would have shown the real character of Charan in Orange movie.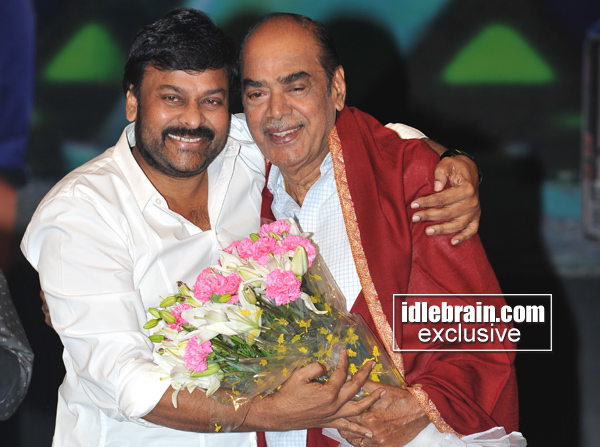 I am playing the role of Puppy - Brahmanandam
Brahmanandam said, "Orange will be like a feast to Telugu film lovers. It will create history. I am doing a hilarious role of Puppy in this movie."
Bhaskar said, "I am missing Ram Charan Tej in this function. I am a huge fan of Chiranjeevi. I am doing this movie after the blockbuster of Magadheera. Hence there was a lot of pressure on me. There is a powerful truth in this movie and it will take the movie to next level. Harris Jayaraj gave amazing music."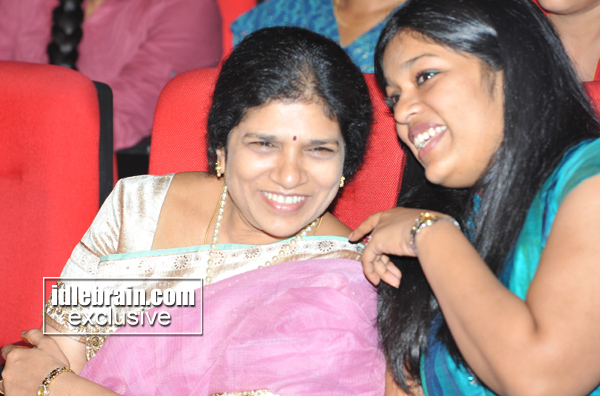 Nagababu said, "Charan is in Australia and Pawan Kalyan is in Kasi. We arranged this audio function only to please mega fans. Bhaskar gave fabulous script. We are going to release movie in the month of November."
Appreciation of movie lovers is greater than awards - Chiranjeevi
Chiranjeevi said, "Ram Charan Tej works hard and works with lot of passion. It is very hard to live upto the expectations when a huge blockbuster like Magadheera is delivered. We have to deliver what people expect from us. All superstars give people what they want. Rajnikant's Robo is the recent example. Robo is like a computer game and Rajnikant delivered it because he know what people expect from a star. I did films like Rudraveena and Apadbandhavudu to satisfy the actor inside me. It got awards. I feel that the appreciation of movie lovers is much more powerful and greater than the awards. We should never try other ways to get Nandi awards. We just accept it if we get it on the merit. Bhaskar did wonderful work as a director. Orange is a mass film in a different shade. Harris Jayaraj did wonderful songs and all six songs are going to be chartbusters. Ram Charan Tej is in Sydney now and he should return to Hyderabad in a few days. Naga Babu made me do bungee jump in Bavagaru Bagunnara movie. Nagababu planned a scene in which Ram Charan Tej do free fall followed by sky dive from a flight which is flying above 14000 feet. I resisted it, but Charan insisted on doing it. Nagababu will have problems from tomorrow because of piracy. I request fans not to encourage piracy. The government is not taking any steps to prevent piracy."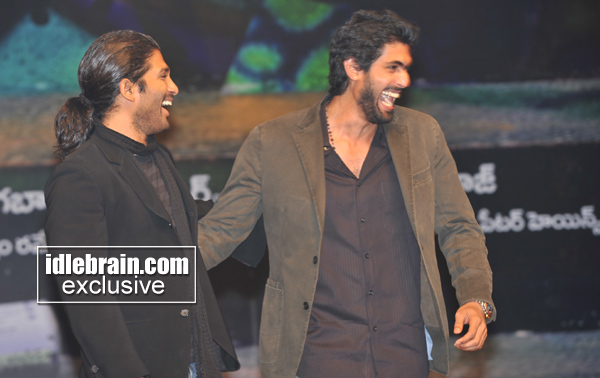 Photo Gallery (photos by G Narasaiah)