Music launch of Rakta Charitra 2 was held at Hotel Ista, Gachibowli on the night of 15 November. It was attended by RGV, Surya, Madhu Manthena, Sheetal Vinod Talwar, Chinna Vasudeva Reddy, Raj Kumar and Suman Varma.
I am preaching non-violence through Rakta Charitra - Ram Gopal Varma
Ram Gopal Varma said, "Rakta Charitra 2 will emphasize on Surya character. I liked Surya's work in Ghajini and Kakha Kakha. I am extremely impressed with the intensity in his eyes. The character of Suri in the movie is about the guy who plots revenge from the confined walls of a jail. And Surya has performed the most complex scenes using his powerful eyes. Surya did this character as an actor, not as a star. Rakta Charitra is the 1st straight Telugu film for Surya. There will not be any direct references to any leader in Rakta Charitra 2 like I did to NTR in Rakta Charitra 1. I am preaching non-violence through Rakta Charitra movie. We mixed two versions of Rakta Charitra and releasing it as a solo film in Tamil. Rakta Charitra 2 will release either on 26 November or 3rd December."
Rakta Charitra 2 will not hurt feelings of anybody - Surya
Surya said, "It is like a dream playing this character in Rakta Charitra. I had been in touch with Ram Gopal Varma for the past 5 years and we have been discussing about various scripts and finally I am glad that I did this movie. Though I am a stranger to politics of AP, the story of this movie appeared engaging and engrossing to me. Ram Gopal Varma handled the film deftly. It is not a typical movie, but an engaging story based movie. Rakta Charitra 2 will not hurt anybody's feelings. There are lots of expectations on Tamil version which is going to release on 26 November. Rakta Charitra will be a special movie in my career."
Music of the movie was released by Madhura.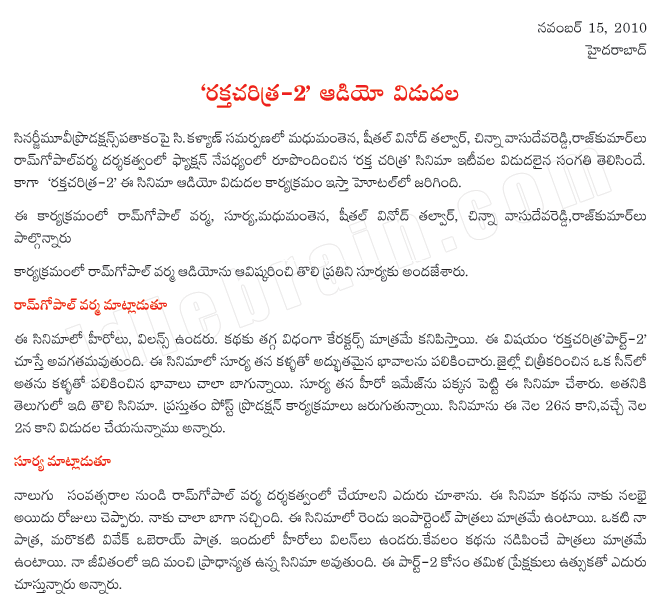 Photo Gallery (photos by G Narasaiah)