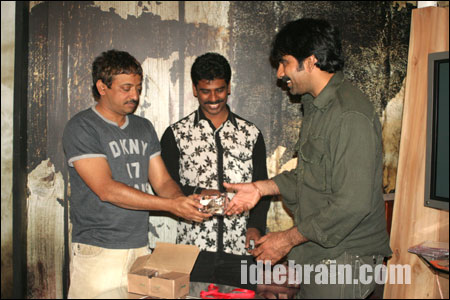 Audio of Ravi Teja's latest film Shock was released at the Ram Gopal Varma's Factory in Mumbai by Ram Gopal Varma. He released the audio and gave the first unit to hero Ravi Teja and the second cassette to Kondeti Suresh.
Ram Gopal Varma said that he has produced a straight film in Telugu after a long gap. Ajay - Atul scored music for this album. Ravi Teja expressed his happiness over working in Ram Gopal Varma's film and opined that the music of Shock is extraordinary.
Another producer Kondeti Suresh said, "The audio of Shock is being directly released into the market through Aditya label on 11th January. It feels great to see audio of Shock releasing in Mumbai by Ram Gopal Varma. There are five complete songs and one song in this album. Shooting of the film is complete. Post production work is currently going on. We are planning to release the film in this month end.
Shock links
Photo Gallery
Wallpapers
US schedules