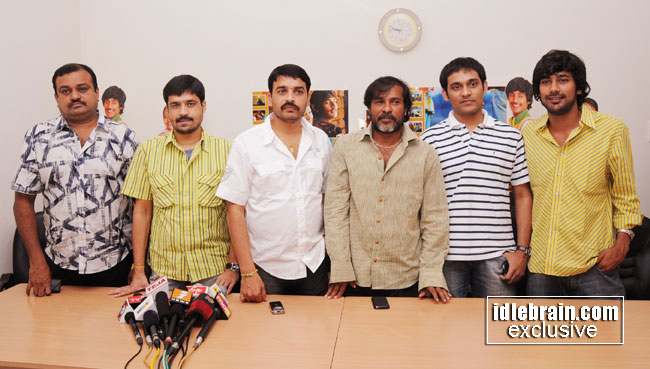 Kotha Bangaru Lokam, a Dil Raju production, is set for release on October 9th. Made on Sree Venkateswara Creations banner, the film stars Varun Sandesh (Happy Days guy) and debut heroine Swetha Prasad. Srikanth is the diretor. Mickey J. Meyer scored music. Chota K. Naidu handled the camera. The unit today arranged a media briefing at the production office in Hyderabad to share their views on seeing the final version of the film in the closet.
Chota K. Naidu said: "There is a lot of difference between shooting the film and watching the film. I can with confidence that it is going to be a unique entertainer in Telugu film industry. It is a totally different and sensitive love story. I enjoy utmost happiness having worked with a great banner and film."
Mickey J. Mayer said: "Chota's cinematography helped a great deal in prompting us score wonderful music. All his frames suited well with the background score. The credit goes to Chota. I thought that hero Varun Sandesh would act in the manner of his performance in Happy Days. But, watching the first half, we were shocked. There is no comparison between his role in Happy Days and in Kotha Bangaru Lokam. Dil Raju is the most humble producer from whom I learnt a lot. When I found it difficult to score the RR for some scenes, Dil Raju guided us. The kalasalalo song is extremely fine. I am in no doubt to say that Kotha Bangaru Lokam will the best film in 2008."
Varun Sandesh said: "I thank Dil Raju garu for the wonderful script and making me act in the film. I am very excited working with great team like Chota, Micky. Chota showed me in a new and different manner. Mickey's music elevated my performance levels. There is no comparison between my role in Happy Days and here in KBL. There is going to a lot of variation between both."
Dil Raju said: "All the excitement of two years from the time when Srikanth told me the story till watching the final version of the film is over when we watched the film last night. The Censor officials said that KBL is going to be a one more 100 film in my banner. We feel that we have passed the exam. During the preview, three kinds of feed back came 1) Good 2) Very Good & 3) Extraordinary. These levels are in tune with three different types of audience 1) Those who like the entertainment 2) Story & 3) Emotion. I hope the same feedback will come out from the audience after the movie release."
Kotha Bangaru Lokam links:
Dil Raju interview
Music launch
Wallpapers
Photo gallery
Working stills
Trailers
Press meet