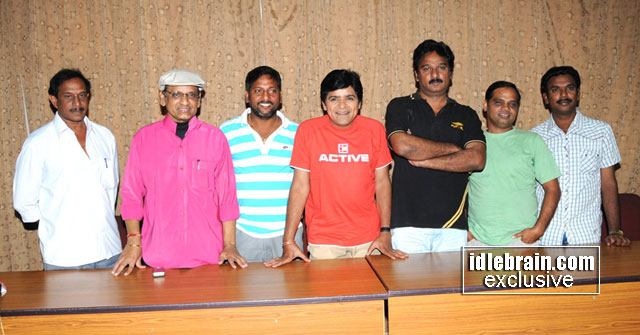 Comedy film Kuberulu, starring Sivaji, Ali, Krishna Bhagwan and Raghu Babu in the lead is finished to its shooting and gets ready for release next month. Made on Godavari Talkies banner, the film is directed by Srinivas Reddy. Producers are Karuturi Srinivas and Yaganti Srinivas. A media briefing was held today at Film Chamber, Hyderabad.
Ali said: "Srinivas Reddy is a hotshot director of comedy films. I knew him since the time I was a child artiste. He holds great urge for comedy. In the recent past, he gave continuous hits. Kuberulu is a hilarious comedy. Sivaji and I play the roles of Bava Bava Maridhi. Krishna Bhagwan is said to be working in Dubai and is a good friend of mine (in the film). Due to some circumstances, we are impoverished. How we get back to riches again would form the entertainment part."
Krishna Bhagwan said: "I always get a prime role in the films of Srinivas Reddy. I shall continue to be grateful to him. Kuberulu is completely a hilarious comedy with the mark of the director. I am happy that our senior colleague is back into action after undergoing surgery."
AVS said: "I believe that comedy is a good tonic for longevity of life. This is personally proved in my case as I could successfully undergo a critical operation. Comedy-backdrop of the film is the highlight."
Srinivas Reddy said: "I am thankful to the audiences for their continuous support to my films. We are going to start re-recording from September 29. The audio will be released in the first week of October, and the screen release is likely in the second or third week. There are five songs in the film."
Cast consists of: Farzana, Kousha, MS Narayana, Chalapati Rao, LB Sriram, Dr. Siva Prasad, Konda Valasa, Jeeva, Suman Setty, Duvvasi Mohan, Uttej, Hema, Kavita, Telangana Sakuntala, Kinnera, Rajitha, Bhuvaneshwari, Apurva, Priya and others.
Crew: Story - Siva & Suresh; Dialogues – Dasari Brahmam; Lyrics – Bhaskarabatla; Music – Jeevan Thomas; Stunts – Ganesh; Choreography – Swarna, Pradeep Antony, Krishna Reddy.