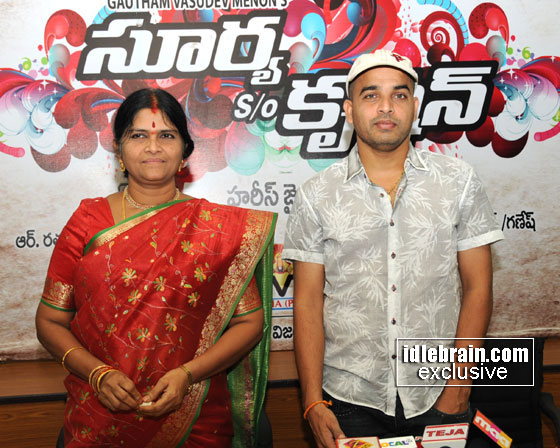 Sree Venkateswara Creations of Dil Raju is going to distribute Surya's latest film Surya s/o Krishnan (Varanam Ayiram in Tamil) in Nizam area. SVR Media is releasing the film in Andhra Pradesh. The film is made on Aascar Films Private Limited with V. Ravichandran as the producer. South's sensation Gowtham Vasudeva Menon is the director. Harris Jayraj is the music director. A press meet was held today at Film Chamber, Hyderabad.
Sobha Rani (of SVR Media), who is the producer of the Telugu version, said: "We are happy to be associated with the release of Surya s/o Krishnan in Andhra Pradesh. We got great response to the audio, released last week. The Sony Music people said that the audio sales are very nice and the platinum disc function will be held soon. Great asset to the film is that is is produced on Aascar Films under the stewardship of Ravichandran. Gowtham Menon as director and Harris Jayraj as music director have enhanced the richness of the film. Another great thing about the film is that Dil Raju is distributing the film in Nizam area. I take the opportunity to thank him personally. We are going to release the film early next month."
Dil Raju said: "The basic calculation on my part in taking the film for Nizam area is that it is from Aascar Films, which produced blockbusters like Aparichitudu, Dasavataram and Tagore. Ravichandran will always do films after studying the prospects of the subject and its commercial efficacy. Another thing is that the audience will be ever curious about Gowtham Menon's direction, which he proved with his films like Cheli, Gharshana, Raghavan and others. Surya's capability as an actor is proved to the Telugu audiences with Ghazni. Harris Jayraj worked in my banner also and his music is matchless in his own right. The cinematographer and editor of the film also worked for my films. I wish them all the best."
Surya s/o Krishnan links:
Music launch
Logo launch
Photo gallery