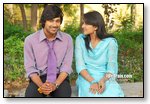 AVM's latest Telugu film with Varun Sandesh and Vimala Raman in the main leads is titled as 'Evaraina Epudaina' (premalo padochu). Marthand K Shankar (brother of editor Marthand K Venkatesh) makes his debut as director. The unit arranged a press meet at Himayat Sagar guest house where the shooting is currently going on.
Director Marthand K Shankar said, "We are announcing the title of the film today as Evaraina Epudaina. I would like to thank the producer for giving me ample freedom though it's my debut venture. I treat Varun Sandesh like my younger brother."
Actor Varun Sandesh said, "I would like to thank AVM for casting me in this film. I was little tensed during the initial stage of the shoot, but the director treated me like a brother and extracted nice performance. I would also like to thank Marthand K Vankatesh for recommending me for his brother's directorial debut."
Kota said, "I knew Jeedigunta Ramachandra Murthy – grandfather of Varun Sandesh – very well. He used to work in story department for Telugu films in those days. Director Shankar is doing well in this film."
Ali said, "I knew Marthand K Shankar from the days when he worked as an assistant to Jayant. He comes from the family of film editors. Hence his knowledge in editing helped him in having lot of vision and clarity while doing direction. I did as a child actor in AVM and now it is my 172 films."
Actor Giri Babu said, "Though I worked in AVM studios as an actor, I never got an opportunity to work in a film produced by AVM. This is my first AVM film. I am surprised at the dedication and conviction of actor Varun Sandesh who mouthed a 4-page long dialogue without any prompting in a single take."
Rama Prabha said, "I did my first make-up test for AVM in 1961. I worked in 100's of films in AVM studios. Director Shankar is a pleasant guy."
Actress Sandhya Janak said, "I am basically a journalist and Sekhar Kammula cast me in Happy Days film. Evaraina Epudaina is an apt title for real life experiences too."
Actor Adarsh said, "I did Iqbal, Happy Days and Vinayakudu so far. I am doing the role of hero's friend. I feel fortunate work with AVM banner."
Marthand K Vankatesh said, "I would like to thank AVM banner for coming forward to make small-budget films though they are capable of producing huge films like Sivaji. It is a welcoming trend in Telugu film industry."
Producer Saravanan said, "The talkie part of the film is over and songs will be shot soon. We will find the appropriate time and release the film. We are willing to do both big budget and small budget films in Telugu. Evaraina Epudaina is a youthful film."
Pullarao said, "We are going to do two more Telugu films in the coming months. We are aiming for Feb/March release.
Evaraina Epudaina Links
Photo Gallery
Muhurat