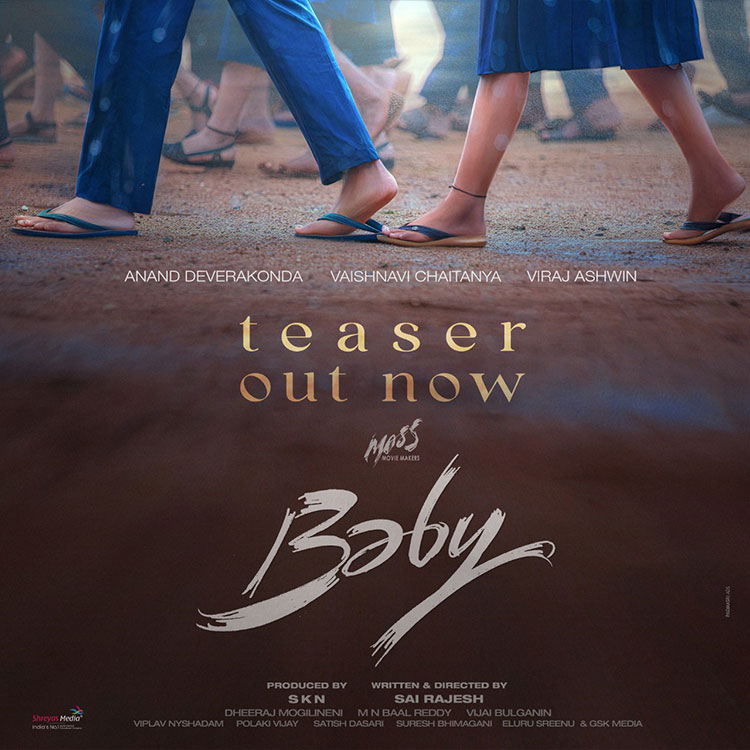 21 November 2022
Hyderabad

The teaser of Baby, headlined by Anand Deverakonda, Viraj Ashwin and Vaishnavi Chaitanya, was unveiled in Hyderabad on Monday.
The one-minute 57 seconds promo clearly establishes the love tale of Deverakonda and Vaishnavi who is seen in a complete de-glam role. Opening with the visuals of Deverakonda trudging to school on a rainy day, the action silently shifts to his classmate Vaishnavi who seems to be smitten by him and exchanges romantic stares at him when he isn't noticing. This goes on in a breezy way until Deverakonda's friend finds it out. Deverakonda, however, reciprocates his feelings, as the rest of the teaser unfurls their romance at school and in the neighborhood. The twist in the tale arises when a third character Viraj Ashwin enters Chaitanya's life. Overall, the teaser has a complete poetic touch to it and is an ode to first love.
Baby is directed by Sai Rajesh, who is on a high after receiving the national award for writing and producing Colour Photo, while SKN is shepherding it on Mass Movie Makers. Vijay Bulganin is the music composer.