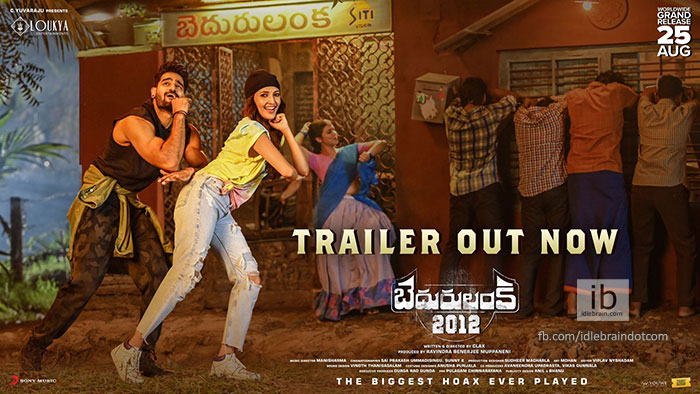 15 August 2023
Hyderabad

Global star Ram Charan on Wednesday launched the trailer of Karthikeya and Neha Shetty fronted Bedurulanka 2012. A production venture of Ravindra Benerjee Muppaneni under Loukya Entertainments, the film marks the directorial debut of former assistant of Sudheer Varma, Clax.
The setting is the picturesque Yedurulanka village and the time period is December of 2012. The two-minute-34-second long trailer begins with the chatter around doomsday; with news reports constantly focusing around it, while kids of the village bunk school to brace up for the end of the world. Into this scenario, enters Shiva (played by Karthikeya), a free-spirited youngster who doesn't participate in anything that he doesn't believe in. He smokes a cigarette in front of the village heads (Ajay Ghosh and Goparaju Ramana) and when confronted on the lack of respect, he retorts, "Have you purchased this cigarette for me? If anything, my lungs will get damaged or I will get cancer. What's your problem?" Chitra, a village belle (Neha Shetty), is introduced soon after. She has been in love with Shiva since childhood but doesn't muster the courage to propose to him. As the entire village waits for the arrival of the doomsday, Ajay Ghosh's part decides to make quick bucks out of the panic-stricken place. He assigns his men Daniel (Ram Prasad) and Brahmam (Srikanth Iyengar) to pose as practitioners of different faiths and propagate that the world will not end, while demanding donations from the people for their outreach. While the director doesn't reveal the major conflict, how Shiva comes to the aid of the village and busts the myths seems to form the crux of the story.
By the looks of it, Karthikeya seems to have infused a lot of energy into his character Shiva, while Neha Shetty looks stunning as Chitra. Visually the trailer looks refreshingly rich and the director seems to have fleshed out supporting characters too with a lot of weight. It packs in humour, drama and mystique in equal measure while promising an entertaining ride that will make us ponder.
Also featuring Satya, Raj Kumar Kasireddy, LB Sriram, Surabhi Prabhavathi, Kittayya, Anithanath and Divya Narni, Bedurulanka, a Mani Sharma musical, sails into cinemas on August 25th.