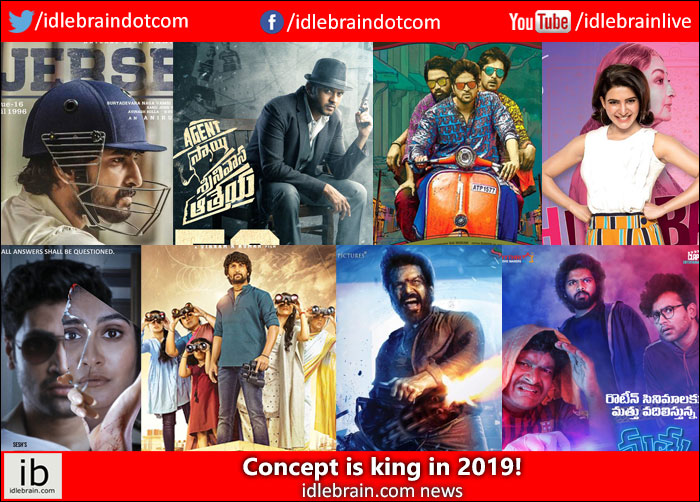 26 December 2019
Hyderabad
One can't deny that Telugu cinema has warmed up to embracing new concepts like never before. With movies of various genres being created by filmmakers, we are constantly pushed to look at new ways of storytelling. While the genres may not be new at the outset, the way of telling these stories, making use of unique concepts is what draws them to us.
If we categorize them under what everyone calls the "concept-based" films, there are occasional ventures that hit the bullseye, and how. In fact, 2019 was a year that saw Telugu filmmakers treat the audiences with many such new ideas, unique concepts and fresh filmmaking. As we round off the year gone by just as we step into a new one soon, we list out few films that managed to make a mark with an element of novelty. These films didn't just wow the critics but also got the approval of the audiences! Here's a lowdown…
Jersey, April 19
When was the last time you saw a film, the heart of which lay in the sole emotion of a father wanting to buy a present for his son? At least in Telugu, that's truly rare. Which is why Jersey is one of those films we should be proud to show the world. The story of a father struggling to fulfill his son's wish to be presented with a jersey on his birthday became a hit with the audiences who connected to the emotion as if it was their own.
Jersey is one of those truly original scripts and one can't help get reminiscent of award-winning films like The Bicycle Thief (1948) and Children of Heaven(1997) that had their heart in the right place and deliver a beautiful tale from there.
So much so, director Gowtam Tinnanuri is remaking it in Hindi with Shahid Kapoor now!
Agent Sai Srinivasa Athreya, June 21
A detective film that was the confluence of thrill and comedy was quite the winner with the audiences. With Telugu cinema not exploring the particular character for a lead actor except in very few films like Missamma where ANR was cast as a home-grown detective, or in Chantabbayi where Chiranjeevi took on the avatar and in Mohan Babu's Detective Narada. Interestingly, Agent Sai Srinivas Athreya became a fresh film for our times. On a reflective note, all of these films start off as comedies and the drama unfurls later.
There were many factors that worked in its favour. One, actor Naveen Polishetty's performance that catapulted him to instant fame. It's noteworthy that he has been trying to get that one elusive opportunity in Telugu cinema to show off his acting prowess for many years now. In the meanwhile, he did manage to get himself quite the traction on the digital space. But this film has made him one of those young guns everyone is now talking about.
Add to that, the film did have a great narrative, fresh story line and some good writing that worked in its favour. So much did the film manage to impress the audiences that people of all age groups accepted it. In fact, its digital release on Amazon Prime was quite the hit as well with many wishing to have caught this on the big screen.
Brochevarevarura, June 28
Crime comedies are one of the most ambitious genres in filmmaking. At least that is what one comes to believe looking at the number of times people fail to get it right.
Brochevarevaru is undoubtedly one of those rare, well-executed successes in the genre that failing to mention this film by director Vivek Athreya would be a blasphemy! Looking back in the past, Ram Gopal Varma was probably a harbinger in giving the genre an introduction to Telugu audiences with unique stories like Kshanakshanam and Money. Chandrasekhar Yeleti also saw great success in the genre with films like Aithe and Anukokunda Oka Roju.
It is worth mentioning that Brochevarevarura managed to use a complicated narrative style of story-telling to achieve a great effect in its finale.
If you think about it, the story of an aspiring filmmaker narrating a story to a star actress intertwining with notorious school kids who are orchestrating a crime is surely a formula for success, except there's no real formula here! Just some honest story telling.

Oh! Baby, July 5
The fact that Samantha's choice of roles are nothing short of a curious case of excellence is now known. And this film was one such gem from her end. She joined director Nandini Reddy to recreate a Korean flick and the way she owned it will soon be a matter of legends.
This film explored the hitherto unseen concept of an age-shifting phenomenon of the lead character, making that the key narrative of the film. In the past, we saw something similar only in Mahesh Babu's Nani but not to quite a successful effect. Interestingly, both the films are remakes.
Seeing a young and "glamorous" actress transition into the avatar of an old granny and vice versa is something that people loved, and one isn't even surprised by it! The element of entertainment that catered to the family audiences wherein people of all age groups connected to the story was a huge plus for the film.
While Samantha does have the challenge of language because of which she doesn't dub for herself often, Chinmayi is the perfect partner she has found, rectifying the only drawback (if one must point out) she has. It was her film through and through and ably aided by the fact that the story was a breath of fresh air.
Evaru, August 15
Adivi Sesh has become a pioneer of unique stories over the years. Every time he comes up with a film, the audiences know to expect something out of the box. And Evaru set their expectations right. A remake of the Spanish film The Invisible Guest, this one kept the audience glued to the screen till the last second.
While it is not hard to adapt such a gripping story to another language, what could have proven a wrong move was the spin they gave it to suit the Telugu audiences. Well, it looks like the cine goers took it quite well.
So much so, that the film not only became a hit but also became a highly talked about flick. After all, it's not every day that the audience here gets to watch an interrogation drama unfold on the screen. It worked better that the antagonist in the film is a popular actress.
Gang Leader, September 13
This was one of those occasions when a mainstream hero allowed women to take centerstage in a story! That is probably what makes Gang Leader an endearing film to watch despite its shortcomings.
Nani's character of a Telugu novel writer, a hitherto unseen role, who helps five women of various age groups take revenge comes with an element of comic relief that was quite a treat to watch.
Though this one wasn't a wholesome hit, it sure did have its moments of glory which makes this Vikram Kumar-directorial a worthy part of this list.
Khaidi, October 25
One of the most interesting films to have hit the screens in a while is surely Karthi's Khaidi directed by Lokesh Kanagaraj. A dubbed film, it was surely one that grabbed more attention than most Telugu films of the year.
A prisoner out on parole to meet his daughter for the first time since she was born is enlisted by an injured police officer out on a mission to save a few cops. A drug deal bust, gangsters out to save themselves, college students and a vintage police station are all the elements that add to the drama of this tense and impressively shot thriller.
The film is majorly shot in two locations – a police station and a truck – which adds to its uniqueness. The concept of a police station that cannot be broken into owing to its heritage value since it was built in the British times, is how the director manages to engage us through the narrative. On the whole, this one's the perfect "concept-based" film!

Mathu Vadalara, December 25
Ending the year on a high note was surely possible only because of this crime comedy that has got everyone raving. With a new cast and crew in place, it is a matter of content that worked because there's no other way a film like this would be talked about so much, especially after release.
A story that tells us how a person's lapse in judgment can lead to unexpected and mostly horrible circumstances forms the crux of the story. In fact, the mistakes the lead character makes are used to cleverly take the story forward.
What really works is how the concept is weaved into a story using relatable characters and incidents. The lead character who is a delivery boy and his two roommates with their contrasting natures from the very basics including one of them watching Telugu TV serials while the other is hooked onto digital streaming content, forms for a very interesting experience.
The quirky comedy film that has elements of crime in it does end the year on quite the high that was missing for a major part of the year.