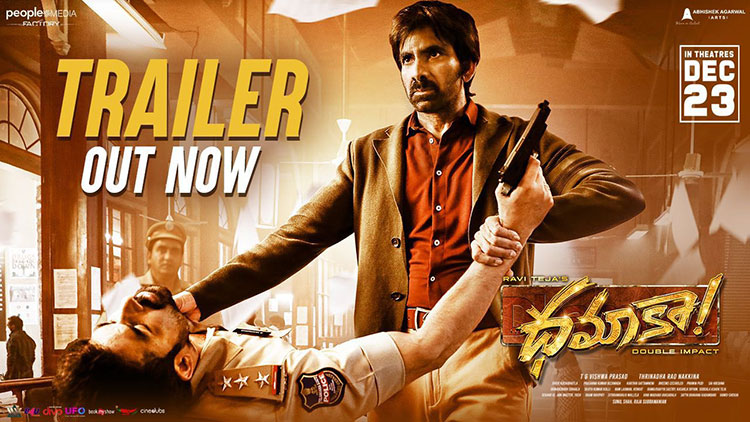 15 December 2022
Hyderabad

The trailer of Ravi Teja-starrer Dhamaka, which opens next week, was released some time ago. True to the makers promise, it looks to offer double the entertainment with Ravi Teja playing dual roles.
Opening with a dashing fight, the trailer oscillates between the mass Swamy, who has just lost his job and the class Anand Chakravarthy, who is looking to become the next CEO of a multi-millionaire company and carry forward his dad's rich legacy. On the other hand, the innocent Pavani (played by Sree Leela) seems to initially like both Swamy and Anand but falls for Swamy later. The trailer soon shifts to pensive mode as Anand is looking to employ 1,000 people for his dad's birthday, while Swamy is looking for that one elusive job in a month. Into this scenario enters Jayaram who seems to be the bad guy here. While both Swamy and Anand have chosen different paths, how they come to fight the common enemy seems to be the plot. The Jinthak beats of Bheems Ceciroleo elevate the appeal of the trailer further.
Overall, Prasanna's writing style (and sarcasm) and Trinadh Rao's taking seems to have conjured up magic for Ravi Teja as he looks to be in his element in the trailer. After all, it's been sometime since one saw an ebullient Ravi. Aided by People Media Factory's lavish production values, if the trailer is any indicator, Dhamaka seems to offer full meals– just what the fans of the Mass Maharaja need at this juncture.