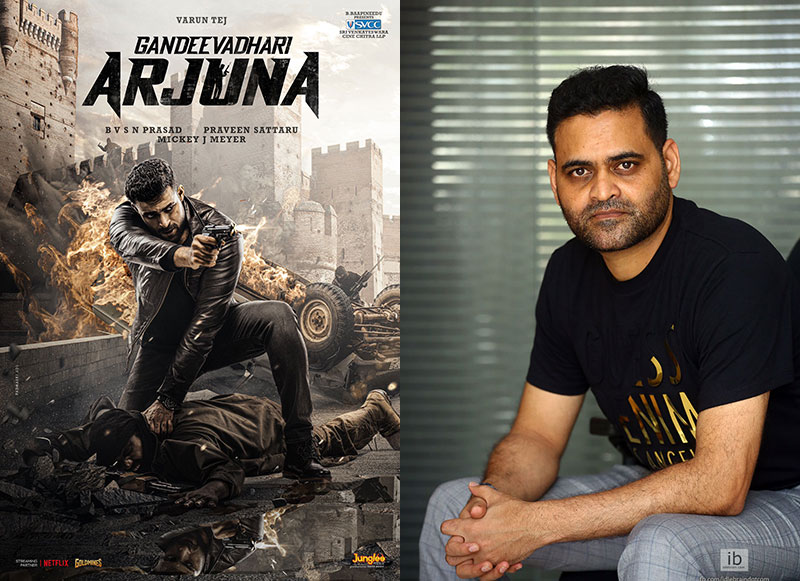 19 January 2023
Hyderabad

As Varun Tej celebrates his birthday today, the makers of his next with Praveen Sattaru have announced the film's title as Gandeevadhari Arjuna. In the film, a fast-paced action-thriller, Varun will be seen as a chief security officer (CSO) for an Indian union minister, who heads to London for an important global engagement. Speaking to idelbrain.com exclusively, Praveen said he considered an English title during the writing stage but wanted to go with a Telugu title. "For me, Arjuna (from the Mahabharata) is the fiercest when he holds his Gandeevam (bow); when he is holding it, he is ready to strike. Over here, Varun plays Arjun, a CSO who is the envoy of peace, and I felt Gandeevadhari Arjuna is apt for the story I'm discussing," he stated.
Praveen has wrapped up 50 percent of the shoot so far, predominantly filming in London and other parts of the UK. "It was fun shooting in London. We began last October. The locals were nice. We shot it at the right time of the year – it was not too cold, not too hot. We've shown the fall colours of the UK in its truest form," he added.
For now, he is gearing up to start the next schedule from the first week of next month. "We will be shooting predominantly in Europe. We will also be visiting New Delhi for a couple of days and Uttarakhand for four-five days. We intend to wrap up the film by March-end," he pointed out.
Praveen is known to complete his films at a breakneck speed without compromising on the quality. "We've allotted 62 working days to complete the Gandeevadhari Arjuna. So far we completed 50 percent of the film in 27 days. I'm someone who doesn't write on sets. I have a bound script ready before I go to sets," he revealed about his working style.
Gandeevadhari Arjuna is set in the backdrop of a UN summit and discusses climate change, Praveen shared. "Action is just a part of the narrative but the story is the bigger platform which talks about climate change and how nobody is trying to address it. It's a threat which will wipe off humanity. We are discussing an issue of today and tomorrow in the film."
Collaborating with Varun has been "lovely", Praveen raved. "He is a sweetheart and great to work with. He completely aligned with my thought-process. He would get it even before I finished my sentence."
A production venture of BVSN Prasad under Sri Venkateswara Cine Chitra, the film, a Mickey J Meyer musical, also features Nasser, Vinay Rai and Evarina Epudaina girl Vimala Raman in supporting roles.
-NAGARAJ GOUD